It is very essential for an organization to have an ability of buying and selling a property. Sometimes, it may lead to having quite a burden to a particular company especially when it comes to having an excess of intellectual property, directing the limited funds to the maintaining registrations, having to defend against the claims of a third party, or even in creating or marketing the final products. Licensing intellectual properties bring a positive effect with regards to the finances, revenue, and decreasing costs of a company. A company that focuses on obtaining a license property must ensure that the licensor himself has a title to the desired items. It is because having a well-structured copyright license agreement can surely contribute in helping such circumstances.
What is a copyright license agreement? By definition, it is a type of agreement that only allows one party to provide the permission to another party in order to use a particular work protected by the copyright. You are allowed to use such agreement with any type of work including music, photographs, artwork, literary pieces, etc. They are proven to be useful when making a business or a type of venture that makes use of other people's intellectual property. Without having this agreement, you might be at risk of having a copyright infringement lawsuit. This is the type of agreement that differs in its complexity, but there are things that still needs to be covered.
10+ Copyright License Agreement Samples
1. Copyright License Agreement Template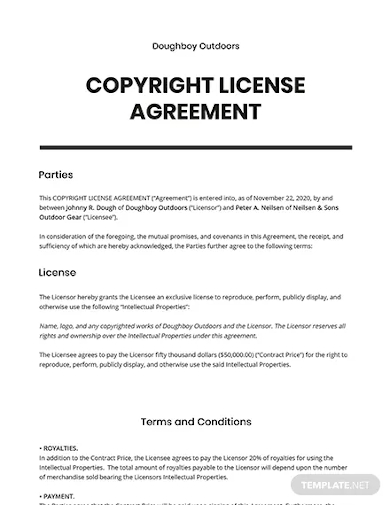 2. Copyright Ownership and License Agreement Template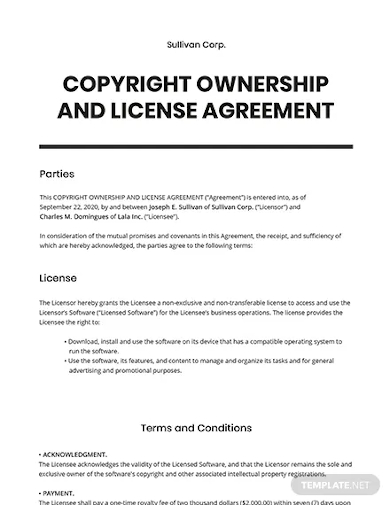 3. Copyright License Agreement
4. Sample Copyright License Agreement
5. Trademark Copyright License Agreement
6. Non-Exclusive Copyright License Agreement
7. Language Copyright License Agreement
8. Standard Copyright License Agreement
9. Exclusive Software Copyright License Agreement
10. Internet Copyright License Agreement
11. Editable Copyright License Agreement
What Should a Copyright License Agreement Address?
This agreement should be able to address a few topics.
Identification of the works prepared for licensing – the first thing to do is to pinpoint what type of work is being licensed as part of the entire agreement. It has to be as specific as possible. People often allude to works by name or include other details.
License term and the scope – there are copyright licenses that is intended for a specific term. It can be only up to how many months or years. There will also be some restrictions about its usage and limitations to its scope. You have to consider it so that everyone would be clear about what the agreement covers.
The means of compensation – compensation is one of the most needed thing for someone who licenses a creative work. You may have a lot of questions to ask about this because you want to clarify on what compensations would usually look like.
Exclusivity – this is where you will know whether a particular work is worthy to receive a license by more than one individual. A non-exclusive license would mean that more than one person can use it. That is why you have to determine what matters.
When you are going to use a copyright license agreement for a written work, you have to use an enclosed document that would license a copyrighted work to be used by another party. You may also consider providing information about how to use the materials.
FAQs
What are the terms that needs to be abided by the involved parties?
Grant of license, scope and limitations, rights and obligations, payment, modifications, defaults on agreement, warranties, transfer of rights, indemnification, amendment, termination, severability, entire agreement, and arbitration.
When can you use the copyright license agreement document?
You can use it if you own the copyrights to certain property and if you wish to have the right to use the trademark or the product.
What are some of the provision instructions that will help you understand the terms of your agreement?
It includes introduction to parties, recitals, grant of license, no assignment or transfer, territory, restrictions, credit and samples, fees, maintenance of records and audit rights, delivery of material, ownership and use of material, representations and warranties, documentation, indemnification, termination, successors and assigns, no implied waiver, no agency relationship, notice, governing law, counterparts, severability, entire agreement, and headings.
If you want to see more samples and format, check out some of the copyright license agreement samples and templates provided in the article for your reference.