There are businesses that opt to hire a third party provider or a managed services provider to perform certain tasks that they are unable to do. When hiring a managed services provider, it is important to check the details of their contract. A managed services agreement contract is a necessary document that a service level company must provide. In this article, we will cover essential details about managed services agreement contracts. We've also included downloadable contract samples that you can use as a reference.
FREE 5+ Managed Services Agreement Contract Samples
1. Managed Services Contract Template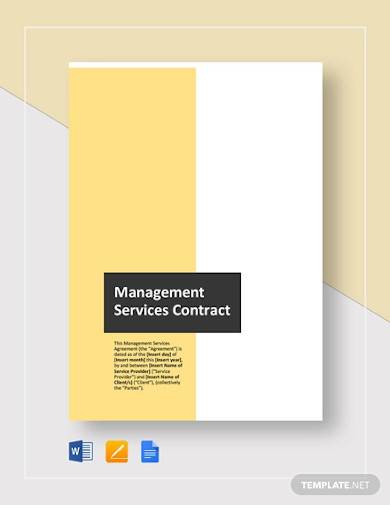 2. Simple Service Agreement Contract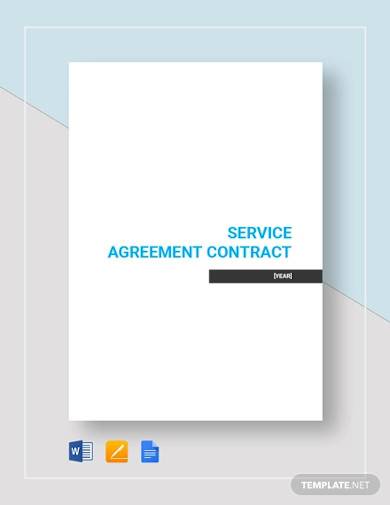 3. Service Level Agreement Contract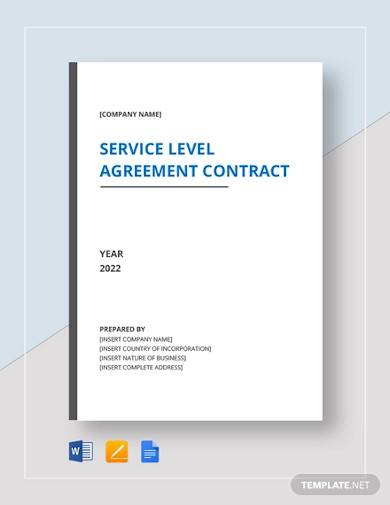 4. IT Systems & HR Management Services Agreement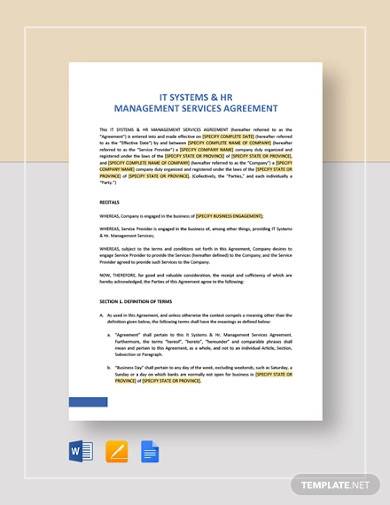 5. Master Managed Services Agreement
6. IT Managed Services Contract
What Is a Managed Services Agreement Contract?
A managed services agreement contract is an arrangement that takes place between a managed services provider and a client. The client can be any individual or organization that needs the expertise provided by a particular managed services provider. As a type of service level agreement, the contract outlines the duties and responsibilities of both parties. It is also best to create an easy-to-understand agreement contract to put clients at ease for doing business with the company.
How to Make a Managed Services Agreement Contract
We're here to help you write your very own business contract. So if you need help with your managed services agreement contract, you can refer to the tips that we've provided below:
1. Focuses on the Content and Structure
A well-crafted agreement contract that focuses on both the content and structure is what you need to impress your clients. Use a contract template or layout that will go along with the type of discussion you are making. Doing so allows you to put all the information together in one document easily.
2. Look into the Previous Contracts
Studying previous managed services contracts and how they had affected the business will help you avoid including options that do not produce excellent results. This also helps you correct past mistakes instead of getting them repeated.
3. Properly Present the Contents
You have to be very specific with the service options you provide in your contract template, as well as with the other contract information. Vague or unclear information will only mislead your clients and stir misunderstanding.
4. Be Open to Change/suggestions
There may be instances when a client will negotiate a couple of things in the contract. While it's not good to always say yes or no to everything a client wants, it still pays to listen to suggestions. If you think that it works for both of you, then update your contract as agreed. If not, discuss for a better way of doing things until both ends meet.
FAQs
What is the difference between managed services and outsourcing?
Because managed services and outsourcing both involve hiring an external organization, a lot of people see them as the same thing. The truth is, they have similarities but are actually not the same. They cover different scopes of work. With an outsourcing services agreement, a client requests for specific services to address their business needs. For example, if a client needs experienced property managers, then the outsourcing company must look for candidates with such qualifications. In a managed services agreement for IT services, a more holistic approach is provided to the client's demands. Instead of providing only a computer technician, they look for employees who are skilled IT professionals that can provide a comprehensive range of technology services.
What should be included in a managed services contract?
You can say that a managed services agreement legal template is detailed if you see the following details in the document:
Fees and payment schedule
Taxes
Coverage (hours, users, equipment, rental, lease, software applications, services)
Definition of services
Policy for service provided outside normal working hours
Service calls
Problem management
Limited liability
Miscellaneous
Acceptance of service agreement
Exclusions
Procedure for support and escalation
What are the benefits of a managed services contract?
While making a managed services contract template for your business is no easy feat, there are awfully a lot of benefits you can get from it. Here are a few examples:
The contract helps in identifying the needs of the business operations.
It provides insights on the best strategy to improve the identification of the needs of the operations.
It specifically points out the coverage of the agreed services, which includes work hours, hardware, software, vendor, user agreements, etc. It also provides information on things that are not covered in the agreement contract.
It allows the service provider to paint a picture of the client's working environment.
It helps point out what the client is doing right and where they went wrong with their operations.
It helps clients increase the profitability of their business by creating a framework that is suitable for their use.
Who are the top managed services providers?
Aside from learning the basics of a service level agreement or master service agreements, it's also equally important to know your competition. So if you're already a managed services provider or you're planning to start this type of business, you should know the top companies in the same industry. According to acronis.com, the top managed services providers are as follows:
Eze Castle Integration
Executech
US Signal
Expedient Technology Solutions LLC
Darkhorse Tech Inc.
PAConnect
Microland Computer Center
Stratti
Springs Hosting
Cii Technology Solutions
Who hires managed services providers?
Medium and small-sized businesses have limitations when it comes to in-house IT capabilities. That is why they hire managed services providers to handle their need for IT experts. Large businesses or enterprises that are managing a tight budget with a limited workforce population also hire managed services providers. They do this to cover for their shortage of in-house IT staff.
A well-written managed services proposal in PDF will surely get you a lot of business clients. And to seal the deal, nothing beats a comprehensive managed services agreement contract. It's the best thing that you can do for your business.