Organizers of bidding events must be able to easily retrieve the information of the bidders that are participating in their events. This can be done by asking the bidders to fill out a bid sheet. A bid sheet should be placed in the receiving area of the bidding premises.
We also have other sheet templates that are available for download such as the balance sheets and crib sheets.
Bid Sheet for Silent Auction
Contractor Bid Sample Sheet
Sheet for Vehicle Bid
Lawn Care Bid Sample Sheet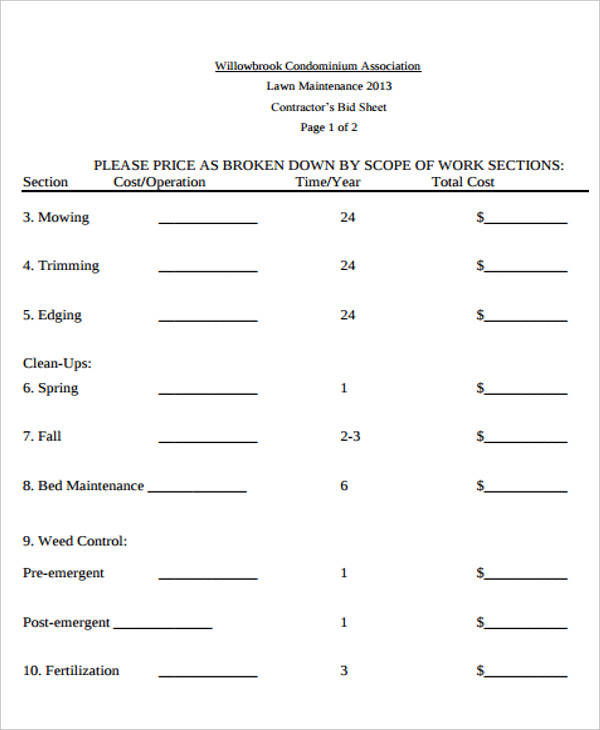 Sheet for Construction Bid
What Is a Bid Sheet?
A bid sheet is a document that is used during a bidding process or a bidding event. This document comprises spaces or fields that ask for certain information that must be filled out by the participants of a bidding event.
How to Write a Bid Sheet
As can be observed from the templates on this page, a bidding sheet is a fairly easy document to prepare. There is no need to fuss over intricate sections and subsections since the majority of a bidding sheet is comprised of blank fields that must be inputted with information by a bidder or by a participant of a bid.
Below are some rules you can follow in writing an appropriate bidding sheet:
Know the purpose of the bid.
Conduct a research on possible businesses that may be interested in joining the bidding process.
Send out formal invitations to bid to possible bidders.
Wait for the response of the bidders.
Based on the number of bidders that have accepted your invitation, create a sheet that has an equivalent number of fields as the participating bidders.
Follow the standard format of bid sheets.
Start creating your bidding sheet by writing its label in the topmost middle part of the first page.
Write the name of your organization or company.
Write a brief description of the bidding event and its purpose.
Create a table that has designated columns for the following items:

the names of the bidders
their addresses
contact number
email address
signature
the time when they entered the premises for the bidding event and the time they left it
Other than bid sheets, we also have collections of free expense sheet template, silent auction bid sheet, and sample donation sheet templates that you may use for future needs.
Sheet for Job Bid
Landscape Bid Sample Sheet
Professional Bid Sheet
Free Sheet for Bid
Blank Bid Sample Sheet
Sheet for Cleaning Bid
Importance of a Bid Sheet
The following are the benefits of using a bid sheet during a bidding event:
It provides you with a record of the bidding event.
It allows you to contact your bidders if ever you want to make transactions with them or for other purposes.
It serves as a formal document that can be placed in your organization's archive that serves as a testament or proof of the event.
It can help you decide which bidders are likely to enter into negotiations with you in case you have other bidding events in the future.
For more references, check out our collections of information sheet template, log sheet example, and sample estimate sheets.