They say that there is hardly anything left in this world that is free. For instance, if you are hungry and want to eat, one of the things that you can do to appease your hunger is to cook, but then this means you have to buy the ingredients first if you forgot to stock your fridge or pantry. If by any chance however, cooking will take a lot of your energy, you can always go to a diner or a restaurant and order food.
Our world is filled with business establishments who offer services to people who need them. With the busy lives a lot of people are leading now, services are now ranged from laundry, to transportation, even cleaning. If by any chance you want to help unload the burden and hassle people have been feeling nowadays and make a business out of it at the same time, below are Quotation Samples you can download for free.
Cleaning Quotation Template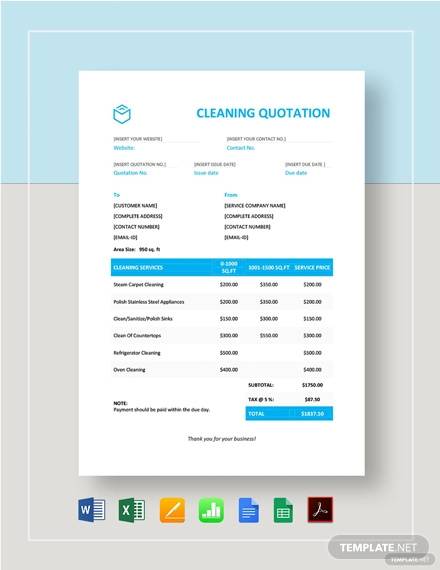 Window Cleaning Quotation Template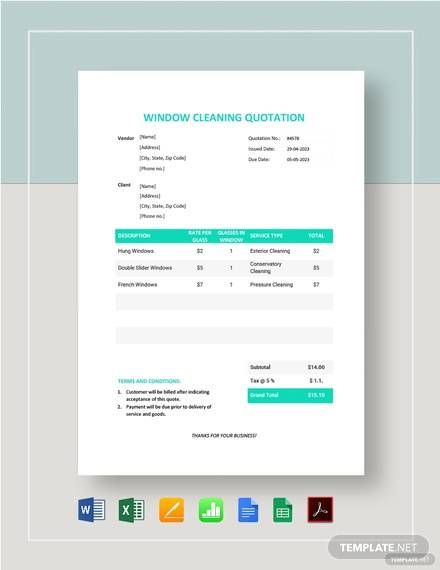 Commercial Cleaning Quotation Template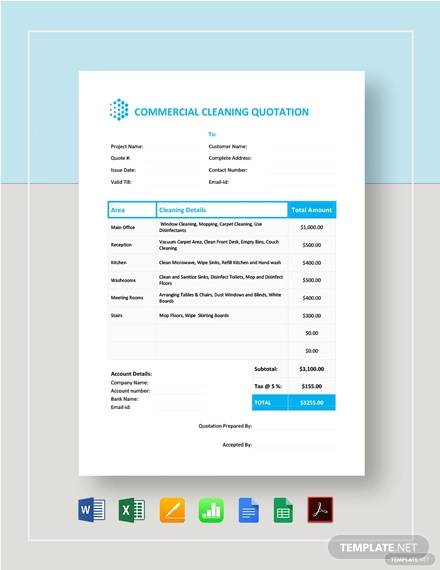 Request For Cleaning Quotation
Cleaning Services Quotation
Window Cleaning Quotation
Cleaning Contract Quotation
Cleaning is a very common household chore; however, it is not as easy as it sounds. That is why cleaning services now are rampant. One of the things that you have to start doing first is making quotations. A quotation is a document that states the estimated cost of a product of service. For how else are you going to charge people and make a profit if you can't give them the prices?
Tips on How to Write a Quotation
First, you have to put your letterhead. This contains the name of your business, your address and contact details. You can also put a logo, if you already have one. This makes your services look more trustworthy and official to your customers.
You have to make it clear that the document that you are about to give them is a quotation or estimate. Plus, you have to indicate when the quotation takes place. It is also ideal if you can include details like your tax registration numbers and the quotation ones.
There must be an enumeration of the services you are going to offer. You can also write a brief description for each of them and their prices.
You have to indicate the total of the services they incur.
You also have to put a part where customers can identify their mode of payment.
There must be a part where you have your authorized signature and the signature of your customer.
If you need more quotation samples, feel free to browse through our website. We have stuff like Builders Quotation Samples and Building Quote Samples.
Quotation For Cleaning Fresh Water
Request Cleaning Quotation Form in PDF
Tips on How to Make Your Cleaning Business Successful
Advertise. You have to have customers, otherwise, it's going to be hardly a business at all. What you can do is make flyers and give to people. You can also do so through local papers and/or social media.
Equip yourself. You have to have tools and equipment necessary to clean a space.
Empathy is the key. One of the challenges of a cleaning service is that you have to clean up somebody else's space. You have to develop an attitude that you clean as if the home is your own. Thus, you have to be meticulous and careful. This way, you can show to your customers how much you care for them.
If you are also looking for other business ventures, we have more quotation samples, like Software Quote Samples.