Are you engaged in the business of providing building or construction services to your customers? Perhaps you are a construction contractor who serves as the bridge between a construction firm to potential clients?
Whatever your role in providing building services, you must know the value of creating a quotation that can satisfactorily enlighten your prospective clients regarding the prices you offer for their construction projects. Our templates on this page can help guide you in making quotation in Excel.
Builders Quotation Template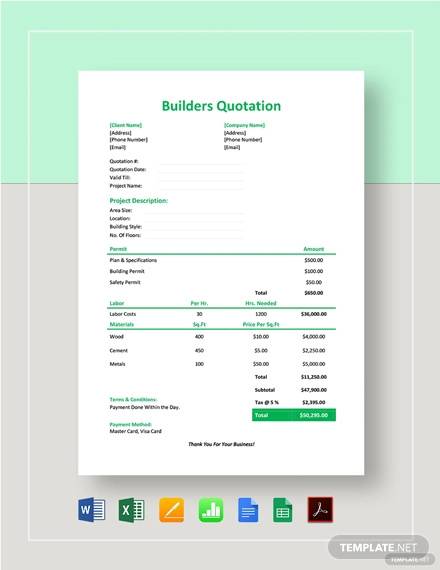 Building Construction Quotation Template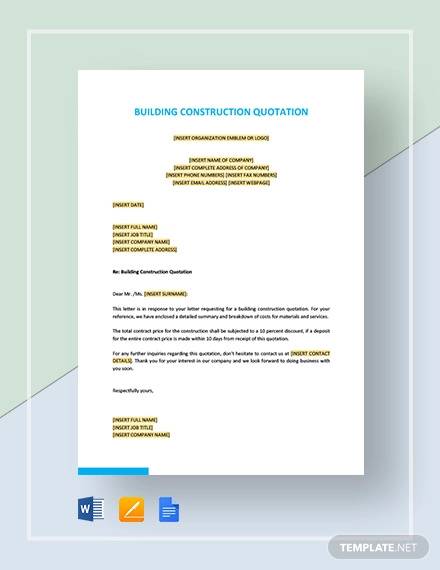 Builder Quotation for Metal Roofing
Owner Builder Quote
Ice Builder Quotation Request
Simple Builder Quotation
What Is a Builder Quotation?
A builder quotation is a document sent by a building firm or construction firm to its prospective clients or customers. It contains all the price offerings of the builder firm for a specific construction project.
How to Write a Builder Quotation
Ask your prospective client for a copy of their construction project's blueprint. You may contact the engineer or architect involved in the conceptualization of the project to provide you with its blueprint.
Examine the blueprint. If necessary, have an expert check the site of the proposed construction project to gauge what other processes you need to go through in order to build a solid foundation for the establishment to be constructed.
After analyzing the design of the project and its location, make a list of all the services you can offer to realize this project.
If you plan on getting subcontractors (especially for the supply of construction materials), you may also take note of this.
Pattern your quotation according to the proper format of quotations for construction. You may refer to our informative collections of sales quotation samples and quotation samples in PDF.
Write in columns the specific items of building services you are offering as well its prices.
Indicate the date when your quotation's price offering would expire.
Building Renovation Quotation Form
9 Tips on How to Compare Builder Quotations
Research all the builders or construction firms that are near to the site of your construction project.
Make a list of these builders. Write a detailed request for a builder's quotation. This letter must contain a brief description of the following:

the type of construction project
its location
the items of services you are seeking

Send your formal request for quotation letters to these builders.
Make sure that you request for quotations from at least 4 different firms.
Specify the expiration date of your request. This will help you get an immediate response from the builders.
Upon receiving the quotations, compare the prices per building service and estimate the average price.
Based on the average price for each building service, you may be able to gauge which company is offering the most average prices. A company that gives out average prices is usually a trustworthy one.
Lastly, examine the reputation of this company in terms of quality of service and the celerity of their performance.
To have an idea on how a properly prepared quotation looks like, check out our collections of sample quotations and cleaning quotation samples.