Starting up a business requires funds. There are many ways to acquire these funds legally and one of them is through a startup investment proposal. Investment proposals are carefully thought of and well-written documents that are intended to attract investors to agree in investing to a particular business. A proposal that is carefully thought of, strategically created and persuasive will definitely get the yes of potential investors. Investment proposals will vary depending on the preferences of the person who writes it as well as the details of the business. Here are sample proposals that you may want to check out.
Startup Investment Proposal Samples
1. Startup Investment Proposal Sample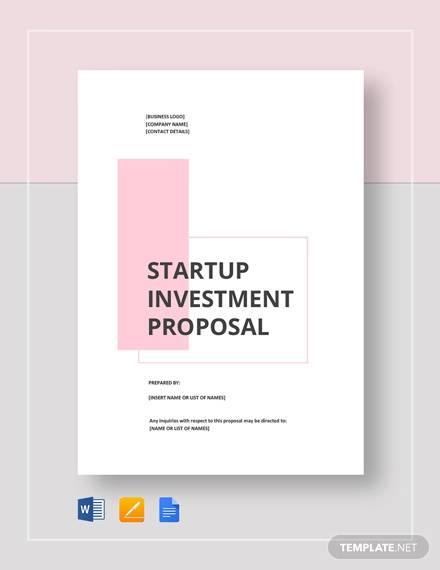 2. Small Business Investment Proposal Template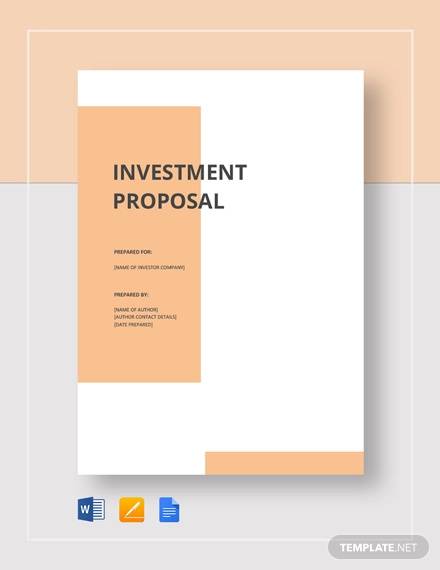 3. Investor Proposal Template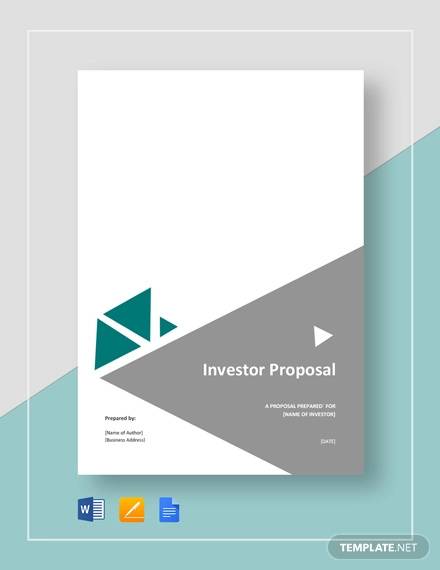 4. Entrepreneurship Startup Investment Proposal Template
A proposal template that you can edit and use as your own is what this sample is all about. It is from a service program called Network Kansas which partners with local or regional business support providers in that helps obtain funding for Kansas entrepreneurs. The sample consists of 11 detailed pages that you can use as reference when writing your own, or if you are a Kansas entrepreneur then you can definitely use the template as it is.
5. Start-up Sample Business Plan and Investment Proposal
An effective way to get funding for your startup business is by combining your business plan with that of your investment proposal. Why make two separate documents when your potential investors will find it convenient to read all the details together in a single document. Through this sample, you get ideas that you can use on your own work. This sample is definitely one to keep.
6. Simple Start-up Investment Proposal Template
Using this customizable template, you will be guided on how to write a good investment proposal for your business. In this proposal template you will be provided with general comments and instructions on the correct use of the proposal, a contact information section that you need to complete, and six man sections that will make up your proposal. These six main sections contain guide questions on what you should write in your investment proposal to make it effective.
7. Business Investment Proposal Template
This is another reliable investment proposal template that you will surely love. That is because it is not only customizable and print-ready, it is also detailed and filled with useful information that will definitely help you create a relevant and effective business investment proposal that you can use for your business. All of the essential parts of your plan are in this template with detailed instructions or description on how you can write the contents of every part.
8. Editable Investment Proposal Sample Template
Use sample proposal templates in Word if you want to easily and conveniently write your own business proposal. Templates that are made in Word are editable allowing you to write or supply the required information without having to create the proposal in a separate sheet. There are also descriptions and notes that you can follow to ensure that you are writing only what is necessary for your proposal. Start and finish your proposal without the fuss just by using this template.
9. Investment Funding Proposal Template
Need funds for an important undertaking? Then you will need just the right proposal that will help you get the job done, and that proposal is an investment funding proposal template. What does this template have to offer? The proposal template includes a title page where you can add the title of the proposal, your business logo and other relevant details. The next few pages would be where you write the proposal summary, proposal information, financing information, expected performance, logical framework, etc. What's great about this template is that most of the details have down buttons with options that you can choose so that you don't have to write the details down. This is something different from the usual basic proposal outline templates that we have been accustomed to.
10. Food Start-up Investment Proposal Template
The food business is always a promising business industry that is why a lot of people are interested in starting their own small business with it. Of course, you will need funds and no better way to get those funds than from potential investors. Make a food start-up investment proposal using the template above. it will help you conveniently create a well-written and convincing business proposal that your investors potential will surely be interested in. Check it out now!
11. Sample Investment Proposal Form
This sample form is a model investment proposal that simple yet detailed and comprehensive. It has 17 pages in total and every page provides useful information that are needed in any proposal. There are blank spaces and tables that must be supplied with the appropriate information to complete the proposal if you want to use the sample as your own template. Important details and subheadings are also written in bold or underlined so that they can be easily distinguished from the rest of the texts.
12. Revenue Funding Investment Proposal Template
This is a level 1 investment proposal template that can be best used as a guide or reference for writing effective and reliable business investment proposals. The details of this document are clearly written using a really simple layout. You will find it easy to read through the paragraphs in every page as they are also organized and arranged well.
13. Sample Family Investment Proposal
In this sample, you will see a list of the investments that are recommended for an entire family. Through this proposal, a family can easily choose and decide the best startup business according to certain factors, like income, savings, values, interests, knowledge, availability, network of connections, etc. You can come up with your own investment proposal by using this sample as your reference.