For each research you will conduct, writing a proposal is as vital as the main research paper. Through this proposal you will be able to gain other people's comments and reviews regarding your paper. This would help broaden your senses on other possibilities that would be encountered in writing the paper.
Business proposal serves the same purpose with research proposal. It should be noted that whatever you write in your proposal is subject to change; nothing there is fixed. Sometimes, the conducted research is way different from the proposal that has been presented. Think of proposal as a flexible and feasible plan.
Thesis Proposal Template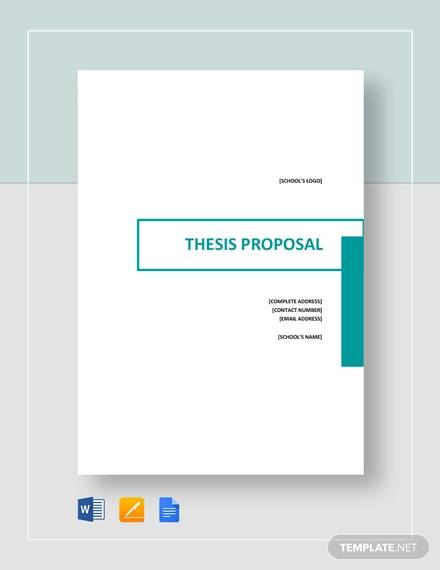 Master Thesis Proposal
Thesis Title Proposal
PhD Thesis Proposal
Outline Thesis Proposal
Architectural Thesis Proposal
What Is a Thesis Proposal?
A thesis proposal enables you to identify the research problem, provides preliminary view of the research problem you are going to conduct or an existing research to the said research problem; it identifies the required resources to be used, the people who will be involved in the research, helps determine the timeline of the research, the methods to be taken, and other research processes needed to be done. Similar to the project proposal examples, thesis proposal also gives the estimated cost that the research will demand, the location for the research, and procedures concerning the research process.
How to Write a Methodology for a Thesis Proposal
Notice that in sample research proposals, whether you use academic proposal templates or business proposal templates, a methodology section is definitely part of it. Methodology is the part that proves that scientific methods are used to acquire all the information and processes in the research. Methodology answers two major questions: how you collected your data and how you analyzed it.
Introduce your chosen methodological approach for exploring your research problem.
Explain how the methodological approach is appropriate to the overall research design.
State the specific methods of how you will collect data.
Provide a rationale.
Identify the limitations.
Graduate Thesis Proposal
Computer Engineering Thesis Proposal
Thesis Proposal for Budget
Networking Thesis Proposal
Proposal for Thesis Design
What Is the Difference between Research Proposal and Thesis?
A thesis or research problem is considered as the main point in academic writing. It is a scholarly argument wherein you prove your point in the paper. You don't just state facts in the paper, you will identify an issue or a problem, site your argument, and prove it. On the other hand, research proposal is a presentation of what you plan to study, what research problem you want to answer or argument you want to prove, and the expected results you will get after conducting the research. PowerPoint proposal templates are usually used to present this.
Tips for Writing a Thesis Proposal
Identify a field or a topic that interests you.
Construct a research problem from that topic or identify an issue you want to tackle.
Formulate a research question from that topic.
Follow the proper structure and format or use formal proposal templates.
When writing the content, strike an interesting line to get the attention of your reader or audience.
Make a clear title that embodies the entire content of your paper.
Show the benefits of your research, that it is feasible and practical.
Get the proposal reviews and comments to learn what you should adjust and if revision is needed.