10+ Social Media Job Proposal Samples
In this day and age, having a solid social media presence is important for your brand. Specialists specifically for social media platforms can help you with that. Social media managers are in charge of developing, executing, administering, and monitoring the company's social media strategy in order to raise brand recognition, enhance marketing efforts, and boost sales. A social media specialist is in charge of developing and managing content across all social media channels in order to grow a following and keep customers engaged. All in all, a social media specialist's role is important. If you need some help with this, you've come to the right place! In this article, we provide you with free and ready-made samples of Social Media Job Proposal that you could use to land a job as a social media manager. Keep on reading to find out more!
1. Social Media Job Proposal Template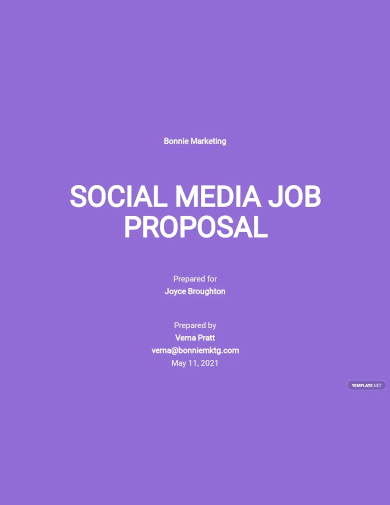 2. Social Media Agency Job Proposal
3. Social Media PR Job Proposal
4. Social Media Job Invitation Proposal
5. Social Media Marketing Job Proposal
6. Social Media Services Job Proposal
7. Social Media Management Job Proposal
8. Social Media Communications Job Proposal
9. Social Media Job Policy Proposal
10. Sample Social Media Job Proposal
11. Social Media Account Job Proposal
What Is a Social Media Job Proposal?
A social media job proposal is a document you provide to a potential customer that outlines how you can assist them in achieving their objectives. A service proposal is an important aspect of any client acquisition toolset, whether you're a social media marketing agency, a public relations business, or an advertising agency. It's not a sales pitch; it's the result of a consultation and extensive study on your potential client's demands.
How to Make a Social Media Job Proposal
Understanding how to create a social media proposal and the components that go into it will help you grow your customer base and profits. A Social Media Job Proposal Template can help provide you with the framework you need to ensure that you have a well-prepared and robust proposal on hand to entice your clients. To do so, you can choose one of our excellent templates listed above. If you want to write it yourself, follow these steps below to guide you:
1. Assess their company's objectives.
When putting together a social media proposal for a client, it's crucial to get to know their long-term company goals so you can see how a social media strategy fits into their overall brand vision and other marketing activities. Meet with the customer to get this information. You may talk about their vision with them to obtain a better understanding of what they require from a social media campaign.
2. Find out who the target audience is for the customer.
Because marketers frequently focus their efforts on consumers, it's critical to gather information about the client's audience in order to better understand your second customer base if you get the contract. You may also perform your own market research on their brand to check if it corresponds to the user information supplied, and go through their social media profiles to determine if their target demographic is their genuine audience.
3. Examine the competition in the market.
Discover the top rivals of your customer and how they manage their social media profiles. This may assist you understand what alternative goods and services your target audience has available to them, and how you may persuade them to choose your client's instead of another option.
4. Make a social media marketing plan.
This part may make up the majority of your proposal since it demonstrates that you have a plan in place to satisfy their marketing requirements.
FAQ
What is the role of a social media manager?
Monitoring and maintaining a company's social media presence is the responsibility of social media managers.
What is the significance of social media marketing?
Marketers may interact with and engage potential consumers wherever they are through social media.
What constitutes a successful social media campaign?
A smart social media campaign demands a solid marketing plan, excellent communication, and the proper combination of content and marketing strategies, in addition to clever and captivating material.
Overall, a social media proposal is critical for closing the deal with your clients. It's critical to talk with a potential client and understand their objectives and goals before developing a social media strategy proposal. To help you get started, download our easily customizable and comprehensive samples of Social Media Job Proposals today!