4+ Social Event Proposal Samples
Being linked to the community in little and large ways has a favorable impact on the users' mental health. A social event, in a way, can bring a group of people together. A social event is one that occurs when individuals form groups. This can include exhibitions, social occasions and parties, as well as contests and competitions. Adding something fresh and distinctive to a party, whether it's for a birthday or a work team celebration, is always a fantastic idea. If you are planning to have a social event soon, you might need a proposal to secure funding or approval from your team. You've come to the right place! In this article, we provide you with free and ready-to-use samples of Social Event Proposal in PDF and DOC formats that you could use for your next event. Keep on reading to find out more!
1. Social Event Proposal Template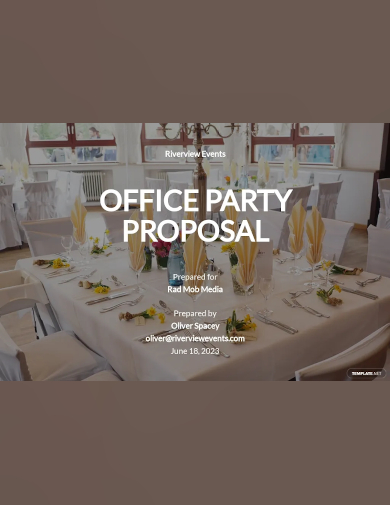 2. Printable Social Event Proposal
3. Social Event Request Proposal
4. Social Work Event Proposal
5. Editable Social Event Proposal
What Is a Social Event Proposal?
A social event proposal is a document that you send to a customer to provide them an overview of the services you'll provide for a certain event. It showcases your unique abilities, experiences, and other credentials in arranging an event, as well as more particular facts about the event itself, much like a CV. Your social event proposal should include an overview of your experience, be written in a confident tone, and instill confidence in the reader. Now that the reader is interested in your event, you must provide the information they require to make a final decision. This section of the proposal delves into the details of the event's execution.
How to Make a Social Event Proposal
Because preparing a social event necessitates tailoring the event to your client's specific objectives and budget, your proposal should represent a personalized and one-of-a-kind event. A Social Event Proposal Template can help provide you with the framework you need to ensure that you have a well-prepared and robust proposal on hand. To do so, you can choose one of our excellent templates listed above. If you want to write it yourself, follow these steps below to guide you:
1. Introduce yourself as well as the occasion.
Start by giving a quick overview of yourself and your event planning company. Include details such as the length of time you've been in business and your professional experience.
2. Create a compelling event description.
Explain the actual event, including facts agreed during meetings such as the event's aim, broad time range, number of guests, and potential locations.
3. Make a list of all the services you offer.
This section is really crucial. The client expects detailed information on the services you will deliver for this event. The numerous services that are provided are clearly listed on a checklist with bullet points. You might wish to divide the event into parts and then describe the specific services given for each one.
4. Throughout the document, include financial data.
Although the customer may be reading your proposal and soaking in all of the details and visions of the event you imagine, when it comes to the section concerning money, the client's attitude frequently switches. If you don't want the process to come to a halt, keep all business and facts in a consistent tone. Assist your customer in understanding your proposal as a succession of phases, each with its own set of services and associated pricing. Provide a full overview that includes the price of each item as well as the item's purpose so that the customer can see the event and the associated costs.
FAQ
Why are student social gatherings so important?
All kids' health, welfare, and learning should be promoted via collaboration between schools, parents, and the community. These collaborations allow students to share and maximize resources while also assisting them in developing healthy habits and promoting healthy families.
What are the benefits of having social activities at work?
A social event, whether it's an office party, an activity day, or a night out, will allow your employees to enjoy each other's company outside of the workplace.
What is the point of a social gathering?
Students can create relationships, comprehend new ideas, and engage in foreign cultures through the interactions or dialogues produced by events.
Overall, in order to put on a great event, we must concentrate on the planning stage, which is the most critical stage in achieving the intended goals. To help you get started, download our easily customizable and comprehensive samples of Social Event Proposals today!