There will be times where you will be able to meet a buyer who would ask a proposal from you. Let's say you have already covered their needs and you have already amazed them with your proposed solution. It would be a huge mistake if you are going to send them a premature proposal. That is why you have to be prepared at all times when it comes to situations like this. Getting a proposal allows you to have the information that you needed in order to come up with the best solution and helps in driving the greatest buyer value. Proposals should be the things that you have already discussed including the buyer's needs, approach to solving their needs, expectations, willingness to commit and invest, reason to buy, and the benefits.
What is equipment purchase? It is simply defined as the equipment or any among the tangible items or products that every customer oy buyer purchases under a certain agreement. This usually includes the replacements of purchase equipment provided to the buyer. It also requires a specific internal code in order to operate such equipment.
10+ Equipment Purchase Proposal Samples
1. Equipment Purchase Proposal Template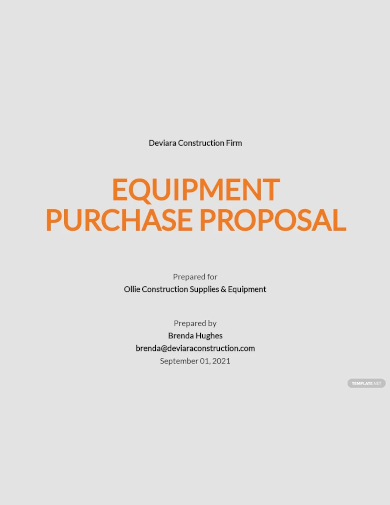 2. Heavy Equipment Purchase Proposal
3. Equipment Installation Purchase Proposal
4. Equipment Purchase Proposal
5. Import Equipment Purchase Proposal
6. Equipment Purchase Maintenance Proposal
7. Equipment Lease Purchase Proposal
8. Vehicle Equipment Purchase Proposal
9. Football Equipment Purchase Proposal
10. Equipment Purchase Request for Proposal
11. Capital Equipment Purchase Proposal
How to Write an Equipment Purchase Proposal?
This may include creating a request letter for the equipment wherein you will be able to start with a summary about why you are writing an equipment purchase proposal. Also, include what you want, why you want to have it, and how will the equipment be used. Basically, if you need an equipment to be used for a particular project, you have to explain what the project is all about and why the equipment is considered necessary for the completion of the project. Make sure that you have conducted a research about the type of equipment you want so that you will be given the exact item you are requesting for.
So, how are you going to write the proposal?
Don't forget to emphasize the benefits to the company. Your employer will most likely to approve your proposal if you can present the value or the benefits to the company. You have to be very clear and concise when it comes to explaining the details of he equipment especially if there is a long-term cost savings when you already obtain it.
Use a professional tone when writing the proposal. You have to make sure that you should act politely as possible. Never demand too much especially when you are making a request.
Create the proposal. You have to pay attention with the proposal format so that it would be organized and easy to read. You have to keep your request reasonable and be truthful with your evaluations about the equipment. Your goal is to make your readers trust your opinions. After writing the proposal, have it proofread by someone or by yourself. Make sure that you don't miss a single detail about it. End your proposal with a date to which you would like the approval to be granted.
FAQs
What are the questions that should be answered by the proposal?
It includes "why act?" to communicate the value, "why now?" to communicate its urgency, "why us?" in order to communicate the differentiation, and "why trust?" to communicate why it will work and would it be worth the risk.
What are the eight (8) components in writing the proposal?
It includes your understanding of the buyer's needs, current state and future state, your solution, impact case, substantiation, investment schedule, agreement, and appendix.
What are the contents of your equipment proposal?
It includes an introduction, the equipment requirements, proposed equipment models, available optional coverage, the pricing, and the proposal approval.
A proposal as basic as merging a 1-2 page statement of work could suffice. It's critical to think about each aspect of the proposal, especially if you're in a competition with new costumers. If you want to see more samples and format, check out some of the equipment purchase proposal samples and templates provided in the article for your reference.