From online shopping to foreign exchange, E-Commerce has always been thriving ever since it was introduced some years ago. Every kind of business transaction and trading can be done online. The reason for its popularity and success because every trader and buyer can access E-Commerce anytime, anywhere. If you're an aspiring E-commerce entrepreneur, it might be easier to get on board; all you need to do is make your own website. However, if you need to access bigger investors, then a proposal would be a help to finance your business. Read the article further to guide you on how to create an e-commerce proposal sample.
10+ E-Commerce Proposal Samples
1. E-commerce Proposal Template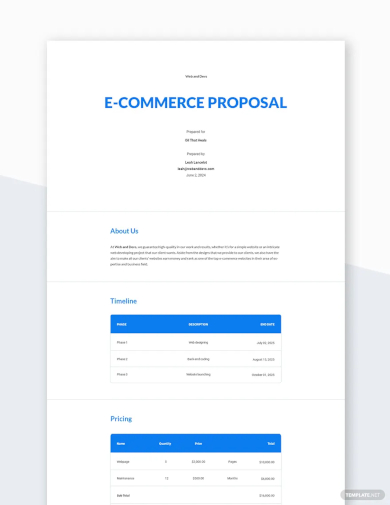 2. E-commerce App Proposal Template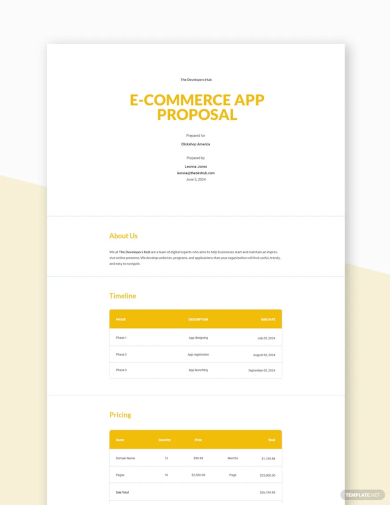 3. E-commerce Business Proposal Template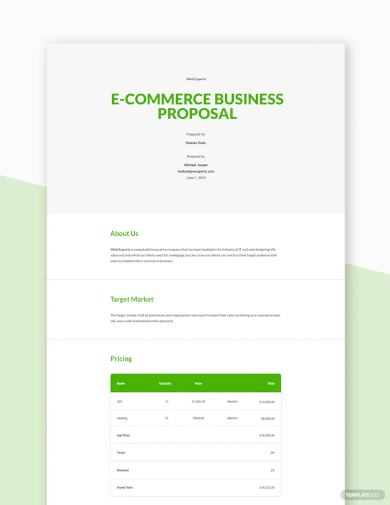 4. E-Commerce Project Proposal Template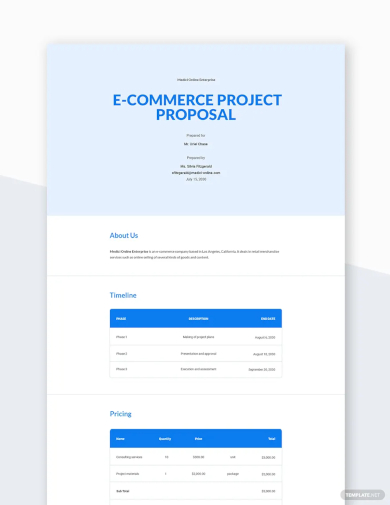 5. E-commerce Request For Proposal Template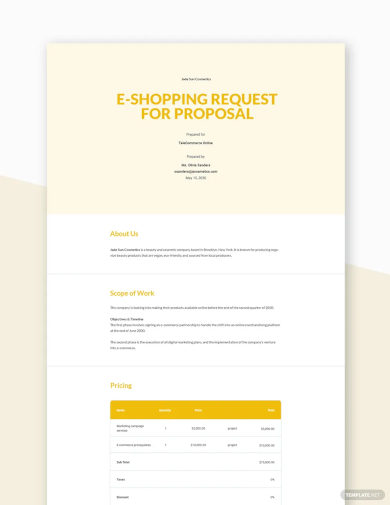 6. E Commerce Web Design Proposal Template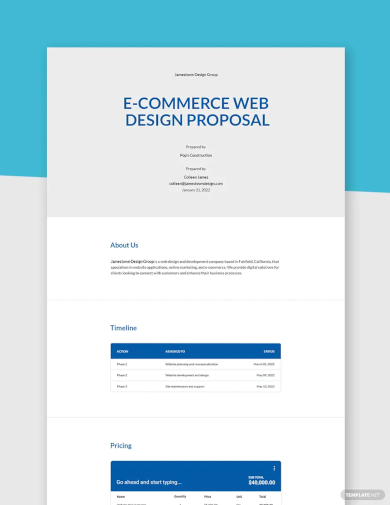 7. E-Commerce Web Design Proposal Template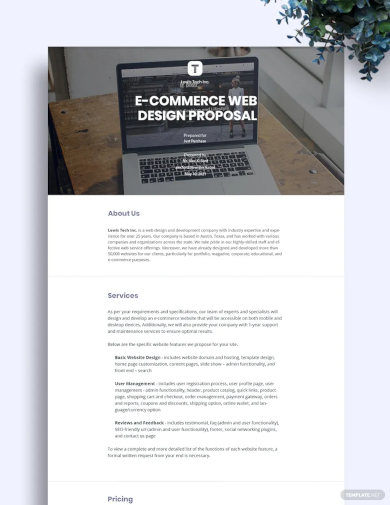 8. Sample E-Commerce Proposal Template
9. E-Commerce Research Proposal Example
10. Sample Restaurant E-Commerce Proposal Template
11. E-commerce Website Development Proposal Template
12. E-commerce Platform Proposal Template
13. Sample E-Commerce Project Proposal Template
14. Standard E-Commerce Proposal Template
15. E-Commerce Research Project Proposal Template
16. E-Commerce Web Design Proposal Template
17. Printable E-Commerce Proposal Template
18. E-Commerce Project Management Proposal Template
What is an eCommerce Proposal?
An e-commerce proposal is a detailed document used to entice investors to partner with any E-Commerce related projects work, such as website development projects on E-commerce platforms, sales, marketing, site engine optimization, and logistics management.
How to Write an eCommerce Proposal
Below is the general format on how to write an E-Commerce proposal:
1. Introduction
This is the part where you will introduce your proposal in a summarized form. Introduce your business background, the project scope of work you're working on, and a short overview of your proposal. The introduction can make do with one to three paragraphs.
2. Project Outline
This is where you outline a more detailed and concrete description of your project and how you intend to complete it. It must encompass the following sections such as the problem statement (where you state the problem where the person you're proposing to is currently facing), and an overview of tasks you can do such as initial planning, sitemap and wireframe creation, content development, website design, and website launching test. You can go on in the specifics of the tasks you're going to do in the later sections.  The main goal here is to give the individual a heads-up on what tasks
3. Define Your Goals and Your Methodology
This is the place where you will describe the goals you intend to achieve.  Make sure your goals are achievable and the outcomes are measurable. Refer to the SMART goals to guide you on how to create efficient goals to help your project realistic enough to be successful. Provide an outline of your methodology of the tasks you're about to do to reach the goal of your project. Include also the timeline, the people responsible to carry out the tasks, and the resources needed to do execute them. The methodology can be presented in a table format to make it easier to measure its success rate.
4. Explain Your Schedule and Budget
Always include a detailed breakdown of the budget along with the overall cost.
5. Information About Your Organization
Include information about your business, its background, and the details of the people that will be working on the project.
6. Approval
This is where the individual you're proposing to can sign the proposal, signifying an sample agreement was made.
FAQs
What are the three types of eCommerce?
There are three main types of e-commerce: business-to-business, business-to-consumer, and consumer-to-consumer.
What are some examples of E-Commerce?
Some of the most well-known E-Commerce right now are Amazon, Flipkart, Birchbox, eBay, and Myntra.
What are the best ecommerce platforms?
Some of the biggest E-commerce platforms are BigCommerce, Shopify, Wix, Shift4Shop, WooCommerce, Volusion, Prestashop, and Weebly.
Once you're done writing your proposal, don't forget to proofread it for spelling or grammar mistakes. It's highly important that your proposal must look professional, crisp, and clean. Don't bombard your proposal with too many words such as unnecessary adjectives and adverbs. Use active words to make your proposal sound strong and confident. You can ask for someone's help to revise and proofread your work and suggest some tips on how to improve it. To help you get started on your proposal, download our free sample E-Commerce proposal templates provided above.