Firstly, what is a proposal? A proposal is a means of pitching your ideas to potential investors. One type of proposal is a contract proposal, which is basically an individual's best shot in making a contract between two parties more likely to be agreed upon. This is done by making a proposal before actually displaying or making the contract. To design a proposal, you will need to research and review your contract several times over to be sure.
A contract proposal and a project proposal are no different, in the sense the idea of pitching your ideas to another group is the common element of the proposals. Although the method of pitching maybe the same, you still have to keep in mind that the thing you are describing may differ.
Contract Proposal Example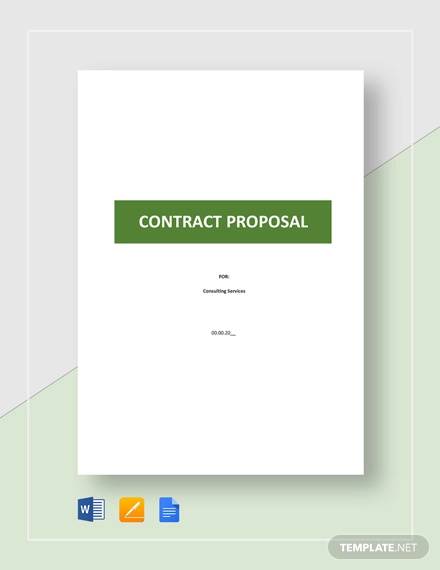 Cleaning Contract Proposal
Proposal Service Contract
Maintenance Contract Proposal
Where Are Contract Proposals Commonly Used?
Contract proposals are an effective way of pitching your ideas and plan to your investors, but who exactly are your investors and how exactly is it more effective than just using a simple contract? To answer the first question, your investors can be anyone who is interested in doing business with you. There is no actual specific target when using a contract proposal, it depends solely on the preference of the investors.
As for the second question, in some cases a contract proposal is more effective than an actual contract. Why? Because it saves time on the negotiation phase of the contract.
Contents of a Contract Proposal
The introduction of the proposal.
Identification of everyone involved with the contract proposal (you the writer, the investors, and anyone else present).
The body of the contract proposal, which will be stating important facts and details relevant to the introduction of your contract proposal.
Indicate charts and graphs as needed, but on a separate page.
Aside from contract proposals, other proposals also benefit from this type of content, such as a contractor proposal and a job proposal in PDF format.
Contract Pricing Proposal
Contract Modification Proposal
Construction Contract Proposal
Basic Contract Proposal
Contract Proposal Template in Excel
Tips on How to Make a Contract Proposal for Cleaning Services
Writing a contract proposal for cleaning services is basically just writing a contract proposal but in the viewpoint of running a cleaning service. Just use the tips on making a contract proposal about rephrasing it for proposing cleaning services instead of just a contract proposal.
Take note, there are several other types of proposals, not just proposals for contracts but also design proposal, program proposal, and even a job proposal.
Tips on Writing the Best Possible Contract Proposal
 As of any proposal, you will need to begin researching about your idea immediately. You also must research about the actual requirements of your contract proposal. This is to avoid misinformation and to have your idea still fresh.
The odds of your contract proposal being accepted depends heavily on the preferences of the clients. You can't propose an idea about one thing to a company focusing on something else entirely, so it's important to take note of your client's preferences.
Think up an idea or a strategy on what way you are going to pitch your idea to your investor.
As of any proposal, you will need to show figures and estimates about the actual potential of your proposals will have over the current strategy being used.
Add in the exact methods, advantages, potentials, and even the expected outcomes that will happen upon implementing the contract proposal.
If you're looking for a way to start an event with some investors, then you will need an event proposal.