Finally starting your project can be both thrilling and exciting at the same time. However, there's always  that sinking feeling whenever we're talking about the one factor that will make or break your project. Budget and finances. Not everybody has the resources they need to immediately undertake the full development and realization of whatever idea or project they may have in mind. Fortunately, grants and grant proposals are a thing, especially nowadays where more organizations and private corporations are more than willing to sponsor any venture as long as it gives them the publicity they need. Grants are financial aid and monetary support given to fund academic papers, projects, and researches. Grants can also be offered to support small startup businesses or nonprofit movements and charities. Though they are far from being the one-time solution to all your financial woes, they still do have a significant effect especially in kickstarting your project and cover all of its initial financial components.
Drafting your grant proposal would usually mean that you have a particularly important research that you have in mind, or maybe an opportunity that you want to try, or a nonprofit or charitable venture in the community or in the larger society that you'd like to do. Which would also mean that you are ready to ask for whatever financial aid and funding you may need to ensure the success of your project. A grant proposal can easily help you with that. Grant proposals are documents or a series of documents that you submit to a chosen committee or organization with the intent of securing funds and financial aid to support your project. Regardless of the document's shape or form, it's overall purpose is to gather enough resources and maybe even more to aid your charity. Be sure to draft your grant proposal well by checking out these charity grant proposal samples that we have listed down below. Once you've acquainted yourself enough with the document, already familiar with what it looks like, how it works, and how its drafted, feel free to use these samples as guides or even as templates for when you write your own grant proposal.
3+ Charity Grant Proposal Samples
1. Charity Grant Proposal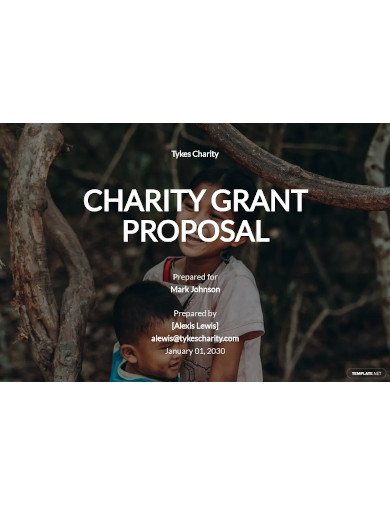 2. Sample Charity Grant Proposal
3. Simple Charity Grant Proposal
4. Charity Grant Proposal Example
What Is a Charity Grant Proposal?
Grant proposals are a series of documents or applications that are to be submitted to the internal or external body of the committee or organization of your  choice with the intent of securing financial funding and monetary support. Writing grant proposals vary across different practices and purposes in the academe or in the corporate industry. Some draft with the intent of funding their  academic papers, project, and researches. While others want to fund more profitable or charitable ventures in the community like small startup businesses and, such as in this case, a charity project.
Writing grant proposals involve a long, winding, circular process that requires much accuracy and proper attention to detail. Which then you're going to present the whole purpose and communicate the intent of your document to the entity in-charge of reviewing your application. It is imperative that you have a crystal clear idea of what you want to do and how you plan to do it. You have to be clear with how your project will benefit the larger society and how it's going to be a worthwhile investment to those who will fund it. There are at least three different types of grant proposals widely used in the academe and the corporate space, ranging from a singular letter to a full-blown series of application documents.
How to Write a Charity Grant Proposal
Grant proposals are usually divided into different sections per the guidelines provided the the committee of your choice. However different they may be, they largely serve just about the same purpose. We'll review these elements below.
Short overview
You have to provide a brief introduction of your project in as few sentences as possible. Keep it short, clear, and concise, while making sure that the whole paragraph is comprehensible all on its own. You may dedicate a full page to this section if you feel like your grant proposal is gonna be long, otherwise, just keep it nice and short.
Problem
The reason your project exists is it responds to a gap of resources or there is an opportunity in the society that needs to be filled. Clarify the needs of the problem that your project is largely based upon. Put and use the details in context, include the target population and their larger demographic, and include any sort of numerical and statistical data if needed.
Description
After you've identified and established the problem that you're project works around with, introduce your venture as a solution to that problem. State your goals, your expected outcomes, methods and strategies that you're willing to take to ensure those outcomes, and the criteria of success which you'll measure your project progress with. Highlight these details to show the committee how you are able to establish the realistic benefits of your project.
Budget and resources
List down the resources that you currently have right now. Identify and specify the amount of additional resources that you need for your project. Write these information in tables and figures, then label each section clearly for convenience.
Other sections
Additional sections may be required depending on the specifications set by your chosen prospect. It can include cover letters, organizational qualifications, and supporting documents.
FAQs
How much should I ask for a grant?
When asking for monetary and financial support, you should be realistic about the amount that you are about to request. Scope how much you can apply for and try to see if there's a range for their offers.
What are the 4 types of grants?
Competitive, formula, continuation, and pass-through grants.
What is a standard grant?
A standard grant is a provision by the NSF which provides a certain level of support and financial funding in a given period of time.
Making sure that your grant proposal is well drafted is no easy task. There is a much need for analyzation and attention to detail when examining your goals and other specific details of your project or venture. However daunting and overwhelming the writing process may be, it can also be deeply rewarding. With the templates and tips we've  provided above, you should be more than ready to write your own charity grant proposal.