If you're thinking about getting a diet, good for you! A lot of people have misconceptions about this– being on a diet doesn't mean that you want to lose weight. In fact, eating a well-balanced, diverse diet that allows us to acquire the proper quantity of nutrients every day keeps us healthy, helps us fight illness, maintains our energy levels, keeps our thoughts active, influences our mood, and many other vital things. Meal planning ensures that you eat a variety of meals and encourages you to consume more fruits and vegetables, which can lower your risk of chronic lifestyle illnesses. By sticking to a healthy meal plan, you can make sure you're eating the appropriate foods in the proper amounts. If you're looking for some help as you establish your weekly diet plan, you've come to the right place! In this article, we provide you with free and ready-to-use samples of Weekly Diet Plan in PDF and DOC formats that you could use to boost your health and nutrition goals. Keep on reading to find out more!
5+ Weekly Diet Plan Samples
1. Weekly Diet Plan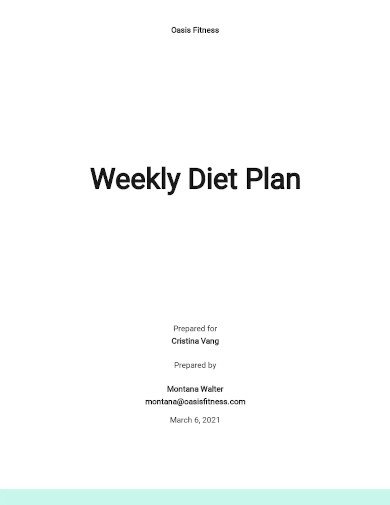 2. Sample Weekly Diet Plan
3. Simple Weekly Diet Plan
4. Weekly Hormone Diet Plan
5. Weekly Diet Plan Example
What Is a Weekly Diet Plan?
A healthy weight-loss diet plan includes all of the vitamins and minerals your body requires to build muscle and sustain energy in one easy-to-follow meal. A healthy weekly diet plan provides your body with the nutrition it need on a daily basis while maintaining under your daily calorie target for weight reduction. A healthy eating plan can also help you avoid heart disease and other illnesses.
How to Make a Weekly Diet Plan
A deliberate diet plan is required to achieve substantial and long-term weight loss. For sustained energy throughout exercises and daily activities, your body need the appropriate mix of nourishment and calories. A Weekly Diet Plan can provide you the structure you need to make sure you have a well-researched and well-written plan on hand. You may do so by selecting one of the outstanding templates shown above. If you wish to write it on your own, use the steps below as a guide:
1. Avoid diet plans that require calorie counting.
A daily calorie goal is usually specified in most diet regimes. Dieters are required to stay inside a set calorie range each day, eating meals that provide all of the essential elements their bodies require to flourish. This fundamental notion, however, sets many dieters up for failure before they ever start. Calorie counting should be approached in a completely different way. Calorie counting on a daily basis tends to encourage undereating. Dieters aim to keep inside their calorie deficits by staying within their limitations. Too many calories not consumed have a detrimental influence on weight loss attempts over time.
2. Prepare a menu.
Prepare a list of the products you'll need from the grocery store and decide which meals you'll make for lunch and supper. You will be less inclined to spend money on fast food or convenience meals if you have a strategy.
3. Establish an eating timeline.
It's just as essential when you eat as it is what you consume. Every day, our bodies go through cycles that impair our capacity to digest stomach contents. Existing medical issues, as well as variances in bodily processes, might affect how you metabolize food. A weight-loss regimen based on the typical three-meal-a-day paradigm does not work for many people. This is especially true for people who are attempting to reduce their daily calorie consumption drastically. Try to space your meals and snacks apart by around 3 hours. This prevents you from being too hungry and turning to bad foods to satisfy your need.
4. Keep track of what you're doing, assess what you're doing, and make changes.
Keep track of your diet plan using a journal. This keeps track of your eating patterns and helps you to evaluate the efficacy of your diet. Make modifications as required to stay on track to your desired weight. If a certain eating plan isn't yielding the intended results, don't be hesitant to switch things up every week.
FAQs
What exactly is the 7-Day Challenge?
People are encouraged to have a large breakfast, a moderate lunch, and a light evening according to the plan. It also allows for a variety of snacks during the day.
What are three nutritious meals you should eat every day?
The three-meal-a-day regimen is precisely what it says on the tin. Breakfast, lunch, and supper are the only meals consumed; snacks are not consumed.
Is it true that bananas make you gain weight?
If you're trying to gain weight, bananas are a great option. They're not just nutrient-dense, but also high in carbohydrates and calories.
For a healthy lifestyle, the importance of a well-balanced diet cannot be overstated. Maintaining a balanced diet and taking into account all of the vital elements required by the body can lead to a healthy lifestyle. To help you get started, download our easily customizable and comprehensive samples of Weekly Diet Plans today!