An operational plan is a processes of planning specific day-to-day goals and objectives that must be followed by a particular team or group within an organization. The plan is created in a way that it supports the goals and objectives of the organization's strategic plans and tactical plans.
The HR or human resources of an organization have their own specific tasks and activities that guides them on what they need to do on a daily basis. Just like other groups or teams within the organization, they make use of an operational plan with their own specific goals and objectives that still supports the strategic and tactical plans of the company. HR operational plans are important in the functioning and success of the human resources team. We also have HR operational plan samples and templates that you can use as reference.
Operational Plan Template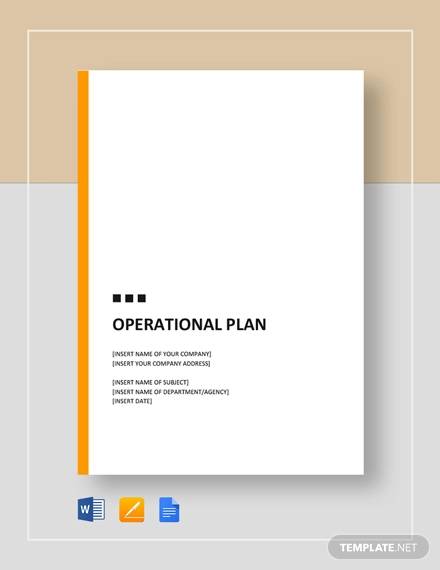 Simple Operational Plan Template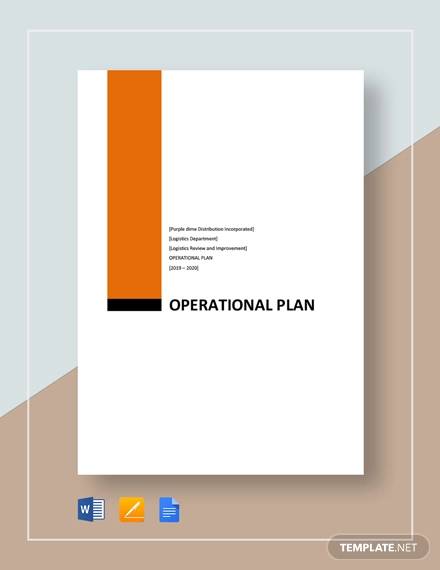 Company Operational Plan Template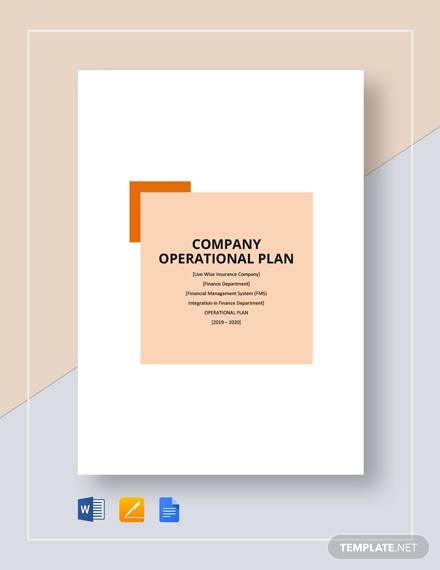 Free Operational Plan Template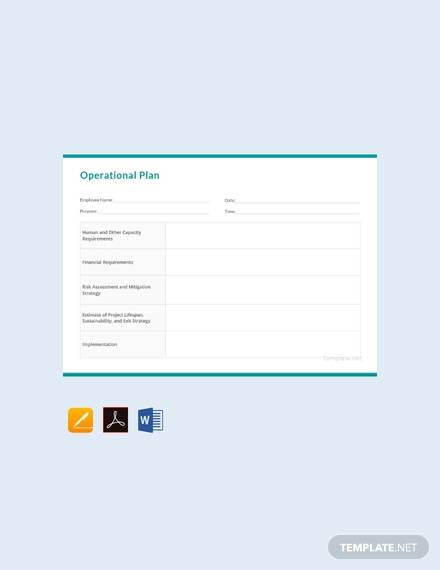 HR Strategic and Operational Priorities Plan Sample
HR Development Operational Plan
Sample HR Planning Template
Operational Human Resources Team Plan
Healthy Workplace Operational Plan
What Is a Human Resource Operational Plan?
A human resource operational plan is a type of operational plan that is specifically used in the human resources department of an organization. In this plan, the strategies and specific objectives of the human resources department are listed. These objectives focus on related activities, such as hiring, managing employees and retaining the employees that the organization already has. Through an HR operational plan, the activities and budget required by the department or team can be established for a period of one to three years or longer. As mentioned before, although HR operational plans have formulate their own strategies, and have their own goals and objectives, they should still be created in a way that supports the strategic plans of the organization or helps the organization reach its goals and objectives as a whole.
You can find other useful and related articles on our website, like Simple Operational Planning Samples & Templates and Annual Operational Plan Samples & Templates.
What Are the Responsibilities of the Human Resources Department?
What does your human resources people do? You would often see these people in their office with a pile of paperwork and other sets of documents covering their entire table. People working in the human resources department of an organization have specific duties and responsibilities to fulfill so that the organization can function effectively. The following are the responsibilities of the human resources department.
Administration – We simply refer to them as admin and they do all sorts of stuff that all admins do. The human resources is responsible for managing the payroll, manage and maintain the records of all the employees, keep track of important company updates, etc. Regardless of the industry where the company belongs to, their function and responsibilities as administrators stay the same.
Ensure Compliance with Labor Laws – There are specific rules and regulations that must be followed in every company or organization. The human resources department ensures that the company or organization is compliant to all government mandated labor laws and employment regulations. Some examples are regulating the number of hours that an employee works per day, age requirement to become employed, the number of breaks that employees should take and many more.
Recruitment – Head hunters are part of the human resources team. In large companies or organizations, they are often a separate team or group because of the need to hire more people that human resources cannot handle alone. Without head hunters, the human resources are responsible for searching and looking for people who would be best candidates for the vacant job or position. This is how they contribute to the growth of the company or organization.
Training – Once employees get hired, they then undergo training. It is the job of the human resources department to provide training to new hires and set specific dates and time when they should be training for the job.
Keeping Records – All of the documents that you have submitted for employment all go to the human resources department. And the future documents that you will be submitting will still end up in the hands of the HR people. This is because they are responsible for keeping all of the company records, old or new.
Job Analysis – Every department in a company or organization have different preferences when it comes to the employees they want to have. It is the function of the human resources department to find out what a particular department wants in order to find a suitable candidate to hire for the job.
Employee Relationship – There are a lot of companies where all the employees are against their HR and vice versa. Well, this shouldn't be as one of the function of the HR is to develop a positive relationship with the employees as well as maintain clear communication with them. A positive employee relationship results in satisfied employees, and satisfied employees tend to be more productive than dissatisfied ones.
Payroll and Benefits – In small companies or organizations, the human resources department is responsible for handling the payroll and benefits of every employee. They function as a compensations and benefits department all at the same time, which means that they also answer inquiries related to an employee's pay and benefits.
Employee Performance Improvement Plans – Ever heard of PIPs? They are performance improvement plans that the human resources department issue to employees who are non performers or those who are struggling to reach company required standards. It is aimed at helping employees improve or perform better within a particular period of time.
If you think that your HR is absolutely not doing anything useful at all, well you might have to think again. They are actually doing a lot of things that you just might not be aware of. Other related topics you may be interested in are control plan samples and templates and sales plan samples and templates.
What Are the Steps in Human Resource Planning?
Human resource planning is a plan that focuses and gives importance to the most valuable asset of an organization, which is its human resources or workforce. The plan aims to get the right people that they think are best for the for the job. It also aims to prevent any shortages in the workforce of the company or organization as this will greatly affect its functioning and other processes. There are six steps in the human resource planning and they are analyzing organizational objectives, inventory, forecasting, estimating manpower gaps, action plan, and monitoring control and feedback.
Analyzing Organizational Objectives
Before any plan is formed, data is first gathered, analyzed and then used as basis for the plan to be created. The same thing is true with human resource planning. It is important to first gather related information about the organization's objectives, what the organization wants to do and where they want to be. These things affect how the plan will be created and the things that should be undertaken to have them done.
Inventory
This refers to the inventory of the present or current human resources. In other words, the number of people who are currently employed in the company or organization is being counted. The human resources inventory includes gathering of data concerning the number, age, locations, skills and capabilities, technical skills and other qualifications of every individual in the organization.
Forecasting
The forecasting of the demand and supply of human resources is one of the steps needed in the human resource planning. This involves the measurement and estimation of the different jobs or positions, as well as proper matching of jobs so that an individual's profile matches the job.
Estimating Manpower Gaps
This is done by comparing the human resource demand and human resource supply to determine if there is a deficit or a surplus of available human resources. The number of people that needs to be employed or the job vacancies are referred to as deficit while surplus means the number of people who has left. being able to estimate the gaps in manpower will help in the human resource planning to find ways on how operations can still continue regardless of the situation.
Action Plan
This refers to the plan that the human resources will have to take and consider. These are the things which they think can help the company or organization.
Monitoring, Control and Feedback
This is the part where the action plan is implemented. To ensure that is doing exactly what has been planned, it being controlled and monitored by the human resources department. Feedback is also provided in this step of the human resource planning.
Those are the six steps in the human resource planning. You may also check out other related topics on our website, like sample marketing plans and implementation plan examples.
Human Resources Operational Plan Sample
Recruitment Strategy Planning Template
HR Strategy Template
HR Operational Strategic Plan
Strategic Workforce Planning
The Benefits of Operational Planning
The following are the benefits of operational planning.
Operational plans are created and used in lower management that serves as a guide for the day-to-day operation of a particular department or area in an organization.
Although operational plans create their own specific goals and objectives, they are still created in line with the strategic plans and tactical pans created by higher management and mid management.
The tasks and activities of an organization or company are listed down and scheduled in a operational plan.
Through operational planning, a company or organization is able to analyze the effects of their plan on their profit or the income that they have gained.
Operational planning allows companies or organizations to identify their strengths and weaknesses.
Operational plans differ or changes every year depending on the situation or current trends as these are factors that can affect how things can be done within an organization. Also, they are plans that are created by the chief executive and staff of an organization so the input provided is not one sided.