Today's learning and development activities must include executive coaching. Executives can successfully align personal and company objectives. Executive coaching, in addition to being a continuous learning process, improves work life and protects people from becoming bored with their jobs. Executive coaches have undergone extensive training to enable them to assist workers in resolving work-related issues. As an executive coach, it is crucial to have a rigorous plan on hand for success. Need some help with this? We've got you covered! In this article, we provide you with free and ready-made samples of Executive Coaching Plans in PDF and DOC formats that you could use for your benefit. Keep on reading to find out more!
7+ Executive Coaching Plan Samples
1. Executive Coaching Plan Template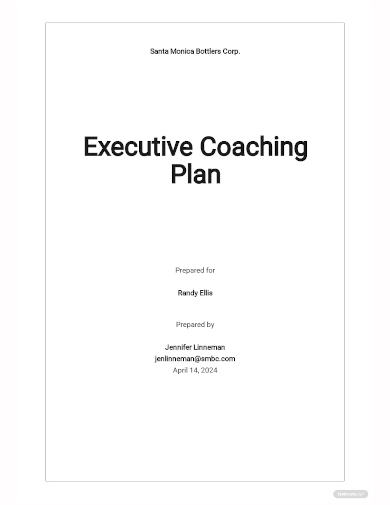 2. Executive Leadership Coaching Plan
3. Executive Program Coaching Plan
4. Executive Coaching Development Plan
5. Senior Executive Coaching Plan
6. Executive Coaching Project Completion Plan
7. Executive Design Coaching Plan
8. Executive Coaching Session Plan
What Is an Executive Coaching Plan?
A coaching plan is a method used by managers to teach, motivate, and enhance the performance of their staff. You may work with each member of your team to set goals for improving their abilities and productivity. Working closely with employees to set both short- and long-term career goals is normally part of a typical coaching strategy. You'll then hold frequent meetings with them to check on their progress and identify areas where they may improve. Giving this employee positive praise and feedback as part of a great coaching plan will drive them to keep working well.
How to Make an Executive Coaching Plan
Employees who receive frequent coaching and support to achieve their professional objectives are more likely to motivate their coworkers. An Executive Coaching Plan Template can help provide you with the framework you need to ensure that you have a well-prepared and robust plan on hand. To do so, you can choose one of our excellent templates listed above. If you want to write it yourself, follow these steps below to guide you:
1. Identify the strengths of the personnel.
When you're first putting together a coaching strategy, you should figure out what their employee strengths are. Identifying which activities to give them and which abilities to develop further to improve their performance even more by defining the responsibilities or obligations in the employee's job description.
2. Look for any areas that might be improved.
Identifying an employee's strengths makes it easier to recognize possible areas for improvement. Make a list of a few changes to the employee's position that you feel they could make. Utilize instances to help the employee better recognize and grasp these issues in their performance while addressing these areas with them.
3. Inquire about the client's performance.
Request that the employee do a self-evaluation after you've shared your own thoughts on their work. This allows you to learn about how your team views themselves as workers and identify any strengths or places for growth that you may not have seen before.
4. Consider any impediments to the client's performance.
You must first establish whatever barriers or issues the employee is encountering that may be preventing them from functioning well before outlining their goals. Limited training or understanding of how to utilize specific workplace items or fulfill job obligations are common impediments that may prohibit employees from improving their performance.
FAQs
What is an executive coach's job description?
A licensed executive coach works with individuals to help them increase self-awareness, define goals, attain development targets, unleash their potential, and function as a sounding board.
What's the distinction between executive coaching and business coaching?
Business coaching focuses on strategy, whereas executive coaching focuses on the individual. Business coaching helps businesses improve their operations and find answers to difficulties they are facing. Executive coaching aids decision-makers in streamlining procedures and resolving issues.
What is the average length of time it takes to become an executive coach?
A minimum of 125 hours of coach-specific training is required to acquire this certification.
All in all, executive coaching plans are crucial because they allow employees to receive vital input on how to enhance their performance in their current position. As a consequence, individuals may be promoted to higher positions within the firm, which will help the company greatly. To help you get started, download our easily customizable and comprehensive templates of Executive Coaching Plans today!