The clothing business may appear congested to anybody who walks into a mall in the heart of a major city. As such, you might think that a clothing store is the last thing anybody needs right now. The reality is that there is always place for another clothing business, especially if you give them something unique and novel in your region. A clothes shop, often known as a clothing store, is an establishment that offers ready-made garments. A boutique is a small store that sells high-end or designer clothes. Furthermore, with e-commerce on the rise, beginning an internet business is a realistic alternative for realizing your ambitions of owning a clothes store. Your success cannot be guaranteed without a great plan. . . look no further! In this article, we provide you with free and ready to use samples of business plans that you need for your clothing store. Keep on reading to find out more!
4+ Clothing Store Business Plan Samples
1. Clothing Store Business Plan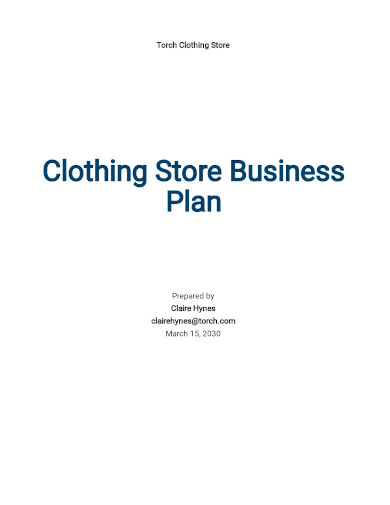 2. Online Clothing Store Business Plan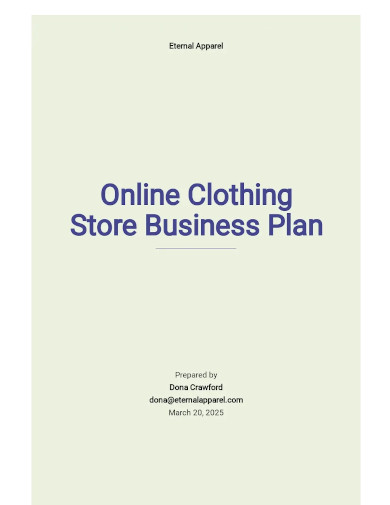 3. Sample Clothing Store Business Plan
4. Simple Clothing Store Business Plan
5. Clothing Store Business Plan Example
What Is a Clothing Store Business Plan?
A love for clothes design and fashion is required to start a clothing business. However, in order to launch a long-lasting fashion brand, you'll need a business plan. Check out our clothes and fashion sample ideas if you've ever desired to get into the fashion industry. Shops, boutiques, clothes design, and eCommerce are all covered in this guide to help you come up with ideas and build your own business.
How to Make a Clothing Store Business Plan
There are many factors to consider while running a clothing business, including where to obtain your clothes, whether to have a storefront and/or online sales, how much to mark up clothing goods, and how to advertise your company and protect yourself from liability. A Clothing Store Business Plan template can help you provide with the framework you need to ensure that you have a thoroughly-researched and well-structured business plan in hand. For that, you can choose one of our excellent templates listed above. You can check out these steps below to guide you if you want to write it yourself:
1. Discover a specialty for your business.
Finding a specialty is a crucial step in every business's development. You want to offer a product or service that is in demand. What kind of apparel, for example, would you sell at your store? Consider if a new men's, women's, or children's clothes store will appeal to your target market, or whether you should sell a mix of these. Then you may specialize in anything like antique women's clothes, boutique clothing design, maternity, sportswear, or accessories.
2. Provide a brief description of your company and a goal statement.
The following part should provide a description of your apparel company and what it does. Are you, for example, a children's clothes store? Are you selling at a physical location, online, or both? What types of styles will you be catering to? Will you incorporate trendy styles, basic garments, among others? This is also the place where you should outline your company's goal and values. Your mission statement should address the following questions: why are you establishing your business and what will your new store offer?
3. Conduct a market and competitive analysis.
A competitive analysis is a study of your company's existing or future rivals. To do one, you must first find other firms in your market that provide a product that is comparable to yours, and then examine how their goods are positioned. A competitor study provides information on current market trends, product price, market saturation, industry best practices, market gaps, and business prospects.
4. Startup costs and finance for a clothing boutique
Starting a clothes shop requires a large number of upfront purchases as well as ongoing expenses. This is where you'll build a list of what you need to buy and how much money you'll need to obtain everything you want. If possible, include a predicted profit and loss statement, cash flow, and balance sheet in addition to estimated costs and funding requirements. This will aid in the creation of a more comprehensive financial picture.
FAQs
Is it worthwhile to launch a clothing business?
In the end, the beginning cost is determined by your business and items, therefore it varies from person to person. But bear in mind that if you think you'll be able to break even fast, it'll be well worth it.
Why do clothes stores go out of business?
The majority of fashion businesses fail because they are losing money. When they begin to convert their ideas into goods and commit to manufacturing, they begin to lose money. Most small designers squander years trying to figure out how manufacturers operate and determine their production pricing.
What is the profit margin of a clothes store?
According to industry experts, profit margins for retail clothing are typically between 4 and 13 percent. When compared to the cost of products sold, or variable expenses, markups can appear to be excessive.
A clothing line business plan is an important ( step to do before launching your brand. The strategy will assist you in defining and streamlining both your long and short term objectives. It will also assist you in charting a course to achieve your objectives. To help you get started, download our easily customizable and comprehensive samples of Clothing Store Business Plans today!