Branding is vital since it not only creates a lasting impression on customers, but it also informs them about what to anticipate from your business. It's a technique to set yourself apart from the competition by stating exactly what you have to offer that makes you the superior option. As such, it is important that you get your brand out there. You can do this through a brand campaign. The value of a brand campaign helps businesses stand out. They encourage customers to make a concentrated effort to take the desired activity. They also offer brands personality, emotion, and individuality. To guarantee the success of your campaign, however, you need a solid plan. Look no further! In this article, we provide you with free and ready-to-use samples of Brand Campaign Plans in PDF and DOC formats that you could use for your campaign. Keep on reading to find out more!
4+ Brand Campaign Plan Samples
1. Brand Campaign Plan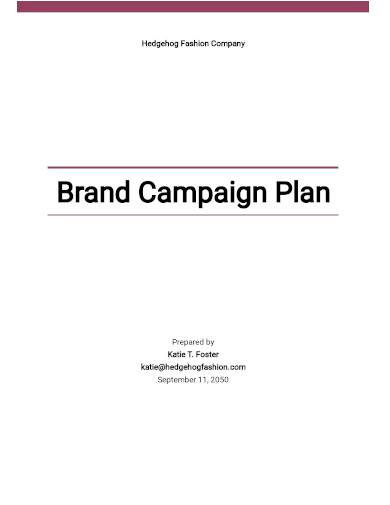 2. Brand Campaign and Development Plan
3. Co-Branded Digital Marketing Campaign Plan
4. Brand Awareness Campaign Plan
5. Global Brand Campaign Plan
What Is a Brand Campaign Plan?
A branding campaign is usually a planned effort aimed at creating, developing, changing, or raising awareness for a company or a person's brand. A marketing campaign, on the other hand, focuses its energy on promoting a product or service in order to generate sales. A Brand Campaign Plan is a long-term strategy for achieving a set of long-term objectives that lead to customer recognition and preference for your brand. Senior management, sales, product development, customer support, and your agency partners are all on the same page. Everyone will be working toward the same goal, critical concerns, strategy, and techniques.
How to Make a Brand Campaign Plan
A well-written brand campaign plan directs an organization's brainpower, resources, and strategies in the right direction to help a brand achieve its objectives. A Brand Campaign Plan helps provide you with the framework you need to ensure with a well-written and well-structured plan on hand. To do so, you can choose our excellent templates listed above. If you want to write it yourself, follow these steps below to guide you:
1. Choose a business objective for your brand campaign.
Begin by considering what you want to achieve with your campaign. Are you trying to raise brand awareness? Increasing foot traffic in stores? How do you generate B2B sales leads? Providing assistance to distribution partners?
2. Know who the audience trying to reach.
Not taking the effort to figure out your target demographic is one of the quickest ways to waste your ad budget. You won't know how to develop a message that people will genuinely resonate with if you don't know who you're talking to. Create buyer personas to assist in decision-making throughout the campaign. This will enable you to craft better targeted communications that may be delivered to a variety of audiences.
3. You must strike a balance between your time and money investment in the campaign.
You know it'll take a lot of weight to get your message through when you embark on a significant brand repositioning effort. One blunder to avoid is investing too much money at the outset of a campaign in the hopes of speeding up the process. Although communication frequency is important in generating change, message length is also important. Rather of squandering money by increasing frequency too quickly, invest it in developing a consistent message over time, allowing them time to absorb your new posture.
4. Prioritize efficiency over effectiveness.
It will take a lot of exposure for a consumer's view of your campaign to shift. A critical factor in campaign effectiveness is generating sufficient frequency over time. Make sure you have a stable base of frequency-building media before you acquire those high-profile sports events or prime-time premieres. Cable television is an excellent way to gain exposure to a large audience at a minimal cost. Once that framework is in place, adding sports or high-impact prime can help you reach a bigger audience.
FAQs
What are the four different types of branding strategies?
Line extension, brand expansion, new brand strategy, and flanker/fight brand strategy are the four brand strategies.
What does a brand campaign plan entail?
Slides for your vision, purpose, analysis, main challenges, strategies, and implementation plans are included in the brand plan template. Slides for your target profile, brand positioning statement, brand idea, brand concept, brand values, brand story, brand credo, and a creative brief are included in our brand positioning template.
What is the significance of a brand campaign?
Brand recognition is critical since it is the first stage in the marketing funnel and lays the groundwork for acquiring consumers. People's capacity to recall and recognize your company is referred to as brand awareness.
A brand campaign is, in general, your company's opportunity to establish or rebuild its image in the minds of consumers. You'll be able to design an effective brand campaign that can be used to drive your entire marketing efforts for years if you keep these guidelines in mind. To help you get