One could not stress enough how highly important it is to start and maintain a healthy diet to live a healthier and longer life. Having a healthy body and mind is truly an amazing wealth a person can possess; however, some take it for granted and abuse it by taking food that is toxic to the body. Having a healthy diet does not mean not eating or only eating small portions of food; one can eat hearty meals but the food is more leaning towards fresh produce such as fresh meat, vegetables, and fruits and less of eating processed and sugary food. If you're planning to change your whole diet and make it healthier, it may be overwhelming to try what types of meal will you be preparing and eating. That's why a 7 -day diet meal plan is created to help you prepare for your transition to sticking to a healthy diet. Read the article to know how to create a 7-day diet plan.
7+ 7-Day Diet Plan Samples
1. 7-Day Diet Plan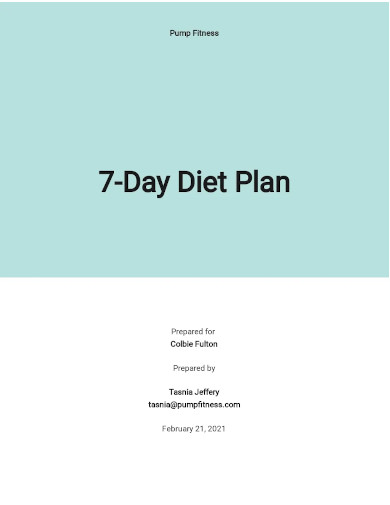 2. 7-Day Brown Rice Cleansing Diet Plan
3. 7-Day Keto Diet Weight Loss Meal Plan
4. 7-Day Jump Start Diet Plan
5. 7-Day Mesopause Diet Plan
6. 7-Day  Metabolic Diet Plan
7. 7-Day Carb Depletion Diet Plan
8. 7-Day Detox Diet Plan
What is a 7-day Diet?
The 7-day diet plan is a weight loss meal plan designed to be followed for seven days (equivalent to a week) at a time.  This type of diet helps the body get used to eating healthier meals that are full of protein, vitamins, and minerals that have fewer carbohydrates and calories.
How to Prepare for a 7-day Diet
1. Find a Reason to Motivate You to Start the Diet
There's always a reason for anyone who wants to start a new practice and you're expected to have a reason for wanting to do this diet. Reflect on why you want to do the 7-day diet plan; do you want to be healthier? Do you want to lose weight? Do you want to have more energy to help you get through your day? Identifying positive reasons for wanting to do this diet gives you the motivation that helps increase the chances for success in maintaining a 7-day diet plan and helps you reach your goal.
2. Do a Kitchen Inventory
If you're going to start this diet plan, you must be willing to prepare or eat your meals at home. The first step is to check your pantry, fridge, and freezer and see what food is available in it. Get rid of highly processed food and keep the healthier food. You need to ensure that your food storage is filled with food that supports your healthy eating goals. If your storage lacks healthy food such as fresh fruits and veggies, low-fat milk or yogurt, eggs, and fresh lean proteins, it's time to list down these foods and go to the market to purchase them. To stock up your pantry and fridge just in case you can't go to the market to buy groceries, stock up on food such as whole grains or pasta, canned beans, canned tomatoes, frozen chicken breasts, or salmon fillets, and frozen fruit or veggies.
3. Track Your Triggers
If you feel the urge to eat unhealthy yet delicious food, you need to train yourself to identify what's driving your desire to eat these types of food. List down your triggers and work on soothing these emotions in the best way possible without involving eating food.
4. Make an Exercise Plan
To ensure you're on your way to getting healthy, you need to move your body regularly and by doing that is through exercise. Make a concrete plan on how often and what type of exercises you should be doing according to your capabilities, your availability, and your goals. Make a schedule to plot your exercise sessions on the time you're free to do your exercise and make sure your plan is what you can maintain to do regularly.
5. Get More Sleep
Having enough hours of sleep such as getting 7 to 8 hours of sleep is beneficial to help you get the energy to move around throughout the whole day. It also helps you lose a lot of weight since your body does not have to eat a lot of food to gain energy since you already have that from getting enough hours of sleep.
How to Make a 7-day Diet Plan
To help your body get used to a new diet plan, gradually introduce it to yourself. Start slowly so your body will not react to a sudden shift of diet that may cause discomforts such as headaches or indigestion. You can start by making a 7-day diet plan for breakfast only then shift to lunch, and then to dinner once you're used to the new diet. To plan meals for each meal of the day, remember these tips:
Breakfast: This should be the heaviest meal of the day and should be well-rounded in nutrition. Eat whole grains or starch to give you carbohydrates to give you energy, fruits, lean meat, vegetables, and dairy (if you're not allergic to it).
Lunch: Incorporate lean meat, vegetables, healthy fats, and fruit in your lunch to help you get going throughout the rest of the day. 
Dinner: This should be the lightest of all your meals throughout the day. Incorporate lean meats, vegetables, and fruits in your meals but make sure the portions are lighter.
FAQs
What is the best diet plan for weight loss?
There are a lot of great diet plans for weight loss. Some examples of these diets are intermittent fasting, plant-based diets, low-carb diets, paleo diet, low-fat diet, Mediterranean diet, Weight Watchers diet, and DASH diet.
What type of foods help burn belly fat?
Foods that help burn belly fat are beans, fish such as salmon, yogurt, red bell peppers, broccoli, edamame, diluted vinegar, and other low-carb and fibrous food.
What are the three benefits that diet contributes to a person?
Having a good diet and pairing it with regular exercise can help you lose weight, lower your cholesterol levels and blood pressure, and decrease your risk of diseases such as cardiovascular diseases and diabetes.
Make sure when you're making your diet plan that your mindset is focused on eating healthier meals and slowly letting go of junk foods and sugary carbohydrates food. You can still eat them, but only rarely. Make sure to discipline yourself to stick to your diet. Having discipline is the key to succeed in this plan and reach your goal to lose weight and have a healthier body. To help you get started on making a 7-day diet plan, download our free sample templates above to use as your reference!