Memo or a memorandum which is a document that is generally used as a means to establish and maintain a communication between two or more co-workers or members of a department. In order to communicate with clients and business associates one might need to use a memo as an external method of contacting with each other. A Memo Templates needs to be created to provide special instructions to co-workers or employees.
Basic Business Memo Template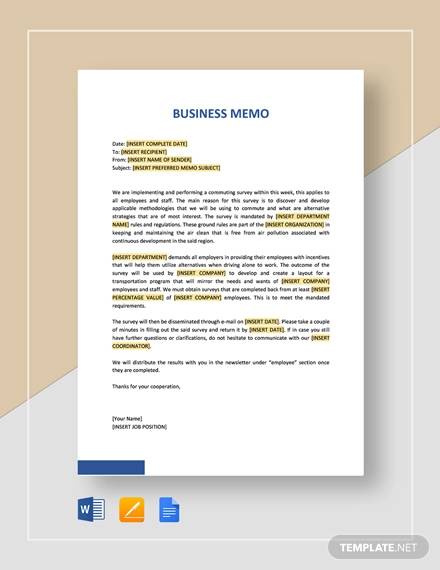 Business Memo Sample Template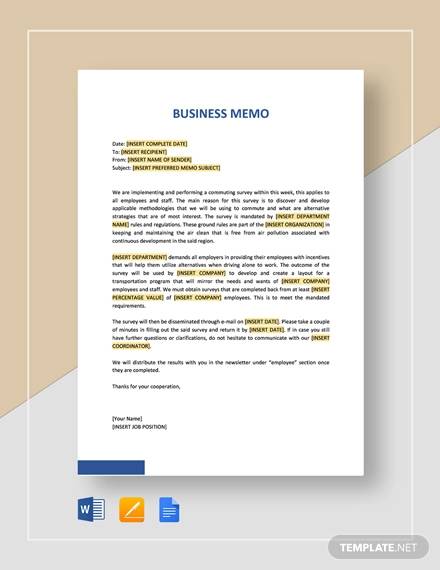 Sample Business Memo Template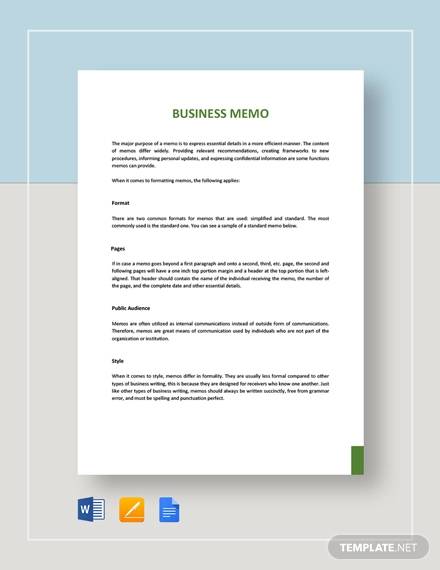 Sample Business Memorandum Template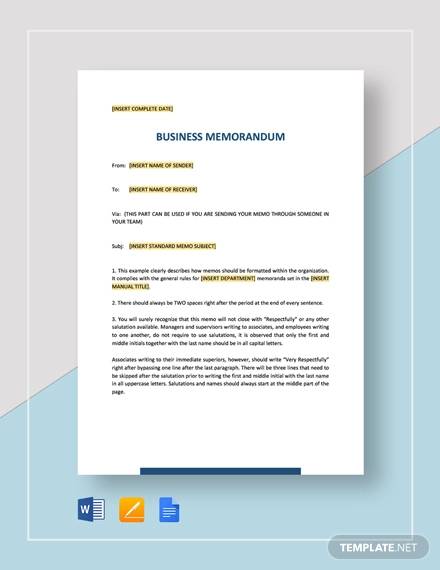 Professional Business Memo Template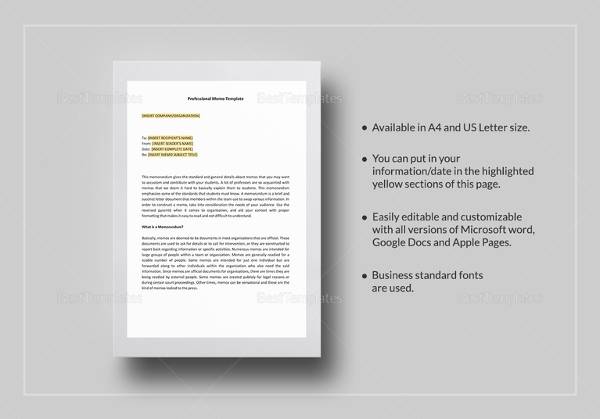 The simplest way of creating memo is opting for downloading memo templates. These memos are different from writing a research paper although the details of the memo may vary which might be in accordance of memo's purpose and intended audience. Beginning with stating the purpose of the memo it has to be prepared by summarizing the conclusion in the introductory paragraph. Each paragraph should be started with a thesis statement.
Basic Business Memo Template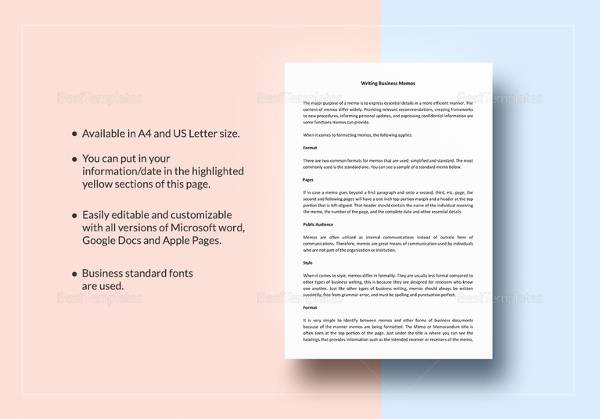 A basic business memo is generally has headings as To, From, Date and Subject which are boldface type or capitalized. The first sentence should focus on the basic point followed by briefly explaining giving out the essential details. If the memo is large it can be divided into short paragraphs or into bulleted lists and headings to organize. The name of the person should be present on the From line and the name of the one who sends in in the last line of the text.
Business Memo Example Template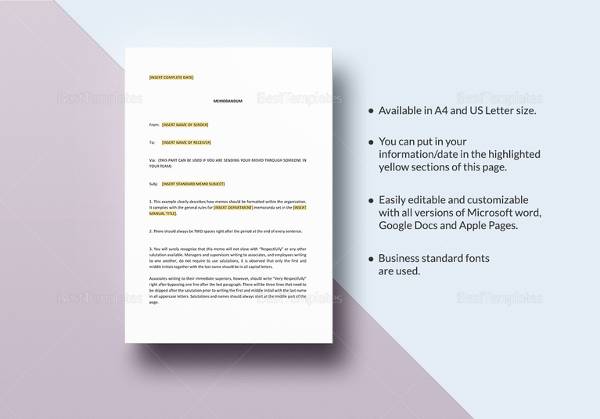 Sample Business Memo Template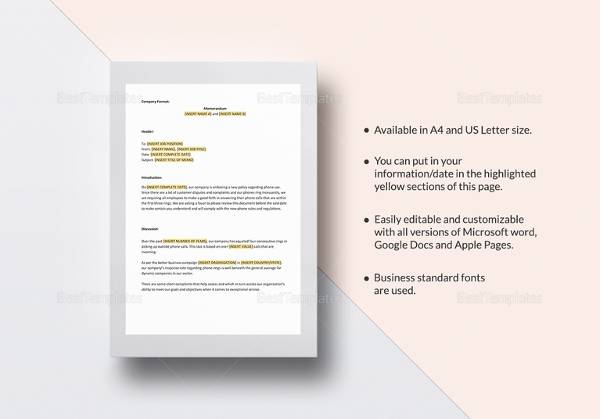 Internal Business Memo Template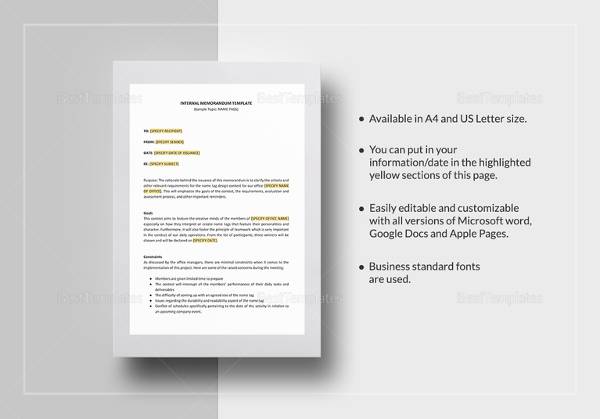 Business Memo Format Template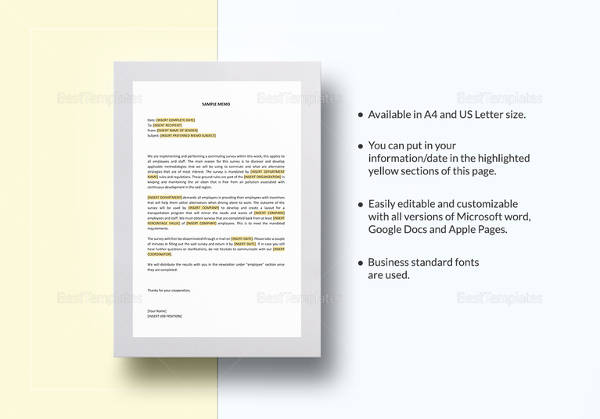 Sample Business Memo to Employees Template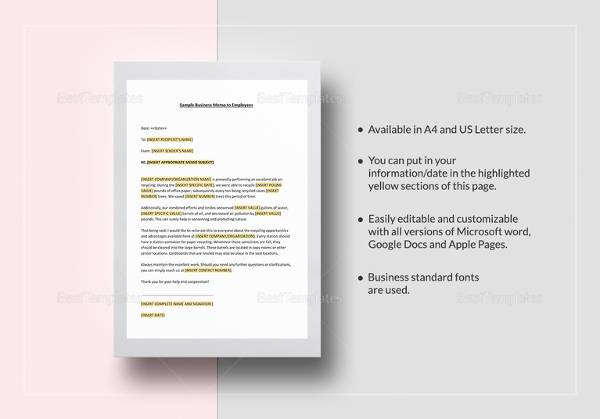 Memorandum of Understanding Format for Business Template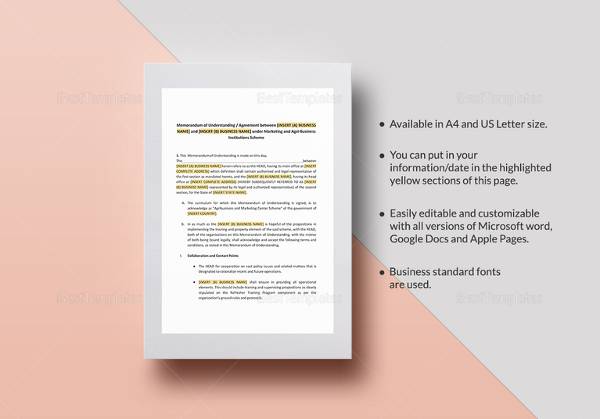 Download Sample Professional Memo Template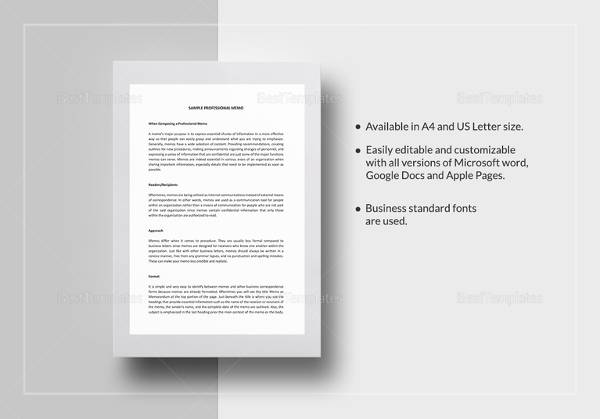 Memorandum Of Understanding Between Two Parties For Business Template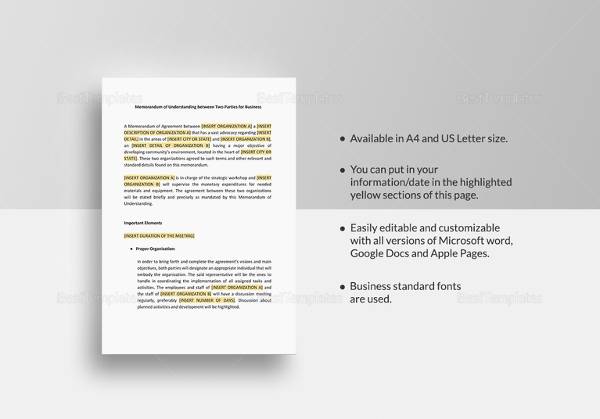 Editable Company Memo Sample Template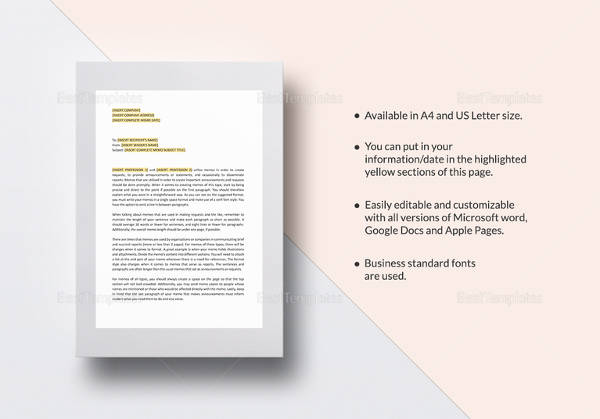 Memo Template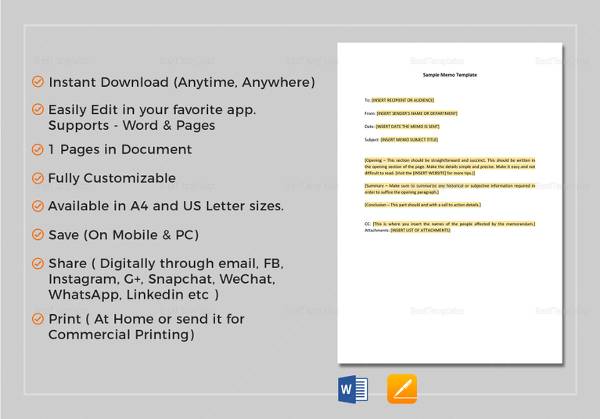 Standard Business Memo
The memo should concentrate on being positive targeting the right audience with a concluding paragraph citing the sources.this kind of memos begin with a brief introductory paragraph which conceptualizes the memo for your readers to describes the main point or course of action.
Project Management Business Memo
The memo should begin with "Date", "To", "From" and "Subject" typed in four underscore lines at the top with a colon placed after each word and follows the proper information. The first paragraph of the memo should be an overview of the project and why is it important for pursuing. Sufficient directions and explanations should be furnished to ensure the tasks the employees should undertake.
Sample Dress Code Business Memo
How to Write a Memo?
The sender's name should be put in the 'From' line along with the date included. A title for the subject line is to be given then with a properly formatted heading. Content of memo should be lucid and must sound professional. For better understanding it can incorporate some bullets points or pictorial representations if required. To write a seamless Business Memo Templates, downloading the templates is the best solution.
Why Writing Business is Important?
A Business Memo Templates is a perfect method of making an important announcement. It can be used to notify important business policy changes to the team of employees. It can also be used for furnishing quick instructions on different works for the employees. Writing business memo is not as simple as it seems.
It should be written in professional style and the content must be easy to understand. If content is confusing, employees may take instructions in wrong way, which can lead to a messy situation. Business memos can also be used as reminders. Business managers write memo to remind project deadlines or special instructions to the employees who are working on it.
When to Write a Memo?
Writing memo has been described as a mode of communication between business employees and owners or management staffs. Now, this raises a few questions. The most important thing is why should you write a memo at all, when you have other methods of making communication? Today, one can simply send an email instead of furnishing a memo to the employees. However, memo carries its own benefits and gravity. You can also see Office Memo Templates
This is why it makes sense to write a memo instead of sending emails. A memo can be used as a quick reminder. Sometimes, it gets too late when you send an email. Some employee may not check email regularly. But, announcement through business memo will reach to all.
With only a specific kind of formats they can be specific only to an institution. It's basically an upward communication process using which you can put forward any kind of issues, complaint opinion, suggestion and views to the authorized level. In order to write a business memo in professional style, download printable PDF files.
If you have any DMCA issues on this post, please contact us!