A memo is a written or printed document containing information used as a communication tool in businesses, organizations, and other entities. A memo can be an informal memo or a formal one depending on how it is used and the type of information or data it contains.
In business, writing a memo is essential in communicating between the different departments within the company. It can also be used for requests, announcements, and calling for meetings. In this article, you will find a variety of memo samples, specifically a credit memo sample, to help you create and outline your own document.
Simple Credit Memo Template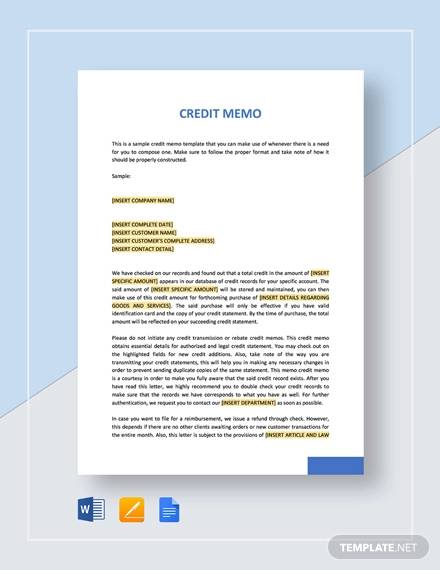 Sample Credit Memo Template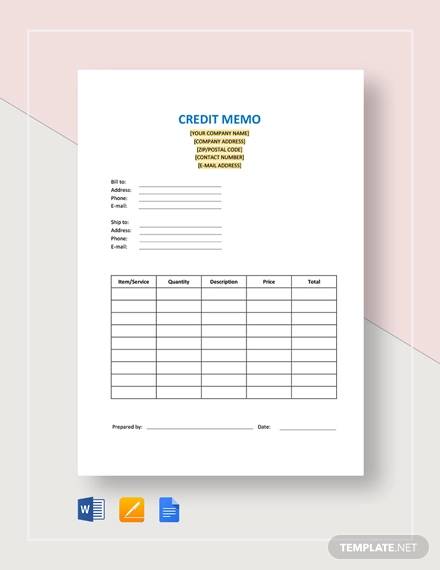 Credit Memo – Excel Template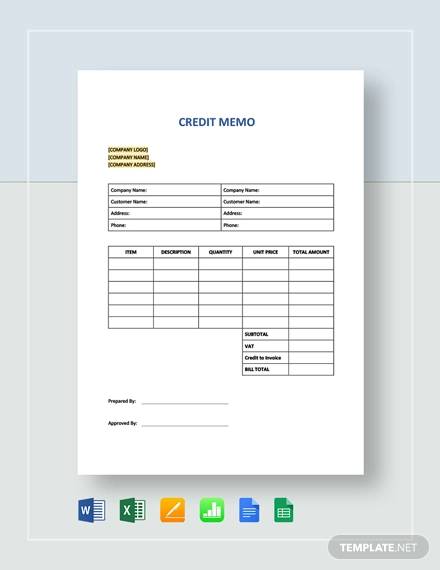 Sample Restaurant Credit Memo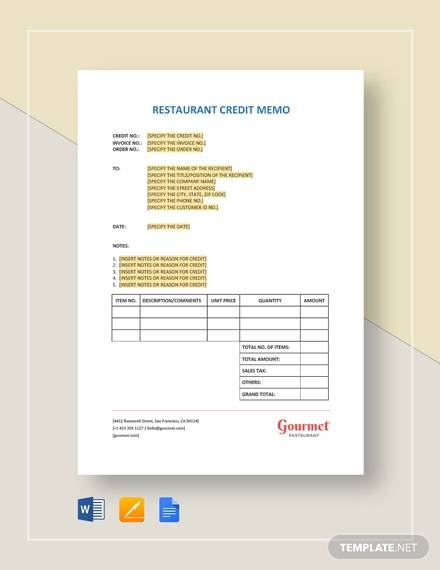 Loan Credit Memo Template
Credit Memo Acceptance
Credit Deposit Memo
What Is a Credit Memo?
A credit memo is a document commonly used in businesses. It is issued by a seller to the buyer or purchaser of goods and services to indicate that a certain amount of credit is given to the buyer. There are various instances when this can happen. For example, if a buyer purchases a number of products and goods from the business and some of these products are damaged or the items delivered are incomplete, the seller repays the buyer and acknowledges it through a credit memo. Refer to the sample credit memo on this page if you need references in creating one.
How Does a Credit Memo Work?
A credit memo serves as an acknowledgment that a particular business or company has received the goods and products returned by the buyer or purchaser. A credit memo works as a basic document provided for by the seller in case the goods and products that have been delivered to the client or buyer has a defect, is damaged, or it is an incorrect item. It can also be issued if the buyer has been overcharged or on instances where an excess amount has been paid. A business or seller may either repay the client in cash or credited to his/her account for future purchases. A credit memo template and a free sample memo are available for download in this article.
Agency Credit Memo
Request for Credit Memo
Customer Credit Memo
Free Credit Memo
How to Write a Credit Memo
Sending out credit memos are a simple way of fixing any errors in the accounts of both the seller and the buyer. It is important to understand how to write a credit memo that you can provide to your clients. The steps in writing a credit memo are as follows:
Download from our sample memo and memo templates in order for you to have a well-made template.
The first thing that you will need to do is to provide a title in your document by writing "Credit Memo" at the first section of your form.
Write the customer's information such as the name, customer number, and other important information.
Include that date when the credit memo is issued as well as the credit memo number, and invoice number.
Write the items being credited to the buyer and include the quantity and the price of each item.
Add the subtotal, tax charges, and the total credit amount.
Tips to Create an Effective Credit Memo
Here are some tips to help you create an effective credit memo:
Ensure that you refer to the transaction invoice when creating a memo to be able to gather the correct data.
Proofread your credit memo before sending them out to your clients.