There are always high demands for various kinds of secretaries such as office secretary, company secretary, legal, medical and even church sectary. The following Secretary Resumes are for those aspiring candidates who want to apply for such job posts with a professional and impressive resume. The Sample Resumes have a perfect format, template and sample statements around which one can form his or her job-winning resume instantly and effortlessly.
Sample Administrative Secretary Resume Template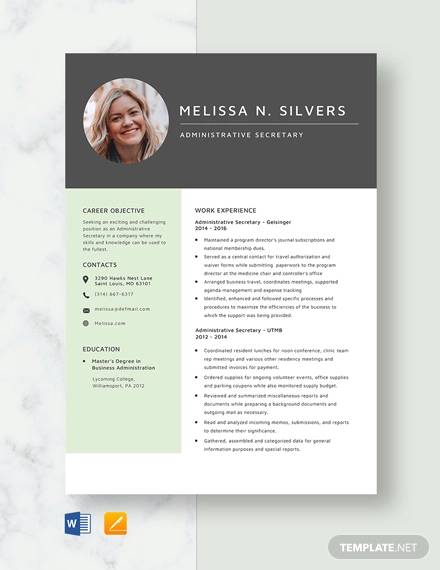 Sample Administration Secretary Resume Template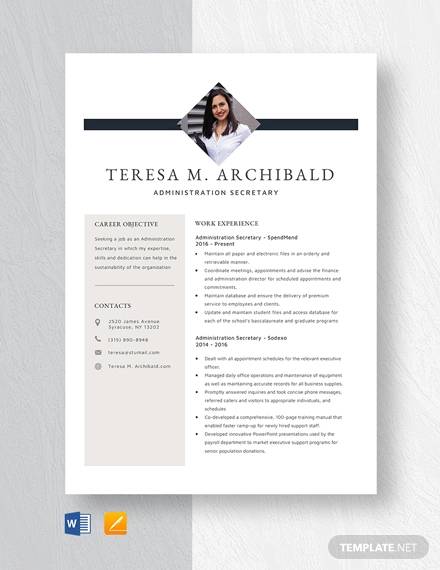 Legal Secretary Resume Sample
For applying for a legal secretary job, the Resume Examples has to be professional, and the format has to be correct in all aspects. The provided resume is perfect and contains headings like a personal summary, work expertise, areas of expertise and key skills, personal skills, duties performed and educational qualifications.
Sample Medical Secretary Resume Example
This is a well-designed sample resume for an aspiring medical secretary. It begins with a performance summary which is awesome and it is followed by core competencies and achievements. It lists the professional experience, additional duties performance, and qualifications.
Company Secretary Resume Format
This is a Professional Resume Samples format for applying for a company secretary job. It has a creative layout, and it lists the areas of expertise, professional and personal skills, work experiences along with an awesome personal summary.
Usage of Secretary Resumes
There are so many secretary job descriptions that get advertised online as well as offline. All those aspiring secretaries should provide super excellent resumes that are professional and impressive enough to intrigue the interviewers to give a call. The above-listed sample resumes cater to office secretary, administrative assistants, medical secretary and even church secretary resumes. All one needs to do is to analyze them, and they can form their resumes by copying the sample statements and modifying them in bits and pieces and come up with a stunning and job-winning resume. You can also see the Secretary Job Description Samples.
Free Sample Church Secretary Resume
This is an ideal resume format and sample for applying for a job for church secretary post. It starts with an overview of qualification followed by professional experience both of which justify the candidate's potential. It also lists volunteer experience, special training, and personal traits.
Editable Office Secretary Resume
This is a very commonly searched resume because there are so many office secretary jobs advertised every day. It has the perfect format and layout to impress the interviewer. It begins with bullet points justifying the candidate's advantage over others. Then it lists skills, experience and education and references.
Executive Secretary Resume Printable
Targeted audience for the Secretary Resume Samples
The targeted audiences for the secretary resume samples are all those candidates who are freshers and want to be a secretary. There are different types of secretary resumes present to cater to all categories of secretary jobs. Even the professional and experienced secretaries can use them to switch their jobs to a better company or organization. They are also applicable for applying for assistant jobs. You can also see the Sample Administrative Assistant Resumes.
Resume Objective For Secretary to Download
Secretary Job Description for Resume in PDF
The above-listed Secretary Resume Samples are perfect regarding design, format, covering all important aspects that a secretary resume should highlight. They also have sample statements for a personal summary, listing different duties with action words and showing off the experience with impact-creating phrases. There are all kinds of resumes for various types of secretary jobs.
If you have any DMCA issues on this post, please contact us.