The police are an important part of any community as they keep the peace and order of the place. Their presence help in averting crime and so we feel safe doing our everyday jobs. When you are a police and would want to advance your career in law enforcement, you would need to submit resumes to potential employers.
To help you with the task, we have police resume samples that you can use as guide in crafting that resume that gets you the job. These Sample Resumes perfectly capture all the necessary elements you need to put in your resume.
Accident Prevention Squad Police Officer Resume Sample Template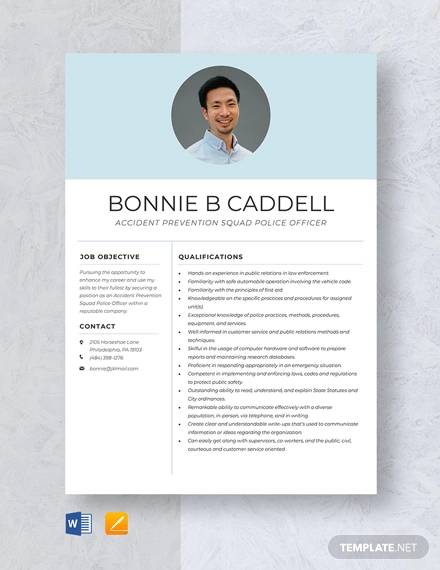 Sample Military Police Resume
Police Officer Resume Example
Entry Level Police Resume
Police Detective Resume in PDF
Police Resume Cover Letter
What to Put in Your Resume
Resumes need to be concise and direct to the point. Employers don't want to read a resume that is four pages long. One page is ideal but you can extend it to two pages. Resumes can come in various formats but here are the standard information that should be included in your police resume. Make sure to check Security Officer Resumes to see its variations from police resumes.
Personal Information – This includes your full name, your address, contact number, and email address.
Professional Summary – Keep this part concise and highlight your experiences and skills to make the potential employer see why you are a right fit.
Areas of Expertise – When you are a police officer, you have areas where you mostly focused on. This could be crisis management, accident investigation, traffic law, and so on.
Professional Experience – List here all your work experiences. When you have gaps in your work, make sure to address it and explain in your cover letter.
Education – Include in this part the school you attended and the degree you obtained. Also put the inclusive years that you attended school. You can also put here certifications you received while in school.
Training – Police officers often receive specialized training to improve their skills. Make sure to include them if you have one.
Chief of Police Resume Format
Police Dispatcher Resume
Police Sergeant Resume
Sample Police Officer Resume
Tips in Making a Police Resume
Making a police resume does not have to be a laborious task. You can check out sample police resumes and use them as guide in making your own. Here are some tips that could make your resume stand out and land you that job in law enforcement.
Think ahead when writing your career objective. You are applying for one position in law enforcement, but it doesn't hurt to look ahead of that and think about your promotion. Make sure to outline the skills and traits that get you the promotion in your objective.
Use action verbs in your work experiences. Using action verbs makes potential employer see you as someone that gets the job done. Don't just list your duties and responsibilities.
Get your facts straight. Be truthful in all the details you put in your resume. Also make sure your put your current contact details. The details of previous employers is also an area that is often mistaken, so make sure to check that they are correct.
Landing a job in law enforcement means you have the necessary skills and experience to do the job. The Best Sample Resumes / CV need to give you a useful guide in making your resume, and our sample police resumes does just that.