When a tenant has made a payment to his or her landlord, a rent receipt must be issued as it serves as a formal documentation of the payment that was made. When these documents are issued, it means that there is an implication that payment terms and conditions have been understood by both parties. Just like any type of receipt out there, two copies of rent receipts are made—an original copy that is given to the tenant and a carbon copy for record-keeping purposes of the landlord.
We have prepared seven Sample Receipts that will serve as you guide when it comes to making a rent receipt that looks professional and top-notch.
Rent Receipt Template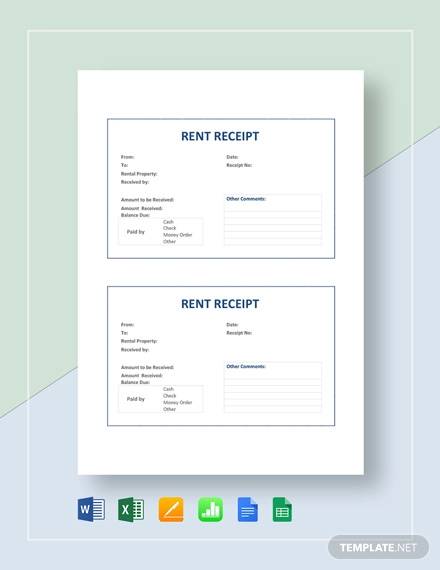 House Rent Receipt in PDF
 Rent Receipt for Income Tax in PDF
Home Rent Receipt Sample
Printable Rent Receipt in PDF
The Rent Receipt Format
All the important information must be included in a rent receipt. If issued properly, it is an effective tool that can be used for record-keeping purposes. Mentioned below are some of the most vital information that must never be left out when it comes to issuing rent receipts.
Writing down the date is important. It can help determine if the tenant paid his or her rent on time or late.
The complete address of the property and the type of property being rented out must also be stated.
Tenant's name must also be reflected on the rent receipt. If the tenant is not around to give the payment, the representative's name must be written on behalf of the tenant.
The total amount due must also be stated. In case a partial payment was made by the tenant, the remaining balance must be reflected alongside the due date.
How the payment was done must also be stated.
The period covered by the total amount due must also be included.
Full name and contact information of the landlord should also be included. If in cases the landlord is not the one receiving the payment, the receiver's name must also be written.
You can also check out Contractor Receipt Samples.
Rent Payment Certificate Format
Receipt for Rent Money
Rent Deposit Receipt
Rent Receipt Format in PDF
Reminders for Issuing Rent Receipts
Do not forget to fill out any important details and provide all the necessary information.
It is recommended that two copies are made when issuing rent receipts—one for the tenant and one to be kept by the landlord.
Do not forget to write down the total amount due and the balance to be paid off by the tenant if there are any.
Using Sample Rent Receipt in PDF
The rent receipt samples featured in this article can all be downloaded in this article directly in PDF (.pdf) format. This makes it very accessible and very easy to save on any device. To start downloading the sample rent receipts, you have to choose the one you think is appropriate for your needs and the needs of your tenant(s). Once you have chosen your preferred template, click on the Download button found on the right side of your chosen template. You ca now start creating a rent receipt by using your chosen template as a guide. You may also opt to copy-paste the content of your chosen template and modify the sections to match it with your preference.
You can also check out Sales Receipt Samples for more receipt templates.