A power of attorney (POA) is a formal document that provides someone the capacity to act on someone else's behalf. The authority granted by the POA might be broad or narrow, confining the agent to very particular responsibilities. Agents specified in POAs have legal authority over the principal's funds, property, and/or medical care. When the principle is ill, incapacitated, or physically unable to sign documentation, a POA is usually issued. A general power of attorney or a power of attorney of property is another name for a financial power of attorney instrument. When the principle is unable to manage his or her finances, the agent is given the authority to do so.
10+ Financial Power of Attorney Samples
A Financial Power of Attorney is a legal document that allows you to authorize someone (your "agent") to manage your money if you are incapable of working yourself. A "financial" power of attorney is distinctive from a "healthcare" power of attorney, which allows permission to make healthcare choices. Finally, a "durable" power of attorney is one that continues to function even if the person who created it becomes physiologically and psychologically incapable.
1. Financial Responsibility Power of Attorney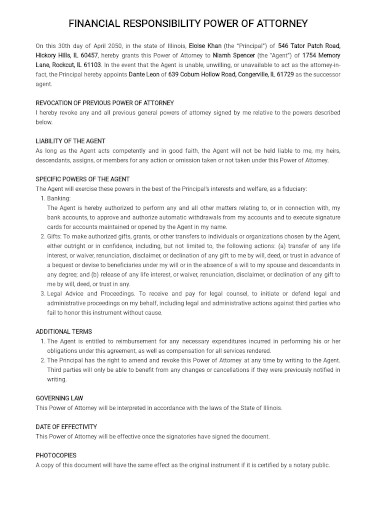 2. Financial Medical Power of Attorney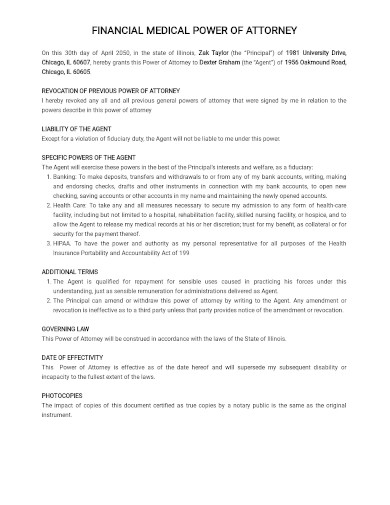 3. Financial Advisor Limited Power of Attorney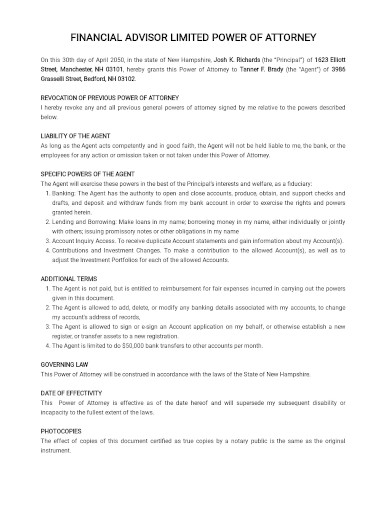 4. Sample Financial Power of Attorney
5. Financial Durable General Power of Attorney
6. Simple Financial Power of Attorney
7. Financial Power of Attorney Example
8. Formal Financial Power of Attorney
9. Professional Financial Power of Attorney
10. Financial Power of Attorney Format
11. Printable Financial Power of Attorney
The agent has legal authority to handle the principal's funds and property, to make all investment decisions, and to perform all monetary operations that fall within the agreement's purview. The person who has been granted POA is bound by the agreement and is unable to perform anything that is not specified in the power of attorney. The agent is constitutionally required to make decisions in accordance with the wishes of the principal, but enjoys complete autonomy until that authority is contested and/or terminated in court.
Financial powers of attorney are generally regarded perpetual in some states, meaning they continue to operate even if the principal becomes incompetent. If the principal intends them to be long-lasting, they should include that detail in the power of attorney, along with additional details about the powers the principal is awarding.
A POA could become operative immediately or upon the incidence of a future scenario, depending on how it is stated.
Even though you are available and not incapable, your agent may conduct on your behalf if the POA takes effect instantly. Whenever somebody can't be available for a transaction, or when one partner can represent an out-of-town couple, this is accomplished.
People, on the other hand, are hesitant to grant someone authority if they can act independently. A springing power of attorney is one that becomes functional upon the advent of a future event. It "springs" into existence if the event occurs.
The principal's inability is the most probable future event. Incapacity occurs when one or more specialists certify that the principal has been unable to think critically, either physically or psychologically.
This could be severely mentally ill, Alzheimer's disease, whilst in a coma, or being unable to interact in any other way.
FAQs
Can I change my DFPA?
Yes, as long as you are mentally competent, you have the ability to withdraw or terminate your DFPA at any time. Your revocation must be in writing and given to your agent as well as any third parties (such as banks) with whom your DFPA has been shared.
How to make a financial power of attorney?
Many states have a standardized durable power of attorney form, which is usually a durable financial power of attorney. Power of attorney forms are available from several banks and brokerage firms. A title insurance company, lender, or closing agent may also mandate the use of their form when purchasing or selling real estate. As a result, you may wind up with multiple financial POA forms.
When the principle dies, the financial power of attorney is immediately revoked. That indicates the agent can only make financial decisions on behalf of the principal while they are still living. An executor must be nominated in the principal's will to cope with money considerations following his or her death. An executor carries out detailed guidelines to administer the dead party's preferences and affairs.