In the United States, a Guaranteed Investment Contract is sold and is structured similarly to a bond. Most savings accounts pay a lower interest rate than GICs. They are, however, still among the most affordable options. The lower interest rate is due to the investment's stability. Interest payments yield lower returns when there is less risk. The Canadian certificate, which is available from banks, credit unions, and trusts, has a variety of features. Insurance companies sell GICs, which guarantee the owner's principal repayment as well as a fixed or floating interest rate for a set period of time. The investment is cautious, and the maturity periods are frequently short. GIC investors frequently seek stable and consistent returns with little price fluctuation and low volatility.
10+ Guaranteed Investment Contract Samples
A guaranteed investment contract (GIC) is a contract between a contract purchaser and an insurance company in which the insurance company guarantees a rate of return in exchange for the deposit being held for a set period of time. It's a guarantee from an insurance company that you'll get a certain rate of return if you keep a deposit for a certain amount of time. A GIC appeals to investors as a substitute for a savings account or a U.S. Treasury bill. Treasury securities are government bonds that are backed by the United States government. Funding agreements are another name for GICs.
1. Guaranteed Investment Contract Template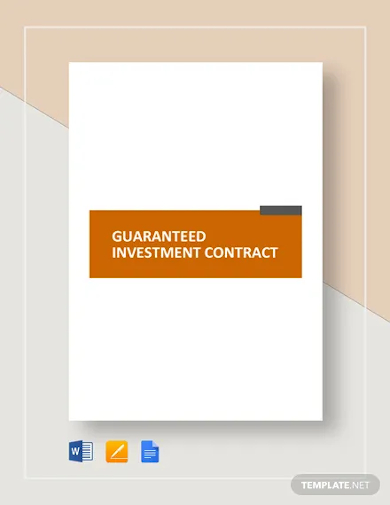 2. Guaranteed Investment Contract Agreement
3. Guaranteed Risk Insurance Investment Contract
4. Guaranteed Equity Investment Contract
5. Guaranteed Value Investment Contract
6. Synthetic Guaranteed Investment Contract
7. Sample Guaranteed Investment Contract
8. Guaranteed Investment Policy Contract
9. Guaranteed Partnership Investment Contract
10. Guaranteed Investment Fund Contract
11. Company Guaranteed Investment Contract
How It Works
Assume Company XYZ purchases a GIC from ABC Insurance Company on behalf of the Company XYZ pension plan's employees. Company XYZ's original investment is guaranteed by ABC Insurance Company, which pays a fixed or variable rate of interest until the end of the contract.
Because this GIC is a general account, ABC Insurance Company will mix the funds of Company XYZ with those of its other general account GIC customers. XYZ Company may not receive the contracted return or the original principal if ABC Insurance Company does not handle its funds well or declares bankruptcy.
A general account GIC and a separate account GIC are two different types of GICs. The underlying assets are kept in separate accounts that are managed and operated by the issuer in this type of GIC. The issuer is paid for this management, and each account is directly impacted by the market value of the underlying assets, though there is usually a minimum guaranteed return.
Why It Matters
The return on a general account GIC usually rises with the length and size of the investment. However, fixed-rate general account GICs are vulnerable to inflation; for example, if interest rates rise during the holding period, purchasing a five-year general account GIC may eliminate the opportunity to earn higher returns.
General account GICs typically return more than savings accounts and Treasury bonds due to the lack of collateral and reliance on the issuer's creditworthiness. They are, however, generally regarded as relatively safe investments.
FAQs
What could be the risk of owning guaranteed investment contracts?
The term "guaranteed investment contracts" (GIC) can be deceiving due to the word "guaranteed." GIC investors, like all investors, are exposed to investment risk. The possibility that an investment will lose value or even become worthless is known as investment risk.
What is a Window Guaranteed Investment Contract?
Window guaranteed investment (WGIC) contracts are a form of financial plan in which an investor makes a series of payment transactions to an insurance company in exchange for a guaranteed return. This guaranteed investment contract (GIC) differs from others in that the investor pays the principal in installments over time rather than in one lump sum. With 401(k) and other defined contribution pension plans, investors use window-guaranteed investment contracts.
If you want to see more samples and formats, check out some guaranteed investment contract samples and templates provided in the article for your reference.