A contract is defined as an agreement between two or more parties about something of interest. A contract is used in a lot of different transactions, usually legal transactions. A legal contract plays an important role in a lot of industries, most especially when it comes to protecting the rights of the parties who are involved in it. This protection prevents any violations in the contract or any breach of contract that might happen. Although this protection can only prevent the breach from happening, it cannot eliminate the possibility of a breach in the contract. This is also true with other existing contracts.
In this article, our topic will be about contracts, specifically agent contracts. Sample contracts and templates are provided for you to view and download. These samples will help you visualize what an agent contract looks like to help you further your understanding about it. We have also included basic and important information that you need to know about contracts, like importance of a contract, what makes it valid, and what to write and not to write in a contract. All these and more are provided below.
Sample Artist Booking Agent Contract Template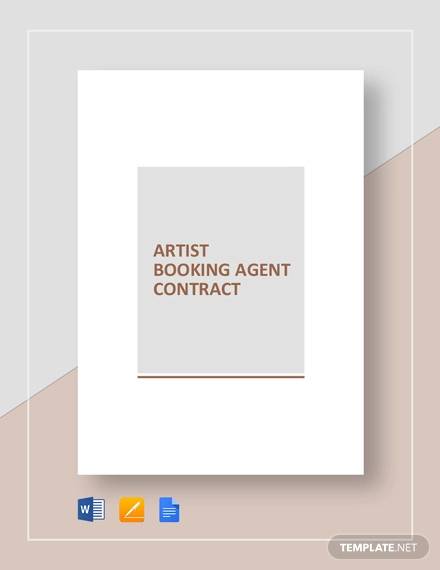 Sample Agent Agreement Contract Template
International Commercial Agency Contract Template Sample
Agent Commission Agreement Contract Template
Sales Agent Contract Template
What Is an Agent Contract?
Upon hearing the words agent contract, what immediately comes to mind are real estate agents and sales agents. They are just some of those that we subconsciously relate to an agent contract. This is all because of the word agent. What does it mean? An agent is a person who acts or does something on behalf or in place of another person. Most agents work in an agency and others prefer to work as freelance agents.
These agents offer their services to a variety of people who are in need of their expertise. They present their business proposals to their prospective clients and once they come to agree about certain terms and conditions, the agent then produces an agent contract.
The agent contract contains specific details about the deal, and the terms and conditions that both parties have agreed upon. The contract is done and signed to ensure that the agent will do his/her part in providing the services that the client needs and to also ensure that the client does their part in contract.
Agent contract agreements, just like any other contracts, all have terms and conditions that may be general or specific to the type of contract being produced. Examples of these contracts are property sales contract samples and templates and house sales contract samples and templates.
In What Industries Are Agent Contracts Being Used?
Getting into a secure and reliable transaction is one of the first priorities of businesses before they get themselves involved in a contract. Businesses spend millions of dollars for partnership contracts and other contracts that they find beneficial to their business. Contracts are believed to be legal, but it loses its legality when it isn't really valid in the first place. That is why a lot of industries and business rely on legal and valid contracts. Because of that, we have prepared a list below of the industries that use agent contracts.
Real estate businesses
Sales industry
Marketing industry
Travel agencies
Outsourcing companies, BPO
Advertising industry
Engineering business
Modeling agencies or talent scouts
What Can Be Found in an Agent Contract?
The first thing that you need to do when you come face-to-face with an agent contract or any other contracts is to check if it is complete and valid. This is because if a contract is not complete, it may not be valid. And if it is not valid, it may not be complete. Below are the things that can be found and you should check in an agent contract before you sign it.
The heading or title – Having the heading or title on top of the contract or on every page of the contract makes it easy to identify what the document is all about. It also helps to easily sort the document from where it belongs.
The name of the business or agency, if applicable.
The name of the agent who made the contract and is responsible for the said contract – To be able to identify the owner or the origin of the contract.
The definition of terms – There are a lot of jargon or technical terms being used in contracts, so a definition of terms will be very helpful in order for both parties to easily understand what is meant by those words.
Table of contents – It provides a complete list of the items that are included in the contract. A contract may have multiple pages, so a table of contents will make it easy and convenient in checking out some of the important details in a contract.
The date and place of the contract signing – The date and place may seem like a minor information. but it actually is important as it may be used for certain legal processes or evidence if the need arises.
The start date and end date of the contract – These dates should be very specific as the contract will only be effective on and within the span of the given dates. The contract is not effective before the start date and after the end date.
The names of all the parties involved in the contract – The complete names of all the individuals who are involved in a contract should be listed in it so that they will be bound to the contract. Once they are bound to the contract, they must follow the terms and conditions stated therein.
The specific terms and conditions, and duties and responsibilities of every party – What must be done and what needs to happen must be clearly and concisely stated in the contract to avoid confusion and wrong assumptions. The complete list of the terms and conditions, as well as the duties and responsibilities should therefore be indicated.
What the contract is about – There should be a brief and concise description of what the contract is about at the start or beginning of the document.
Who and what the contract applies to – This will be a statement that tells who are included in the contract on what things or situations they apply to.
All of the required disclosures – There are a lot of disclosures needed in a contract. Missing just one important disclosure may be fatal or may cause the contract to have a lot loopholes, which may appear fraudulent if present in court.
The agreed upon amount for the payment – This is the agreed amount that the client should pay for the services provided by the agent.
The signatures of all the parties involved – This is usually found at the bottom of the last page of the contract document. The signatures of all of the parties serve as their consent allowing the agent or owner of the contract to execute the agreement.
Aside from agent contracts, the items above can be found in other similar contracts and agreements, like employment agreements, partnership agreements, and non-disclosure agreements. These and a lot more are available on our website. Check them out now!
Commercial Modeling Agency Contract Sample
Exclusive Agent Agreement Contract Template
Printable Agent or Agency Agreement Contract Template
Sample Sales Agency Agreement Contract Template
Literary Agency Agreement Contract Template
Editable Agent Agreement Template for Business
Importance of a Contract
It is necessary that a contract be provided in every business transaction one gets into or in any transaction the comes with great responsibilities and extensive terms and conditions. There are many different uses of contracts, that is why there are certainly many different reasons for it to be considered important.
A contract serves as a legal document that a certain transaction took place.
A contract is important because it is proof that consent has been given by both parties about what has been agreed upon.
A contract is important because the document provides a complete outline that is clear and concise so that no party can make any claims that they did not understand it the way they do.
A contract is important  because it provides the specific details of the transaction, which includes what the contract encloses, as well as the rights of every party in the contract.
A written contract provides protection to all the parties who are involved in it by obligating them to follow the specific terms and conditions provided, most importantly the non-disclosure agreement stated in it.
A contract is important  because it is legally binding and is enforceable in the court of law. This means that whoever violates or commit contract breaches, they shall face the appropriate consequences or pay huge fines to compensate for the damages brought about by the violation or breach.
A contract is important because it minimizes any risks that is associated with getting involved in the contract. These risks could be when the conditions stated in the contract is not met, or when the other party fails to do their share of responsibilities while still bound to the contract.
A contract is important because it gives a sens of legitimacy and makes the transaction feel and look reliable and trustworthy. But a contract should not just be judged by the way it looks and who prepared it. It should be judged based on its validity and excitability.
Businesses need to be careful with home they make contracts with because not all those who appear and act trustworthy are really who they claim to be. To make sure that the contract is legit, you must check for the important elements of a contract or the essential elements of a valid contract.
Dos and Don'ts When Writing a Contract
Contracts are legal documents, thus care should be taken and a lot of consideration should be done when writing one. The dos and don'ts below will help you in your journey to writing an effective and properly written contract.
Dos
Do use a formal writing style when writing a contract, just like how you would use a formal letter format when writing formal letters. Remember that a contract is a legal document and is often presented in court for certain reasons.
Do write clearly and concisely. A contract that is confusing and ambiguous will give a feeling that is unprofessionally done and that the contract is not valuable to the owner at all. A clear and concise contract will prevent any misunderstanding and wrong assumptions from any party involved in it.
Do consider the layout or page setting of your contract. To make it looked framed and professionally done, it should have a margin that is the same size on all four sides. The terms and conditions stated in it should also be thoroughly discussed in separate paragraphs.
Do provide a definition of terms and a table of contents for your contract. The definition of terms will help in understanding the technical terms in the contract, while the table of contents helps to easily find specific information in the contract.
Do make your research on the terms and conditions, as well as clauses that you should include in your contract.
Do consult a legal professional or a lawyer to get advice and help regarding the contract you have written.
Don'ts
Don't write misleading facts or information in your contract. It is fraudulent and illegal to do so which makes the contract invalid. They may also be used against you.
Don't be unreasonable with the terms and conditions you put in your contract. The contract should be agreed by all of the parties involved and should be in favor to none.
Don't insist something in the contract that is not feasible or that is not agreed by all of the parties involved in it.
Don't change anything in the contract after it has been discussed and signed. No matter how you look at it, it is so wrong and unlawful.
Don't forget to review all of the details you have written, and that includes checking your grammar and spelling to see if there are any errors.
You should keep these things in mind when writing a contract as they will help you build an effective and reliable contract. You can also use free contract templates to make your tasks easy and convenient. The sample templates that we have available on our website are freelance contract templates, land contract templates, and purchase contract templates, to name a few.