At least once in your life, you may be asked to do a speech every now and then. It can either be a family gathering, a birthday, a school event plan, or even for a class requirement. It can be quite challenging to do so since after writing what you will say, you actually have to say it in front of an audience. It can be nerve-racking but it's okay. A lot of people get nervous when it comes to giving speeches, so it is safe to say that you are not alone.
The thought of speaking in public must be turning your stomach upside down. However, before you start thinking about talking in public, you should probably be thinking about what your speech should look like. We want to help you out and give you a few tips on how to write your speech. We have also included a few speech samples and guides that you can use as further reference when you start writing your speech. Are you ready? Read up!
Speech Writing Examples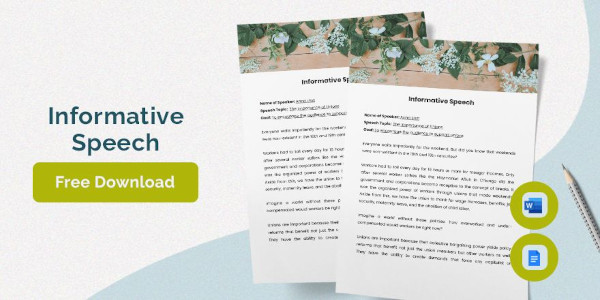 Speech Writing Examples for Students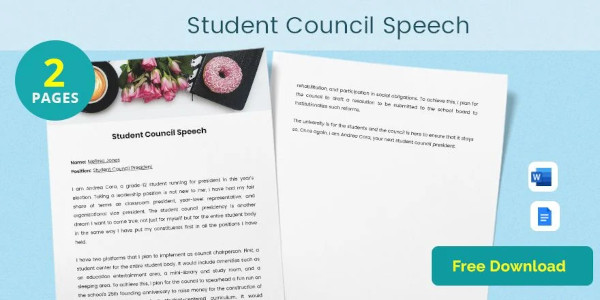 Short Speech Writing Examples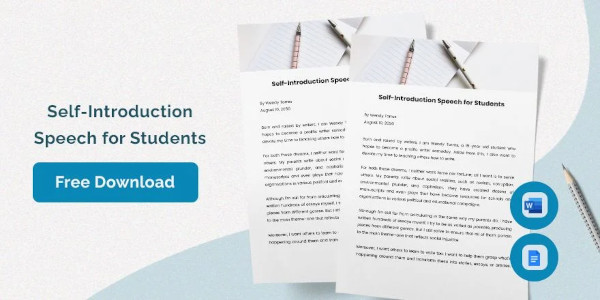 Speech Writing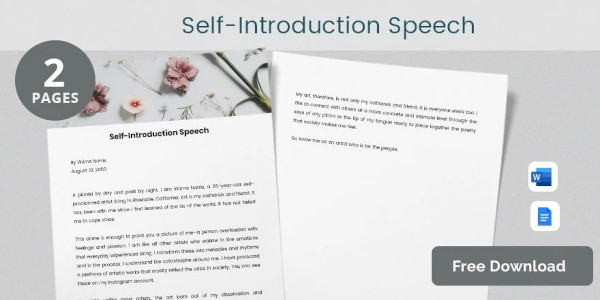 Sample of Speech Writing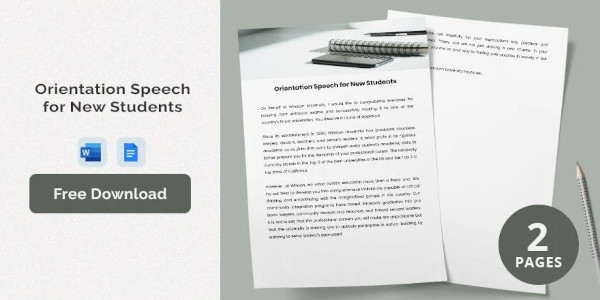 Speech Writing Examples for Students PDF
How Do I Start My Speech?
Engaging Hook: Begin with a compelling story, quote, or question to capture the audience's attention.
Relevance: Establish the speech's relevance to the audience, making them interested in what follows.
Clear Purpose: Clearly state the speech's purpose or main message to provide focus from the outset.
Humor or Anecdote: Incorporate humor or a relevant anecdote to create a connection and set a positive tone.
Acknowledgment: Acknowledge the audience or the occasion, fostering a sense of connection and shared experience.
Speech Writing PDF
How to Write a Speech Example
How Do you Start a 2 Minute Speech?
Captivating Opening: Begin with a compelling quote, surprising fact, or a thought-provoking question to grab the audience's attention.
Clear Purpose: Clearly state the purpose or main idea of your speech to set the tone for the next two minutes.
Relevance: Connect your topic to the audience's interests or experiences, making it immediately relatable.
Engaging Tone: Use a confident and engaging tone to establish a connection with your listeners from the start.
Speech Writing PDF Download
Narrative Speech Examples
What is the First Stage in Speech Writing?
The first stage in speech writing is Preparation and Planning. During this crucial phase, the speaker defines the purpose of the speech, identifies the target audience, and establishes key messages. Research is conducted to gather relevant information and supporting evidence. Understanding the occasion, setting, and desired impact helps shape the tone and style. The speaker also considers the appropriate structure, organizing ideas logically. This initial stage lays the foundation for a coherent and impactful speech, ensuring that the subsequent drafting and delivery phases are guided by a well-thought-out sample plan that aligns with the communication goals and resonates effectively with the audience.
Format of Speech Writing
What Is a Speech?
Before we start digging deep into the details of how to start writing that speech, we should first start with some of the basics. Let us first define what is a speech.
Speech is a group of sample statements that an individual says in front of an audience. It is typically practiced whenever said individual is in a public gathering. The individual can be someone running for a political office, managers looking to inspire their subordinates, or businessman or leader. Most of the time, the purpose of saying a speech is to inspire or to create tension within the group.
Types of Speeches
There are three main types of speeches:
informative speech,
persuasive speech, and
speech for a special occasion.
When you start thinking about which types you should be using, think first of the setting where you will be making your speech or think about what your objective for making the speech. To make it easier for you to decide which one to choose, we will sample brief discuss each type of speech for you.
1. Informative Speech
An informative speech, from the word informative, aims to provide the audience information about a specific topic or subject. With these types of speeches, you want to make sure that your audience is able to understand and remember what you have shared with them.
Topics discussed whenever informative speeches are utilized are the following:
person,
event,
concept, or
process.
If you are looking to write this type of speech, you can check out Sample Informative Speech for more sample reference.
2. Persuasive Speech
Persuasive speeches aim to convince an audience that what they are saying or what they are trying to relay to them is what is correct. A ton of times, these speeches try to challenge the beliefs of an individual. A ton of times, political figures or those who are running for office are the ones who make use of these speeches.
There are three types of persuasive speech:
Questions of Fact. This type of persuasive speech is able to prove and disprove facts such as the stock market.

"Will the stock market be better in the next 5 years?"

Questions of Policy. This persuasive speech aims to give a solution to a certain problem. This speech would typically answer the question, "What should we do?"
Questions of Value. This speech would gauge the goodness or the badness of a specific thing. You typically choose a side and explain why you choose that side.
If you choose to make a persuasive speech, you have to be ready for any backlash that may come as there would be people who will disagree with your ideas and stand. With this being said, you should be sure that you prepare counter agreements for some of the common comments that you might receive.
You can check out Persuasive Speech Examples to have a better idea regarding how this type of speech is structured.
3. Speech for a Special Occasion
When it comes to these types of speeches, you have to make sure that the speech would be fitting for the occasion and the tone should also be a good match for the occasion.
Most of the time, there is an allotted time for these speeches, so if you are writing a speech for an occasion, you have to write it in a way that would fit the time allotted. You can refer to Wedding Speech Examples and Graduation Speech Examples as these are great examples of speeches for special occasions.
Sample Speech
Speech Writing Elements Template
How to Write a Speech?
You have to make sure that when you start writing your speech that you are able to write it properly. So to help you out with that, we are here to give you a guideline and a few tips regarding how to write your speech.
1. Basic Preparations
Choose your topic well. You want to make sure that you are able to focus properly on what you want to convey. Aside from trying to make it match the event or occasion, you also have to make sure that it will appeal to the interest of the audience. Make sure that you also pick a topic that you deem is important to the audience. However, if you find yourself not having the luxury of being able to choose your own topic, make sure that you research the topic well and that you seem enthusiastic when it comes to your delivery.
Make sure that you are able to find what the purpose of the speech is. You should know why you are delivering this speech of yours. Make sure that you state this in a way that will inspire, instruct, or be able to lead to an action.
Be organized. One way of doing this would be to prepare speech outline templates. This way you will know what you will be including in the introduction, the body, and the conclusion. By organizing your thoughts, your audience will be able to follow what your main point is and they will understand that you are not just babbling a messy string of thoughts and that you want them to properly comprehend what you are trying to relay.

When it comes to the body of the speech, you can state at least three main points and make good arguments for each point. Make sure that they are in line or that they flow smoothly together. End with the most important point to make it more memorable to the audience.

Be persuasive. Whether you are writing a persuasive speech or not, make sure that you make your arguments sound. You can do this by stating facts and stating references that would make your speech and arguments more solid.
2. Make Your Speech Effective
Choose your words wisely. Match the words you will be using with that of your audience. If you are writing a speech for 10th graders, make sure that you use words that are at par with their comprehension. You should take time to explain concepts that they have yet to know and give them a brief background of these concepts in order to widen their perspective regarding your topic.
Insert a hook. Make sure that you are able to catch the audience's attention by inserting interesting phrases. You can do this in the introduction of your speech. If you are able to start strong, you will be able to build an sample agreement with most of the audience.
Remember to focus. Avoid straying away from the topic. You want to ensure that all throughout your speech, you are focused on the message that you are trying to convey. You should avoid rambling or else you start losing the attention of the audience and you will also confuse them with what your main message is.
Make it seem natural. Never make it seem like you are just reading off a piece of sample paper. Insert a few pauses especially the points that you would like to point out. This way they will be able to remember these points. During delivery, you can change your tone during these parts.
3. Forming the Speech Proper
Open with a big statement. This will be your hook and this is what will keep your audience interested in what you have to say. You can go for famous quotes, anecdotes, or interesting facts. You can take a look at Introduction Speech Samples for reference.
Make the audience a part of your speech. Instead of using "I," use "we" or other collective nouns. This way, the audience will feel like they are a part of what you are relaying.
Build arguments properly. Start with a strong point, followed by your weakest one, and end with another strong point.
Be aware of your transitions. Make sure that each paragraph is coherent with the previous one and the next one. This way, the audience will not get confused.
End strong. If you start strong, you also have to end strong. Reiterate a few points and summarize what you were trying to convey.
Now that you know a little bit more about writing speeches, we hope that you get to apply these. Make sure that you also hand your first draft to someone to read in case you miss any misspellings, inconsistencies, and grammatical errors.
You can check out Speech Formats for a better understanding of how you can format your speech.
Debate Speech Example
Printable Student Speech Template
What are the Features of a Speech?
Introduction: Captures attention and outlines the speech's purpose.
Body: Presents main ideas, arguments, or key points.
Transitions: Smoothly connects different sections for coherence.
Language: Clear, concise, and tailored to the audience.
Tone: Appropriate for the subject and audience.
Engagement: Interacts with the audience, encouraging participation.
Conclusion: Summarizes main points and leaves a lasting impression.
Structure: Follows a logical and organized format.
Delivery: Varied pace, tone, and gestures for emphasis.
Relevance: Addresses audience interests and concerns.
Welcome Speech Template
Expository Speech Writing Template
What is a Simple Speech?
A simple speech is a concise and straightforward address that conveys a clear message. It avoids complexity, using plain language to ensure easy understanding by the audience.
What is Body Speech?
Body speech refers to non-verbal communication through gestures, postures, and facial expressions. It conveys emotions, intentions, and emphasis, enhancing the spoken message and fostering effective interpersonal communication.
What is a Informative Speech?
An informative speech aims to educate or impart knowledge on a specific topic to the audience. It provides factual information, often breaking down complex concepts into understandable and accessible content.
What is Written Speech Called?
A written speech is called a transcript, manuscript, or script. It's a pre-prepared text that serves as a guide for the speaker, ensuring clarity and coherence during delivery.
Is Speech Writing a Skill?
Yes, speech writing is a valuable skill. It involves crafting engaging, coherent, and impactful messages tailored to a specific audience, requiring a blend of creativity, communication, and organizational abilities.
What is Conclusion in Speech?
The conclusion in a speech is a concise summary of key points, reinforcing the main message. It leaves a lasting impression, often incorporating a call to action or a memorable statement.