Companies and organizations alike are accustomed to organizing seminars, lectures, and meetings. In all these mentioned occasions, a sign-up sheet would be a vital document that can be used by the organizers to easily access information regarding the participants of an event. This document can ask for different types of information depending on the nature of the activity that has prompted its creation.
If you are in the process of preparing a sign-up sheet, then there is no need to vex yourself on how to format and layout it. We have made available a wide collection of easily downloadable sign-up sheet templates that you may use as reference. Moreover, our website also holds a variety of other sheet templates such as balance sheets, daily log sheets, call tracking sheets, etc.
Signup Sheet Template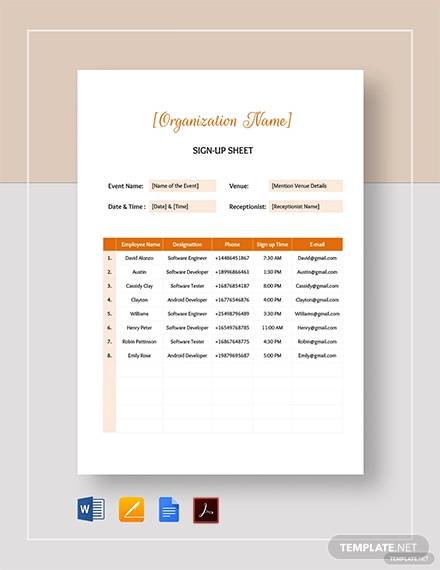 Donation Sign Up Sheet Template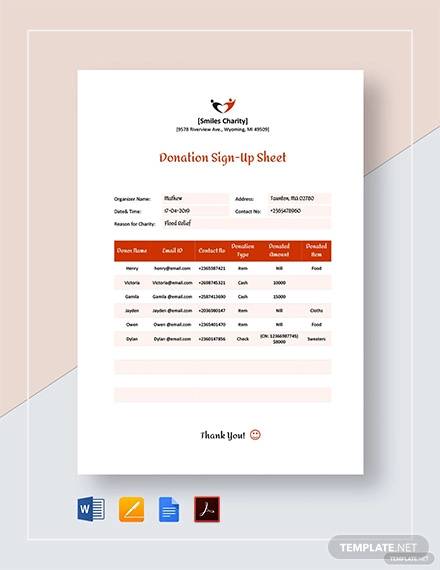 Sports Sign Up Sheet Template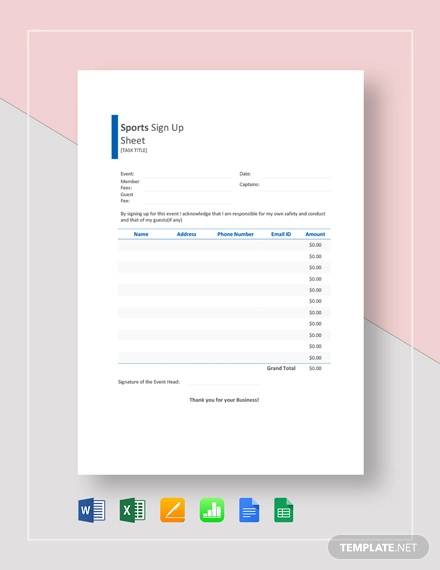 Volunteer Signup Sheet Template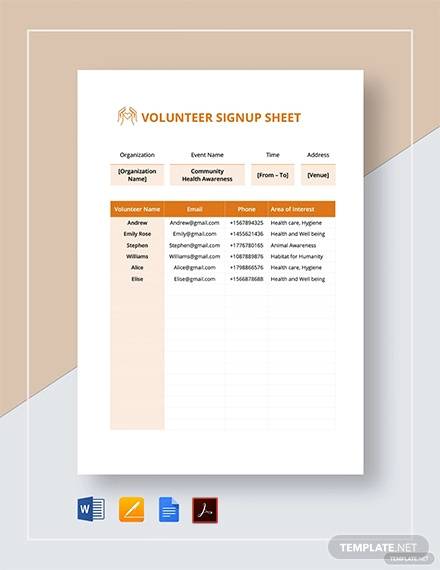 Sample Sign Up Sheet Template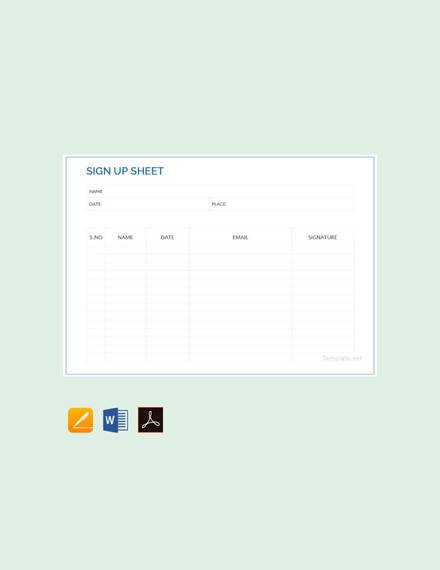 Volunteer Sign Up Sheet Template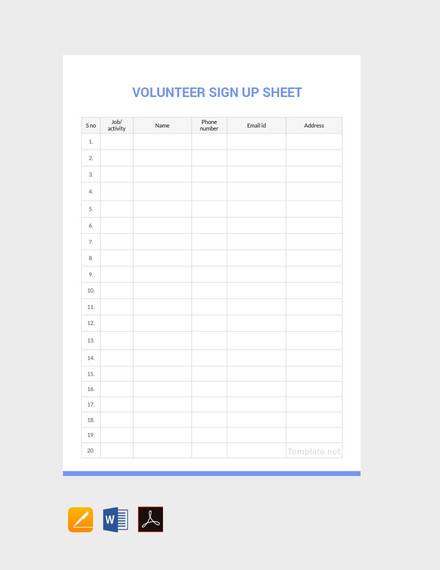 Sports Sign Up Sheet Template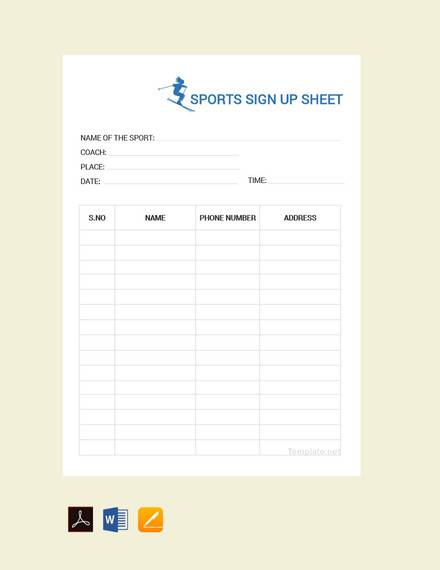 Printable Sheet for Sign-Up
Volunteer Sign-Up Sheet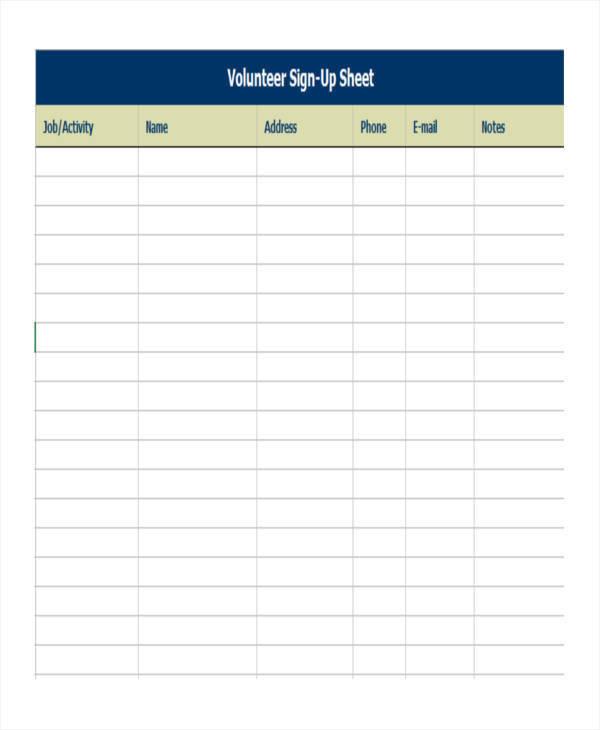 Sheet for Event Sign-Up
Sample Course Sign-Up Sheet
Sheet for Email Sign-Up
What Is a Sign-Up Sheet?
A sign-up sheet is a document that contains rows and columns with different labels. The main purpose of this document is to collect the most relevant data pertaining to the participants of an event, activity, seminar, or meeting.
How to Make a Sign-Up Sheet
Know the types of data you want to collect from your participants.
Download templates that correspond to the type of sheet you are about to make.
Use a template of your choosing as your reference or as a framework of your sign-up sheet.
Adjust the rows and columns.
Label each row and columns with the type of information you want to be inputted under or beside it.
If necessary, it is always advisable to include a section for the instructions on how to fill out the sign-up sheet.
Don't forget to indicate at the topmost part of the sheet the name of your organization, the title of the event, and the logo of your organization.
Indicate the date of the event if it is held within the duration of a day.
Proofread your sign-up sheet before printing!
Now that you know how to make a sign-up sheet, you are now ready to create one of your own! For your other needs, you may also download from our website's wide collections of free balance sheet template, classroom sign-out sheets, and expense sheet templates.
Free Sheet for Sign-Up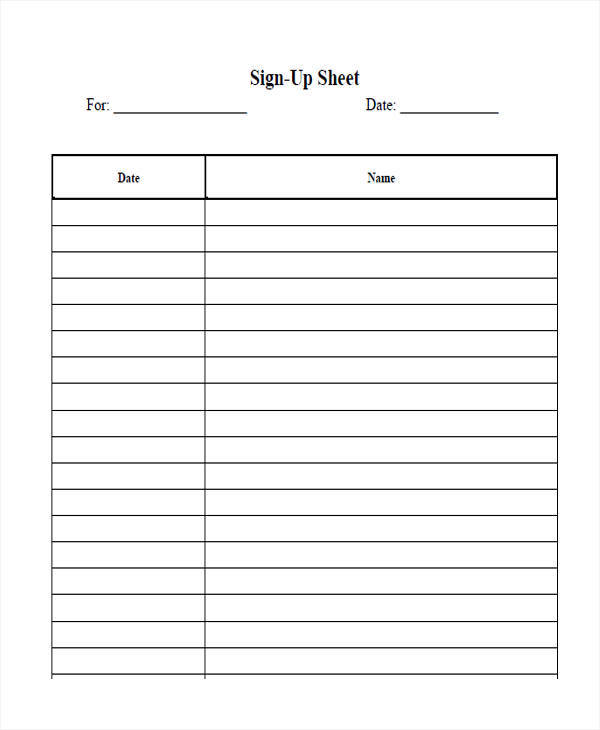 Blank Sign-Up Sample Sheet
Sheet for Donation Sign-Up
Snack Sign-Up Sheet
Sheet for Potluck Sign-Up
Purposes of a Sign-Up Sheet
The most notable uses of a sign-up sheet are as follows:
It is used as a record of the event, seminar, or activity.
It allows the organizers of an event to easily access the data that they need regarding their participants.
It is a reliable source of information that can be used when analyzing how to target certain types of demographics to be invited in the next similar event that is to be organized.
Now that you know the extreme importance of sign-up sheet templates, go ahead and make one now! Don't forget to place the sheet near the entrance or exit area of the premises or venue of the event. For other sheet templates, check out our collections of information sheet template, log sheet sample, and equipment sign-out sheet templates.