For a business owner, it's always a challenge to create something that tells their customers about their company without overwhelming them with endless information and data, while keeping it interesting, not boring them. Presenting something, especially something about your business, is always difficult when you want it to be short and concise, no unnecessary tangents and topics, just enough information to introduce your company and its products and services. And this is where the relevance of fact sheets come in. A well written fact sheet can provide all essential information about your business and its services in a compact document. Fact sheets are frequently used today in the business and the corporate industry as it is a really good way to convey facts and information to a target audience, without pelting them with endless documents and data.
Compressing that much information in a single document can be really difficult, and its relatively easy to mess up. Most people just slap a bunch of information in there and call it a day. But, lucky for you, we're here to help you make sure you don't make the same mistake. Check out these business fact sheet samples listed below to help you write a well drafted fact sheet for your business.
10+ Business Fact Sheet Samples
1. Business Fact Sheet Template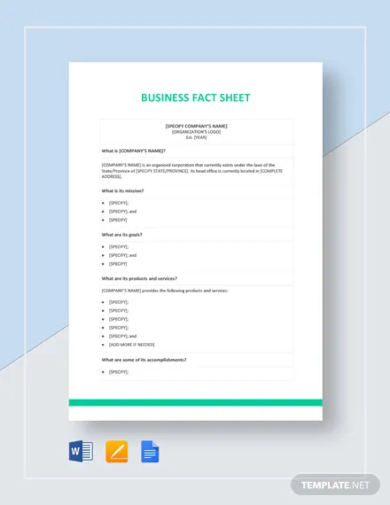 2. Business Fact Sheet
3. Sample Business Fact Sheet
4. Partnership Business Fact Sheet
5. Business Broker Fact Sheet
6. Industry Business Fact Sheet
7. Business Organization Fact Sheet
8. Business Development Fact Sheet
9. Small Business Fact Sheet
10. Business Trip Fact Sheet
11. Business Services Fact Sheet
What Is a Business Fact Sheet?
Fact sheets are documents which are usually a single page long, at most 2 or 3 pages, since its supposed to be only a summarization of every essential information about your company that a customer or an investor might need to know.  Most of the time it contains information about the products and services you are providing or you wish to provide, and a brief description and history of your company. Since its main purpose is to gauge the interest of the audience, its usually drafted in a visually appealing manner with graphs, graphics, tables bold and striking fonts, while staying formal and professional. The concept behind a fact sheet was introduced to keep with the much shorter attention span of the younger generation, like an elevator pitch, they tend to pay more attention to documents or pieces of information presented in a short, concise, straight to the point, and attention grabbing manner.
How to Write a Business Fact Sheet
As we've already established, fact sheets can be really easy to mess up. You have to make sure that the information you are including is both factual and actually relevant, and that the presentation is clear, easy to follow, and understand. To make sure that your fact sheet is properly drafted, here are some key components that you have to keep in mind, which will be discussed in detail below.
Header
Make sure that your header is striking and attention grabbing. It can be the name of your business, your product, a slogan, anything, as long as it is relevant and it makes sense. Also use bold and striking fonts to further grab the attention of our target audience. A great title with a really good font choice can go a long way for your fact sheet.
Company description
Begin your fact sheet with a brief description of your company and a general over view of what its services are. Include a brief history, some of your milestones and achievements, the inspiration behind your company whatever you want to add more. Also, don't forget to include your company's contact details and information, jut to make sure that they have somewhere to reach out to after having read your fact sheet.  Remember that we are dealing with limited space here so don't let go of yourself too much. It's best to only include the surface details and information and leave the rest for when they actually want to know your business more.
Slogan or tagline
Your slogan or tagline doesn't have to be cheeky, just enough to pique the readers' interest. You can even to to just write a portion, if not, your whole mission and vision statement. To give them an idea of what values your company has towards quality of products and services.
Product description
This is supposed to be the main body of your fact sheet, so spend just a little bit more time in this section than the rest. We want your customer to have a perfect picture of your products and services in their heads, so just put enough details for them to have ample idea on what it is. It is also best to include why you're choosing to provide these services and what benefits can the customer gain after purchasing your products, aside from the product itself. What it does to fulfill them or their needs. Its a bit or marketing here and there, but that's kind of the point.
FAQs
Where is a fact sheet used?
Fact sheets are used to provide information to customers, investors, potential clients, business partners, and more, mostly just to the general public.
What does a corporate fact sheet look like?
Corporate fact sheets should be full of facts, but presented in a visually appealing and professional manner. Your fact sheet should include visuals like table, graphs, or anything else that gives it personality and makes it attractive whilst informative.
Where is a fact sheet used?
Fact sheets are used to provide information to an end user, consumer, investors, business partners, or just whoever may need one. Its presented in a short, clear, and concise manner.
Fact sheets, like company profiles, can go a long way for your company. It may not be much but the people tend to appreciate a company more if they see that the company did exert some effort to make the presentation actually presentable and proper. When a document has personality, and not just some pieces of information in a sheet of paper.