Logs are important tools or documents used to record information and data of a particular task or event. Logs are especially useful tools in business and in schools. A daily log is used to record several tasks that happen on a specific day and can be used for many different purposes.
A log sheet is where the various entries or information in a log is written. If you want to learn more about a running log, you can read more about it below. Also, there are downloadable samples and templates of running logs available on this page should you need them.
Simple Running Log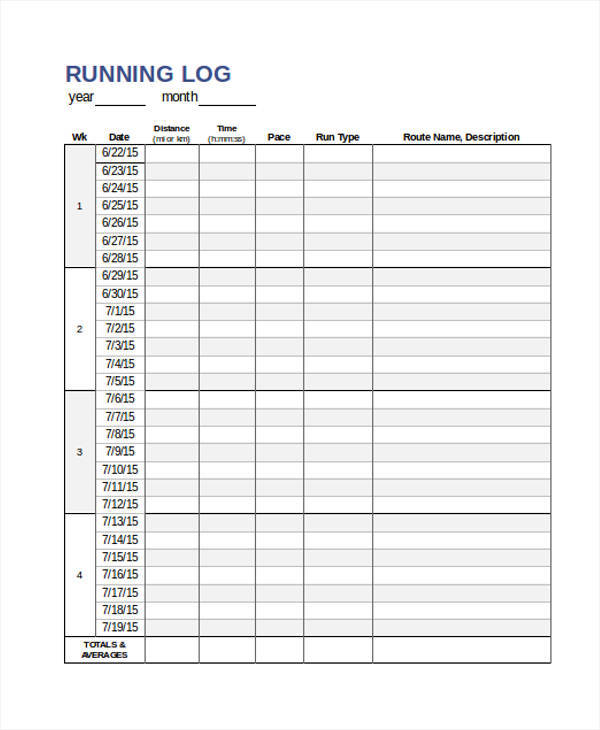 Running Training Log
Running Record Log
Running Workout Log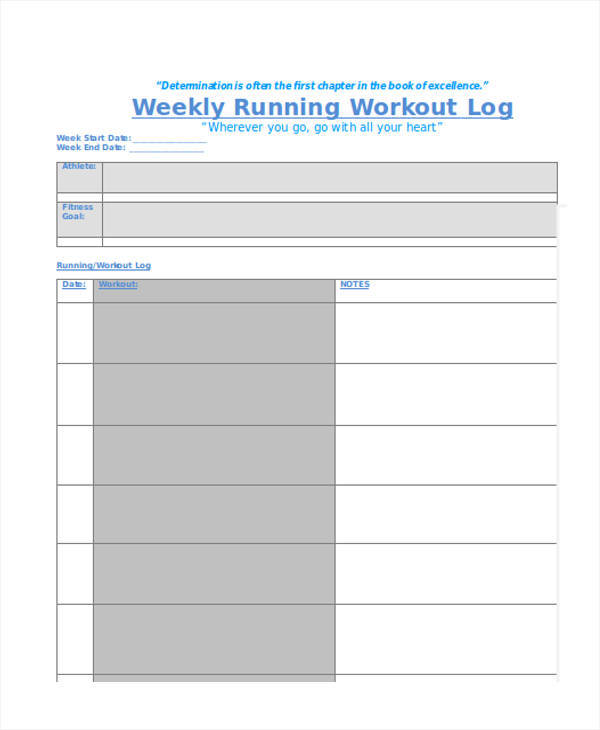 What Is a Running Log?
A running log is a document that is used to keep a record of an individual's running information or data. A running log is typically used by individuals who constantly do running. Using a running log allows them to track personal records, which can be useful to help them improve and to keep them motivated since it makes use of a chart to visualize these results. Running logs are especially useful documents for athletes and runners to monitor and compare their daily runs. Log templates in PDF are available for download on this site should you need to create one.
How to Create a Running Log
To help you effectively create a running log, whether it is for personal use or for professional use, the steps below will help you create one.
Create a template or a table wherein you will be able to input information and data. You can also download our free daily log templates available to make it easier and convenient for you.
Create a section for the name of the runner, age, and other important information.
In the table, write a section where the date will be written.
Include the time of the day to specifically indicate the time of day you have started your daily run.
Include a section where you can input your distance goal. Specifically write it in kilometers or miles, whichever you prefer.
Daily Running Log
Running Mileage Log
Weekly Running Log
Blank Running Log
Personal Running Log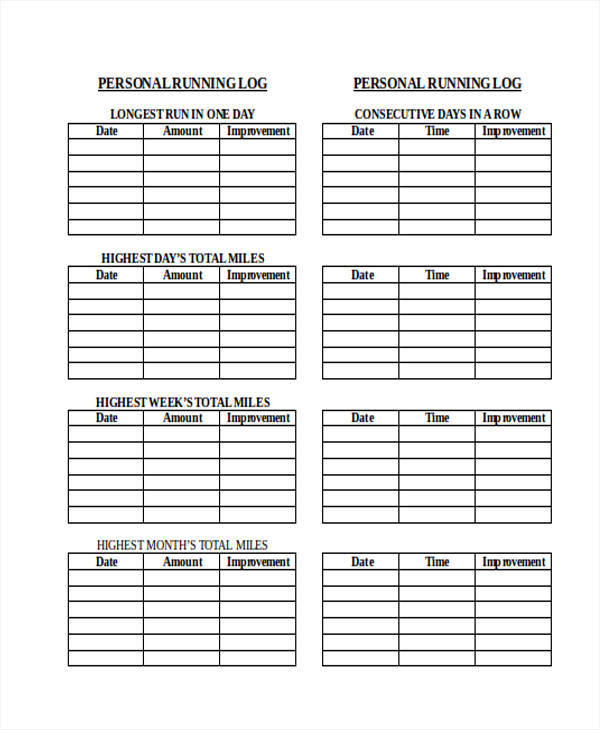 What to Include in a Running Log
Personal information – a running log should include the runner's personal information specifically the name, age, address, contact information, and other relevant personal information.
Goals – an effective running log should clearly specify the runner or athlete's goals to ensure that these goals are met and also to keep him/her motivated.
Running log – this section includes the data of the individual's run. It includes the date, time, the run details in kilometers or in miles, and the total distance covered by the runner.
Why Keep a Running Log?
A running log is essential for athletes and runners alike. It is an important tool in tracking an individual's progress since it keeps a record of his/her daily run. Through a running log, individuals will be able to create goals that are useful in keeping them motivated since it allows them to compare distances ensuring that these goals are met. A running log will also allow individuals to train for marathons and other running events.
Additionally, log templates and time log templates are available if you need to create one specifically.