Companies and businesses connect with hundreds of people as they collaborate on various projects and communities. Sometimes they communicate with these people all at once, especially at the peak of their business seasons. One way of conveniently and efficiently managing their connections is by using a professional contact list which features tools that enable them to track personal and professional contact of their partners or clients.
10+ Professional Contact List Samples
1. Contact List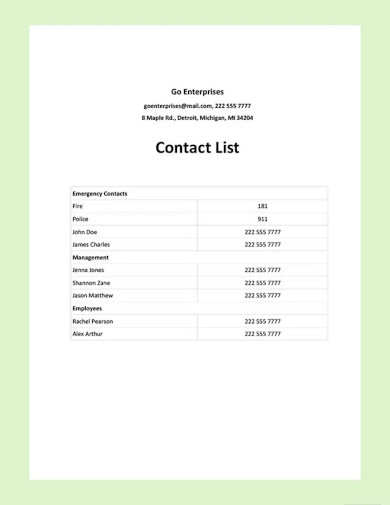 2. Reference Contact List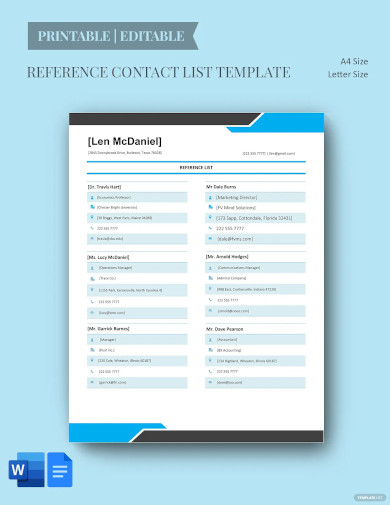 3. Sample Contact List
4. Shipper Contact List
5. Healthcare Team Contact List
6. Housing Coordinator Contact List
7. Production Contact List
8. Simple Contact List
9. Crew Contact List
10. Resource Contact List
11. Emergency Contact List
What is a Professional Contact List Template?
Professional contact list templates are downloadable and printable list templates that are used to help businesses organize, sort, and manage their contact logs. Contact lists are features of mobile phones and email services but they are not supported or backed up, making them unretrievable when lost. A professional contact list template can be used for various purposes like listing vendor contacts and emergency contacts which can also include address lists of employees, meeting attendees, or reference lists of important contacts.
How to Create a Professional Contact List?
Composing a professional contact list for your business enables you to track and communicate with your partners or clients, especially when you have a message you need to deliver as soon as possible. Storing your personal and professional contact lists on your mobile device is not reliable enough. With professional contact list templates, you can list down all contact information you have and print them to post on accessible areas while storing the main file in your drive.
Step 1: Include Important Information about your Business
In a professional contact list, you also have to include your business details such as its name, address, location, and contact information. You can put these details at the top of your list to indicate so it can be easily located in case of emergencies. 
Step 2: List down All your Team Members' Names and Contact Information
Listing down all your members' names and contact information allows you to determine who to call when you need their assistance. You can also include medical information on your list so they can receive help as well as prepare the people around them to deal with difficult situations.
Step 3: Include the Basic Emergency Contact Numbers
You can also include basic emergency contact numbers so you and your employees can connect to the authorities like the police, fire department, medical institutions, and ambulance services when you need them. 
Step 4: Add Contact Information of Utility Companies
It is also important to add the contact information of utility companies in case of gas leaks, electrical issues, or busted pipes. These companies can also minimize the damages caused by these situations.
FAQs
What other contact information can I add to my contact list?
When making your professional contact list, you can also include contact information of companies that can help you during minor emergencies. This refers to taxi services, automobile repairs, roadside assistance, and locksmiths. You can also include the contact information of poison control, animal control, and security companies on your list.
What is the difference between a contact list and a contact log?
A contact list is a collection of screen names usually features on mobile phones and are used for instant messaging, emailing, and online gaming. While a contact log refers to a record of interaction between a caller and the receiver either through a phone call, email messaging, or in person.
What are the benefits of using a digital contact management system?
Unlike phone books, digital contact management prevents you from losing your list, enables you to access it from any device you are using, easier for you to update and manage, and can develop as your business grows.
You can keep both your personal and business contact information accessible and safe with the use of professional contact list templates. These templates are customizable and printable which allows you to post your contact lists of important contacts you and your employees will need in case of emergencies. You can also further edit your contacts and update them then safely store them in your drive for future use.