This template is one of the remarkable assistance for those who are fitness freaks. This log helps to track your daily progress and achievements on the running tracks. Whether you are running to lose weight, stay fit or training for a marathon, this template is a real guide. This Printable Work Log Template is simple as it allows you to track the temperature, shoes you were running with and type of run, as well as a description of the route all, is easy to customize and maintain.
Daily Running Log Template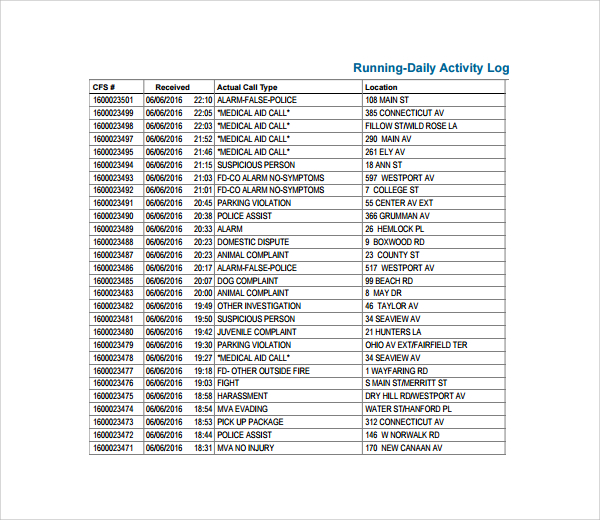 my.norwalkct.org
This is a spreadsheet where you can enter the data of your daily running progress. Say you are taking part in any sprint, marathon or a triathlon or simply want to track your jogging speed, this sheet will help you to maintain a detailed progress. You can keep a track of distance covered, time, heart rate, and route details.
Simple Running Log Template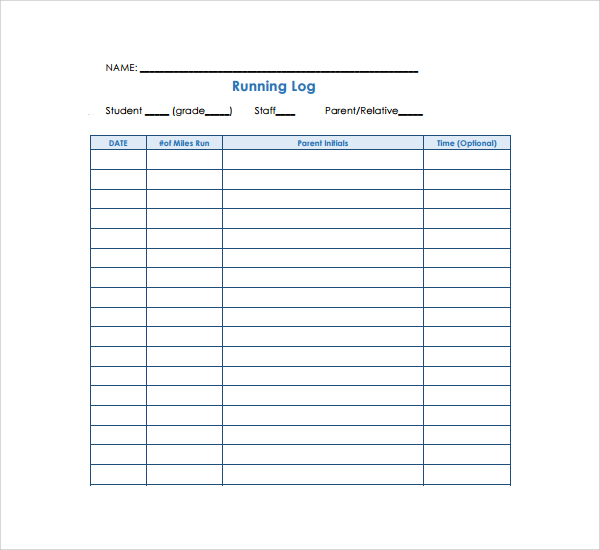 rcscsd.org
With this logbook, you can track and measure the progress of your daily runs. If you are suffering from diabetes or obesity and in the need to take regular jogging or running, then a log can help you to keep a tap on the progress and thus improvise your strengths.
Printable Running Log Template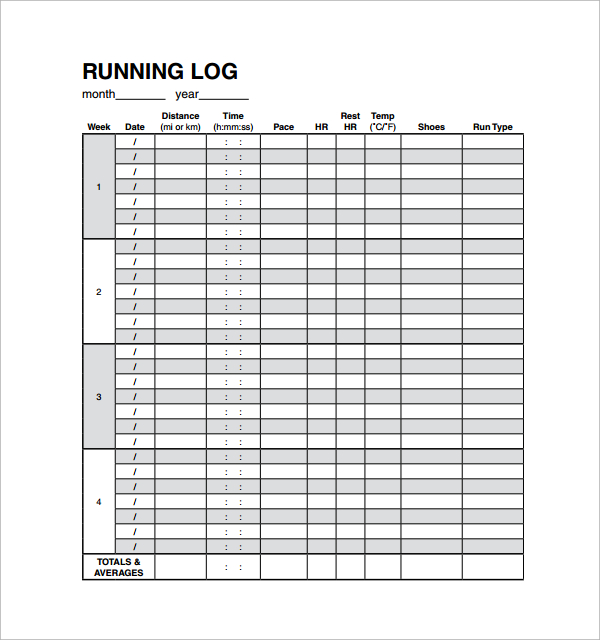 bridgeporttrack.com
If you are taking part in race, this log template will be a boon. It will cut the clutter and will give the genuine measure for every lap that you cover in the practice session. You can easily take a printout of your daily records or simply download the template to maintain the record manually on a daily basis.
Free Running Log Template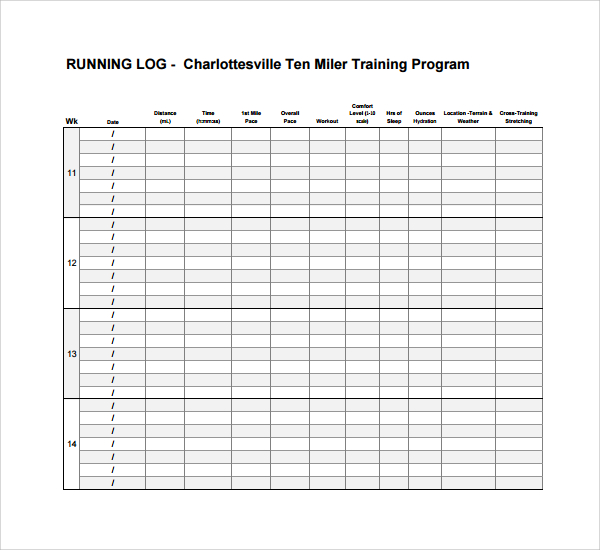 charlottesvilletrackclub.org
It is for the general use of everyone who are fitness freaks or athletes. As they need to track their efforts spent in running or taking up walking or sprint like exercise. These templates are easy to download and maybe available in Excel or simply in PDF or Words.
Sample Running Log Template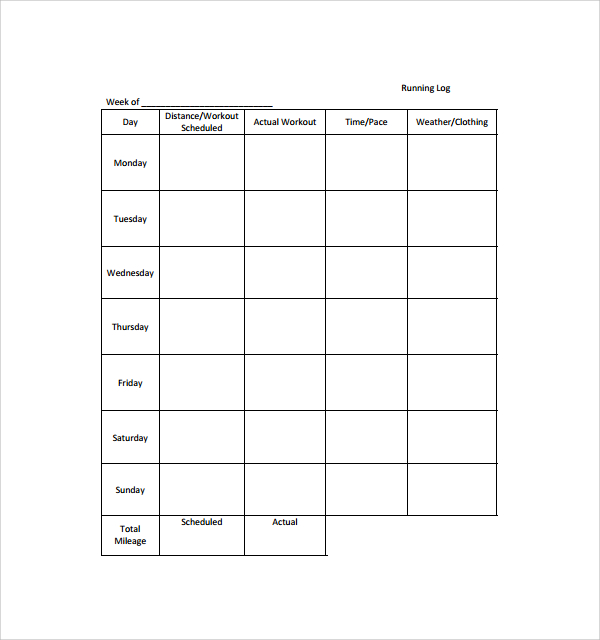 wheresthefinish.com
My Running Log Template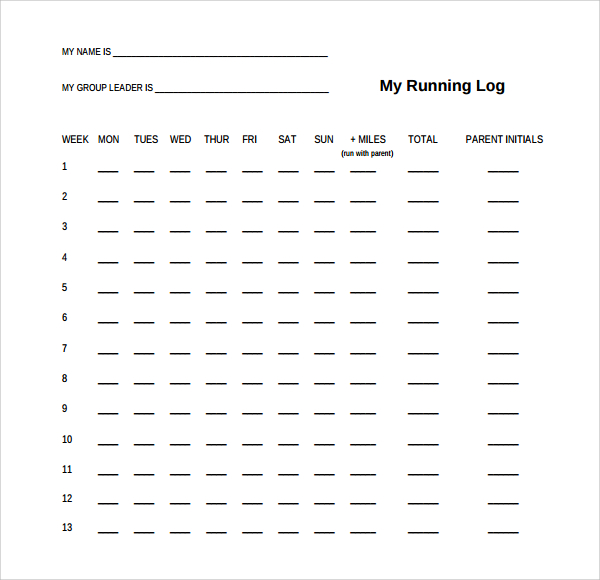 justrun.org
Kids Marathon Running Log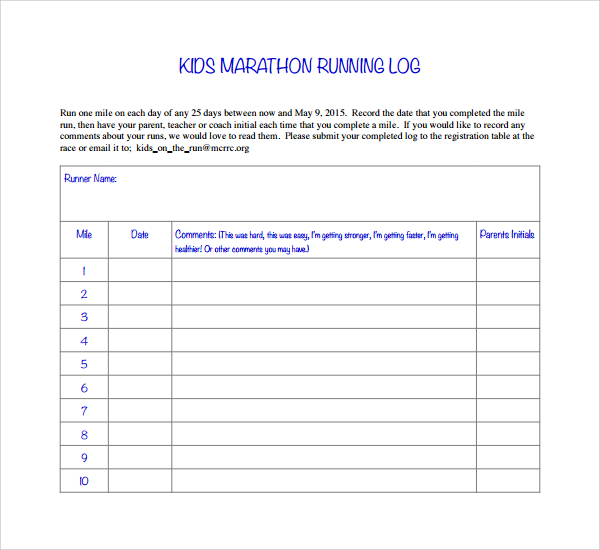 mcrrckidsontherun.org
Summer Running Log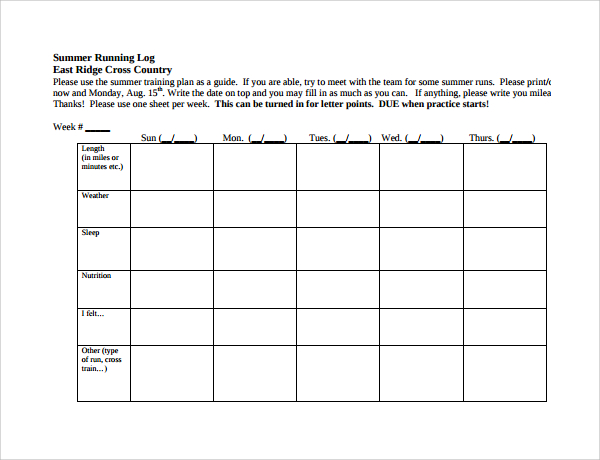 assets.ngin.com
Equipment Running Log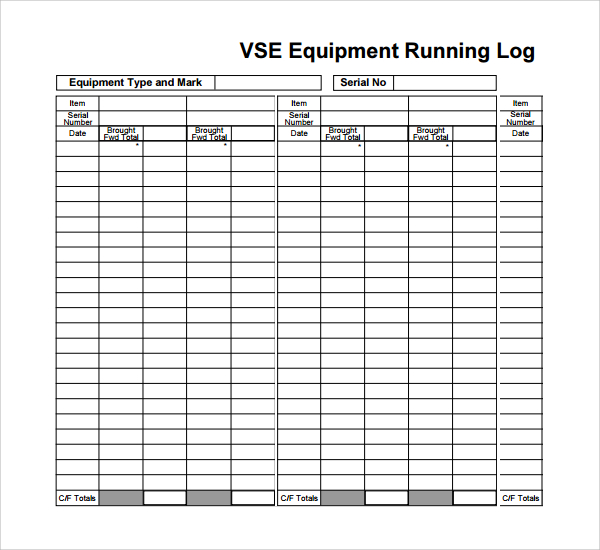 gov.uk
Uses and Purposes of Running Log Template
You will come across a number of fitness freaks who love to run, walk, or jog on a daily basis. They love to keep a track of their daily exercises and synchronize their performance for their next big event. Even for individual purpose, just to maintain their fitness direction a person can enter the running details and regulate their performance based on it.
Why Do I Need a Running Log Template?
If you are taking part in some big events, a running log template can help you largely. It will help you to prepare in the best possible way maintaining the time, track hours, spent, pace, routes you were taken and lapses covered. It is a great chart for preparing for the running event in the best possible manner.
What Things a Running Log Template can Record?
A travel log template, Activity Log Template may record a number of things such as time take to cover a lapse in case if you are taking up a sprint or marathon. It includes the measurement of your body temperature, kind of shoes you are wearing and details of the route taken. It also includes the pace or the speed to help you analyze your performance on the tracks.
How Do You Create a Running Log?
To make a running log, Travel Log Template you need to download the template and start editing the necessary fields to add your own figures and data. You can create a daily assessment of your running, walking or jogging data or as you may require. It comes in both generic (for fitness enthusiasts) and professional format (for the athletes), select the ones that suit you.
You will find all running template available with us are easy to download. They are present in PDF, Word and Excel format. You will find no hassle to customize them and edit them accordingly. The templates available at our store are having 99.9% accuracy and one can find advantage in both higher and lower versions of the templates available with us.
If you have any DMCA issues on this post, please contact us!