Workplace incidents are completely hard to avoid, even with all the health and safety protocols in place and employee trainings vigorously conducted. It is human nature to commit mistakes every once in awhile. Whenever incidents like this occur it is the task list of the HR department to initiate or launch an investigation in order to properly assess and discern the events that led to the incident. After which a HR investigation report is created to review and implement any preventive measures to continuously help avert further incidents from occurring and striving to create a safe working environment for all employees. Read more about HR investigation report in our article today and don't forget to check out our free HR investigation reports samples below:
13+ HR Investigation Report Samples
1. HR Investigation Report Form Template
2. HR Investigation Report Template
3. HR Internal Investigation Report Template
4. Sample HR Investigation Report Template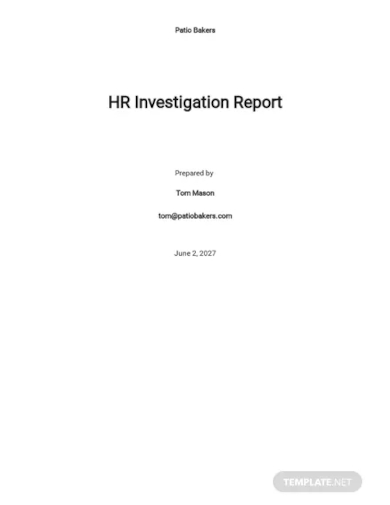 5. HR Internal Investigation Report Template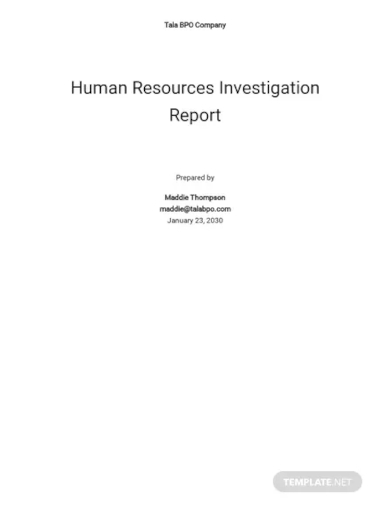 6. Sample HR Investigation Report Form Template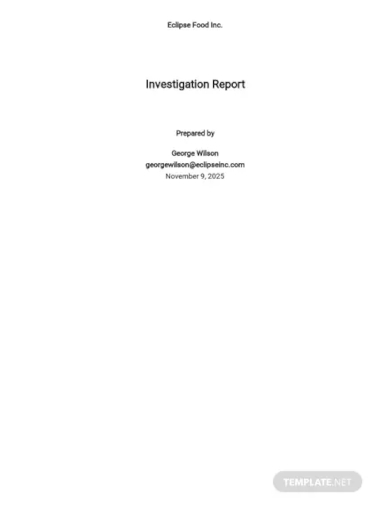 7. HR Confidential Investigation Report Template
8. Sample HR Supervisor Injury Investigation Report  Template
9. HR Accident Investigation Report Template
10. Sample HR Policy Investigation Review Report Template
11. HR Employee Investigation Report Template
12. Sample HR Management Work Investigation Report Template
13. Sample HR Accident Investigation Report Template
14. Editable HR Investigation Report Template
What Is a HR Investigation Report?
Incidents that occur in the workplace can take up many forms such as workplace harassments like bullying, power harassment, sexual harassment policy, discrimination or racisms and etc. Or incidents which involves accidents like slipping or tripping, being struck by or caught in moving machinery. Whatever is the cause, as long as it causes physical or mental/psychological damage or even near miss, calls for an immediate HR investigation. And the outcome of this investigation is then summarize into a HR investigation report which is a document that details the findings of an investigation as soon as a formal complaint is filed or an incident occurs. This is where investigators record the issues of the matter, analyze the evidence, and formulate a conclusion.
How To Write a HR Investigation Report?
Before the you can write a HR investigation report, first and foremost an investigation must be conducted. The moment an incident occurs, it is up to the HR department or management for that matter whether formally conduct an investigation as some very minor issues can be solved easily. For an investigation to take place, if the matter is serious it is necessary to take immediate action. Then choose an investigator, this could be third party if the incident needs outside interference aside from the HR department and the managers. Once the investigation commences, evidences are gathered and interviews are conducted after which are analyzed into an investigation report. Each HR investigation report may differ per company policy, so let us go through the general components of what makes up this investigation report.
I. Basic Details
Basic information of the employee who is the subject of the investigation and name of the complainant
Outline the allegation or issue
Name of the investigator or investigating team
II. Summary of the Incident
Briefly explain, how it happened, why it happened, where it took place, who was involved and and the reason you are investigating the issue. And add any significant and immediately striking factors which are known to be true and relevant.
III. Investigation Process
Describe the methods used to gather all relevant information
A record of what interviews or statements were undertaken and documents that were gathered and reviewed
IV. Witnesses
Record any witnesses statements and their names.
V. Findings
In this section it should cover the executive summary of the findings and observations for each specific incident or allegation in which is being investigated. Add cross-referencing documents when it is needed and relevant.
VI. Conclusion and Recommendation
You will want to address not only the root causes but also all the individual contributory causes you found along the way; they have to be dealt with also. For each allegation or incident investigated, an overall opinion based on the probability or whether there is enough evidence to support the allegations or incident. Recommendations or action plans based on the employee company policies should be taken.
FAQs
Why Are Investigations Important?
Investigations are important to help solve a case study and identify any problems before they can become widespread. And help create preventive measures to keep an individual or society safe.
How Long Does a Workplace Investigation Take?
Workplace investigation should be launch immediately in order to address the problem or allegation immediately. With this, it may take roughly around 24-78 hours depending on the complainant, evidence and the witnesses.
What Is a Disciplinary Meeting?
This is a meeting between an employee and the employer to formally address any issues concerning the employee when you wish to discuss an allegation of gross misconduct or any other behavior that merits disciplinary action plan.
A well-written HR investigation report can help companies reinforce their policies and strictly implement these to their employees. Incidents can not be entirely averted, but can be lessen and lightening its impact to the organization, safeguarding the best interest of the entire workforce.