The success of your venture comes when several different factors of your business work together seamlessly to create an environment where the project can thrive. These factors can include logistics, marketing, operations, technical, manufacturing, production, and one of the most important components, money. Or in business terms, investment and capital. Not everybody can gather the resources that they need right off the bat in order to start the business that they have in mind, even less to make sure that the business that they are starting thrives in the market. A lot of businesses fall short particularly early due to the lack of capital or sufficient investments to support them. But, if you really are adamant on starting your own business and would want the venture that you are working on to succeed, then what you need to do is to come up with a comprehensive and effective investment proposal
An investment is simply an asset or the item that is acquired with the goal of generating enough income or appreciation over time. It refers to an increase in the value of an asset whenever an entity purchases a good as a form of an investment. With the intent of using the goods to create wealth in the future. Investments and investing overall is largely important in the business and corporate world because it is a very viable way to secure assets and additional budget in the earlier stages of your company. While at the same time, it can also be a good way to secure and generate more income in the future.
In the business and corporate world, the only way to make sure that you are way ahead of the competition is to have more money and resources than them. A good pool of resources will give you the freedom to continually expand and upgrade to make sure that you are always on top of the market. This is particularly true especially in industries that have a very active competition within.
Investment proposals are not simple documents to draft since you are usually trying to present the venture to your prospective investors. Make sure that your document covers everything it needs to cover. Make sure that you draft the document well and you get the best out of it by first checking out these venture investment proposal samples that we  have listed for you down below. After familiarizing yourself with the document, with what it looks like and how it works, you can then use these samples as guides or maybe even as templates for when you write the document yourself.
4+ Venture Investment Proposal Samples
1. Venture Investment Proposal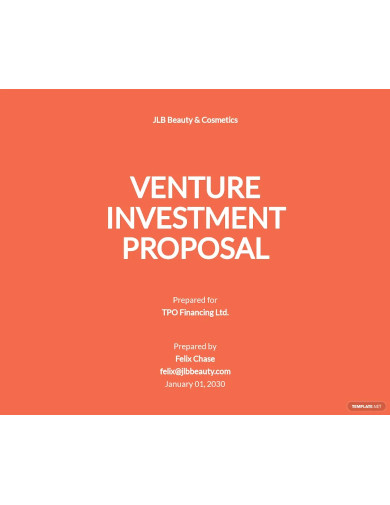 2. Sample Venture Investment Proposal
3. Joint Venture Investment Proposal
4. Venture Investment Proposal Example
5. Printable Venture Investment Proposal
What Is a Venture Investment Proposal?
An investment proposal is a document or a series of documents that are used to present the startup business or venture with the full intent of raising its capital. The document appeals best to entities who have the resources and are interested to take part in supporting your venture. Investment proposals are the types of document that are drafted in order to motivate potential investors and prospective business partners to enter into a mutually beneficial business relationship with your company. Entities like these support the capital of your business, and in turn, they get the agreed upon share of the profits. A lot of times, the idea of the business that you are proposing is included within the body of your proposal to help investors see the overall value of your project, understand the benefits that they can expect from this partnership, and provide the needed information to address and resolve any reservations that the reader might have about the partnership that you are proposing.
There can be several ways to prepare the document, either it can be drafted as a generic document intended to address a wide selection of potential investors, or written to address a specific investing body and attract their attention. The document is used widely in different businesses and investment opportunities. A startup company may draft the proposal to further support the inauguration of their business, while already established firms may use it to support an expansion of their own services.
How to Write a Venture Investment Proposal
A well written investment proposal is a document that is able to accurately and comprehensively inform the potential investors of the benefits that they can expect from this partnership if they decide to be a part of it. These are pretty easily achievable characteristics, if you do it right enough. To do this, we have listed some of the most basic elements that your investment proposal must have right below.
Description of the project
Investment proposals should begin with a section that describes the business or the project that you are proposing to them. The introductory part of your proposal should be able to present your initial idea to your investors. And since this section is typically the first thing read by your audience, you have to make sure that it is written well.
Company performance and financial report
The next section of your investment proposal is the section for the company performance and financial report. If you have an already established company, then you can easily show a series of snapshots and data of your business records as well as the milestones that you have achieved over time. On the other hand, if you're a startup business, then instead you can present how you came up with the initial idea for this venture and what you want to achieve overall.
Planned marketing and sales method
The next important section of your investment proposal is the market analysis. Proper market analysis will provide you an idea of how you can take better advantage of the market around you, as well as who or what the competition is. After proper market analysis, you should also be able to come up with different methods and strategies you need in order to stay ahead of the competition.
Business technical operations management
Investors would usually want to know all about the venture that you are trying to propose to them before they actually invest in it. That is why you also has to be able to present the different operational components of your business. For example, the different people that you plan to hire for your venture, the location of the business, operating costs, equipment, suppliers and sources of raw materials, manpower, and other expenditures.
Project financing
 Investment proposals would not be investment proposals without the section for all the financial components of the project. A well laid out financial plan can be very appealing for investors and prospective business partners, especially those who want to be a part of a venture that can return a good investment. You need to be able to present information like the source of funds, possible return on investment, projected gains and losses, the profitability of the business, possible loans, as well as other financial documents.
Project timetable
A timetable for all business operations should be included in your document to let the investors know how long the duration of the partnership will be. It can also be used to business owners themselves to keep track of their own business goals
Exit plan
A proper investment plan should also contain a comprehensive enough exit plan. As the name suggests, it's a section that includes information on how investors can control their expectations and investments in your company. It should also be able to highlight several information on how your business will deal with potential failure.
FAQs
What are the different types to evaluate an investment proposal?
Payback period method
Accounting rate of return method
Net Present Value Method
Internal Rate of Return Method
Profitability Index Method
Discounted Payback Period Method
Adjusted Present Value Method
What are the other types of investments?
Growth investments
Shares
Property
Defensive investments
Cash
Fixed Interest
What is an investment?
Investments are payments made to acquire certain securities of other entities with the intent of earning a significant return on investment. This usually includes bonds, common stock, and preferred stock.
Investments are always important for the success of any business anywhere in the world. How successful an investment proposal is can make or break how your venture may be developed. But with the tips and the templates that we've given you in this document, you should now be more then ready to draft an effective investment proposal on your own.