Companies are one of those organizations that would be badly affected when an emergency crisis would occur and they would need a sort of backup plan that will help them deal with such a dreaded situation. Emergencies can happen anytime or anywhere without warning. So, companies should be prepared and know what to do whenever this would occur. And since business organizations are susceptible to disruptions, to help address such incidents a company should be able to develop a remote work emergency plan. This will help organizations positively respond to such disruptions to make sure that work will continue as planned and nothing gets compromised. To know more about this, let us discuss this further below. And if you need to start preparing an emergency plan, we've got a list of comprehensive remote work emergency plan samples that are available for download on this page.
10+ Remote Work Emergency Plan Samples
1. Remote Work Emergency Plan Template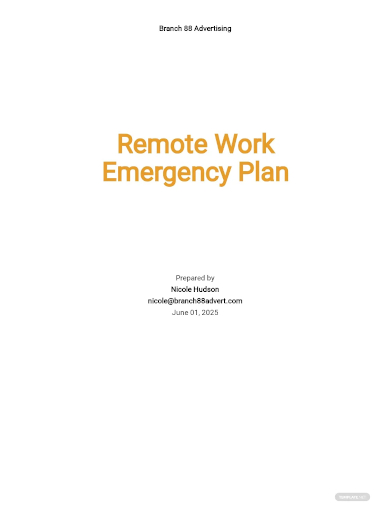 2. Company Emergency Remote Work Plan Template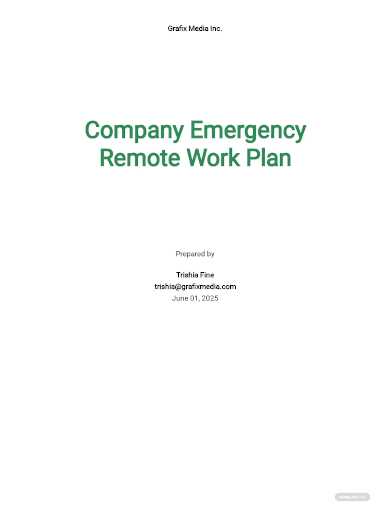 3. Remote Work Emergency Plan Checklist
4. Sample Remote Work Emergency Plan
5. Emergency Onsite and Remote Work Procedure Plan
6. Emergency Telecommuting Remote Work Plan
7. Remote Work Emergency Employee Performance Plan
8. Employer Health Emergency Remote Work Plan
9. Remote Work Emergency Policy Plan
10. Emergency Operation Remote Work Plan
11. Editable Remote Work Emergency Plan
What Is a Remote Work Emergency Plan?
When we talk about remote work, this is when employees are seen working outside the typical office workspace and are either working at home, off-site, or perhaps in a coffee shop. Even with this kind of work set-up can be prone to any sort of incidents that may cause major disruptions. Once this occurs, workers may need help and assistance on how to continue working their jobs, and how should an organization continue to manage its business and its employees in the event of an emergency. Considering this possibility will prompt companies to develop their own remote work emergency plan. Whether you run a company whose employees have been working remotely for years or have the typical office work set-up, in this day and age most especially we have all experienced something as formidable as the COVID-19 pandemic, it is important to consider all possibilities that remote work is one of the best ways to ensure that a business can continue to strive. A remote work emergency plan will help companies come up with different strategic measures on how to deal with unforeseen emergencies and ensure that even working remotely can ensure business continuity.
How To Create a Remote Work Emergency Plan?
Each emergency may impact a business organization in many different ways. As you begin preparing a remote work emergency plan, it is important to first assess and evaluate the different kinds of threats that can pose a significant risk to your company. This will help you address important issues on how to deal with each situation and more importantly how you are able to prepare your employees to deal with remote work amidst an emergency situation. So to start, here are several tips that can help you create an effective remote work emergency plan.
I. Identify Employees Who Can Work Remotely
Not all departments in a company can be able to work remotely, as in some cases there are some employees that still need to be in the office. Organizing each and everyone's roles in terms of remote work is important so the company will be able to establish what kind of resources and assistance should be offered to their employees to make sure they are able to continue performing their tasks.
II. Communication Protocol
Communication is the key if you want to keep the business running as usual. There must be a proper way of how to reach the staff, how to continue communicating with customers, and how and when teams will coordinate and meet.
III. Measuring Performance
A company will need to develop a process on how their management will be able to continue to monitor and measure their employee's work performance. This is to ensure that an employee will keep doing his or her tasks as required despite the remote work set-up.
IV. Preparing a Handbook
It is important to keep employees reminded of the protocols, the latest procedure, and the process of how to deal with the remote work setup. Perhaps preparing a handbook that is accessible to all your remote work employees to make sure they are constantly updated with any changes and are well-informed.
V. Monitor and Assist
Not everything will run smoothly when it comes to remote work, there may be setbacks or you have employees complaining. That being said, it is important that management should be able to offer support and assistance to their employees. For most, remote work is a continuous learning process as some businesses may transition some of their employees to permanent remote work if it can lessen the cost and etc.
FAQs
What Are the Advantages of Remote Work?
Some of the most common advantages of remote work employees are that it saves time and effort commuting and incurring other expenses than going to the office, higher autonomy, and fewer office interruptions can increase the productivity of employees and there is freedom and more flexibility.
What Is an Emergency Response Plan?
An emergency response plan is a set of written procedures that details the appropriate response to various types of emergencies. The main purpose of such a plan is to protect a company's finances, operations, and employees from harm.
What Is Business Continuity?
This is a proactive approach where a company develops plans to ensure that the company will be able to continue functioning during a course of an emergency.
If something as dire as a pandemic occurs once again, it is important that companies start developing their own remote work emergency plan. This will help their employees adjust and give them the proper procedures on how to continue working remotely.