Individuals, companies, organizations—basically all entities are usually engaged in activities that require them to procure certain materials, goods, or equipment. In such cases, it is advisable for them to submit purchase proposals to potential suppliers of these items that they plan on buying.
Sample Purchase Proposal Template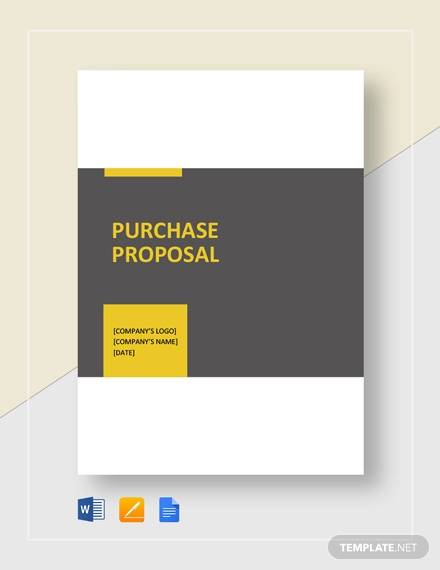 Equipment Purchase Proposal
Proposal for Purchase Order
A purchase proposal would allow you to stay on budget. If you are in the process of writing a purchase proposal, you must be able to learn the basics of proposal writing. Furthermore, you must also be able to pattern your proposal to the proper format of a purchase proposal. You may refer to our templates on this page for guidance.
Proposal for Software Purchase
Business Purchase
What Is a Purchase Proposal?
Purchasing is when a buyer acquires the ownership of a property that used to belong to another after paying a specific sum of money to the original property owner.
A purchase proposal is a document that is being prepared by individuals, organizations, and entities that have foreseen the need to purchase a large number of items of goods from a company or business.
Unlike a sale proposal in which it is the vendor, supplier, or business that initiates the contact, the purchase proposal is initiated by a prospective buyer.
In response to a purchase proposal, the potential supplier may respond to it by submitting a purchase quotation, which is a document that contains their own version of price offerings for the items indicated in the purchase proposal. To know more about quotations, check out our quotation proposal samples.
There are several benefits in sending a purchase proposal and those are the following:
It allows purchasers to gauge their financial capability to purchase the items they need.
Most of the time, purchase proposals are being sent to different companies. It thus makes it easier for the comparison of prices and to determine which companies are willing to negotiate prices that are within the budget for the purchase.
Speaking of proposals, you might also find our sample research proposals useful if you are a student writing your thesis or if you are an independent researcher.
Proposal for Purchase Requisition
Proposal to Purchase Property
Computer Purchase
Proposal to Purchase Real Estate
Tips on How to Write a Purchase Proposal
A purchase proposal must be created following a specific guideline. Here are some rules you can follow should you be in the process of creating a purchase proposal:
Begin writing your proposal by indicating the label of the document and your basic information.
Create an itemized list of the items you wish to purchase and the price you are willing to pay for each item.
Politely include a letter that states the purpose of your proposal. While it may be easy to identify that your document is a proposal through its label, it is always a good sign of professionalism if you write a brief letter that introduces the reason behind your purchase proposal. You can place this letter at the beginning or bottom part of your proposal.
Lastly, affix your signature at the end of the proposal.
To save time, it is best that you use formal proposal templates, which are replete with all the necessary elements of a purchase proposal. You can also check out our collection of proposal samples.