Over the years the movement of cargo and parcels has gained momentum. As more and more people prefer buying online and even ordering items from other countries. With this, the supply chain has seen an increase in demand, and companies are in need of an efficient logistics company to attend to their needs. If you run a logistics company, aside from the usual sales call, the best opportunity for you to acquire a client is by submitting a logistics services proposal. At times companies would send out a request for proposal or RFP in which their terms and requirements are all stated in this document. Use this chance to work on a logistics services proposal for a promising job opportunity. Read more about this in our article below, and check out our free logistics services proposal so you can start working on your proposal.
10+ Logistics Services Proposal Samples
1. Logistics Services Proposal Template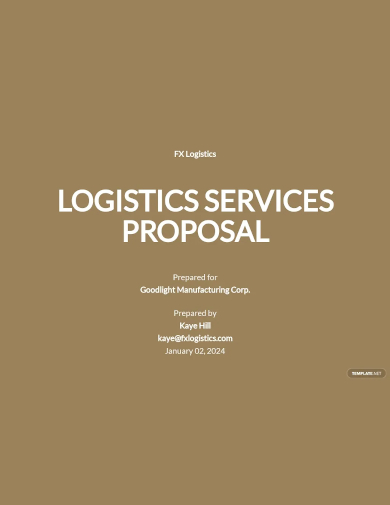 2. Logistics Services Innovation Proposal
3. Logistics Courier Services Proposal
4. Logistics Services Project Proposal
5. Logistics Services Request for Proposal
6. Logistics Management Services Proposal
7. Agency Logistics Services Proposal
8. Sample Logistics Services Proposal
9. Logistics Consultancy Services Proposal
10. Logistics Company Services Proposal
11. Logistics Services Business Proposal
What Is a Logistics Services Proposal?
A smooth logistics service is a key element in keeping up with customer demands. As a logistic service provider, it is essential for a company to pitch various business groups, by forwarding a proposal. A logistics services proposal is a document that answers the logistics demands and needs of a company. This will explain the importance of how your logistics services can help cut costs and ensure a smooth movement of products/cargoes from their original point to their final destination. But you must always take into account that your company is not the only one out there, when there is a demand it is expected that new companies will follow suit. So it is imperative that your proposal must be well-written and should stand out. Teaming up with the right suppliers, distributors, and business operators is a business relationship that can last for a long time and ensure a steady flow of revenue.
How To a Logistics Services Proposal?
There are numerous ways for a logistics company to acquire clients, which can be done through different channels such as advertising, promotions, putting up a website and there's through business proposals. This is a more formal way of acquiring clients and you will be able to expound your services further, address your client's problems and create ways to achieve their goals. In a way, proposals are more personal in nature, addressing the concerns of your prospects. To get started below are the following elements that comprise a logistics proposal:
I. About The Company
Include an overview of your company, its history, and the clients you serve. Your prospects would like to know this information to at least give them an idea of the sender. You may want to add details as to why you have decided to send the proposal, subtly indicating that you are able to address their concerns.
II. Context For A Logistics Services
Put yourself in your client's shoes and try to understand their needs for an efficient logistics partner, then try to align your services and objectives to their goals. Your proposal must be able to make your clients believe that you ensure a high value of supply chain with an effectively organized transport system.
III. Available Logistics Services
Now that you have a clear concept of what your client needs, include a detailed list of services you are offering. Normally proposals are designed to accommodate every client's request or requirements. By doing so, you need to do a little research about your prospective client to identify what services they need that are relevant to their industry. You may want to also upsell by adding other services you are offering that may be applicable to them.
IV. Pricing
Domestic and international shipping costs are subject to change, so the best way to present your pricing table is to give your clients a rough estimate that is considerably close to the rates.
V. Testimonials, Current or Previous Clients
To add to your company's credibility and for the reassurance of your prospective client, you may want to include customer testimonials and examples of who are and were your previous clients.
FAQs
What Is a Logistics Company?
A logistics company helps other business organizations or individuals plan, implement, and execute the movement and storage of products, materials, and services throughout the supply chain from the point of origin to the point of consumption.
What Is a Supply Chain?
A supply chain is defined as the network between a company and its suppliers or customers to produce and distribute a specific product to the final buyer.
What Is a Freight Forwarder?
Freight forwarders are companies who plan and coordinate the movement of commodities across international borders, on behalf of shippers.
There are good business opportunities for logistics companies, as business groups, suppliers, or even individual customers are always in need to transport their goods. Don't let this opportunity pass you up and start working on your logistics services proposal now.