The dissertation proposal is the most crucial step towards writing your final dissertation on your master's course or a PhD-level course. It is the first step of doing your dissertation. The dissertation proposal will help you explain what want to focus your study on, and how you intend to collect and analyze your data. Your proposal is the initial process of your dissertation as your topic may change slightly as you go along with your research. A research proposal must be comprehensive and unique to get the go signal from your department to continue dive headfirst on writing your dissertation. This article will give you tips on how to create a dissertation proposal.
10+ Dissertation Proposal Samples
1. Dissertation Proposal Template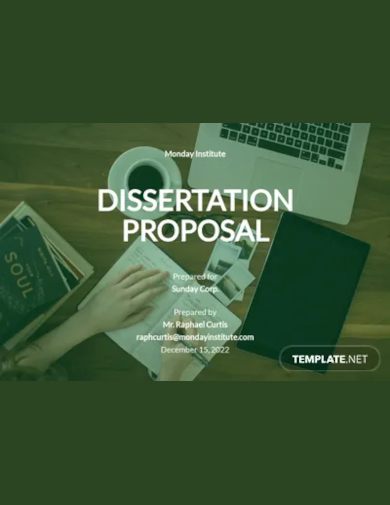 2. Dissertation Proposal Gantt Chart Template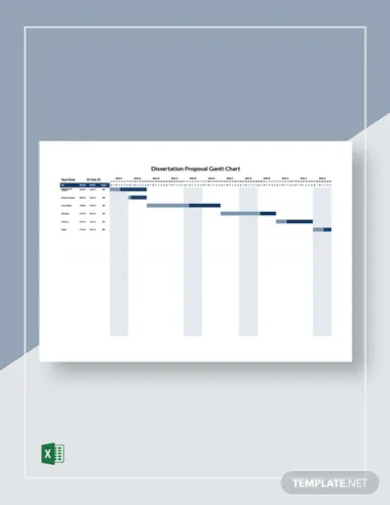 3. Dissertation Proposal
4. Dissertation Proposal Problem Statement
5. Dissertation Pre-Proposal
6. Dissertation Proposal Outline
7. Doctoral Dissertation Proposal
8. Graduate Dissertation Research Proposal
9. Dissertation Research Proposal
10. Dissertation Research Course Proposal
11. Dissertation Proposal Approval Form
What is a Dissertation?
A dissertation is a formal and long discourse on a particular subject or topic. It is written as original research by a person required to do a dissertation for fulfilling the requirement to obtain a master's or doctorate.
Details to Include in a Dissertation Proposal
Your dissertation proposal should have the key aspects that will be mentioned below, regardless of the structure of your dissertation format that your school provided. Below are the following sections you need to include in your proposal:
1. Introduction
The first section is your introduction. Here you will include your purpose of studying the topic you're studying and the issues surrounding it that you will focus on and relating it to your main research question and background on the topic.
2. Methodology
The next section is your methodology where you will comprehensively explain how you will do your research; the sources you will use, the type of data you will collect for your study (is it quantitative or qualitative?), the type of analysis you will do with your collected data. You will also explain here why your proposed methodology is appropriate to your study.
3. Aims and objectives
The next section is the aims and objectives of your study. State what goals you want to achieve in your whole study and what outcomes you predict will hope to happen. State your objectives; how do you plan to achieve your goals and outcomes?
4. Literature review
The next section is the literature review. This section is where you will show all your sources materials used to obtain information to back up your study with scientific and academic studies. The information here can also help provide more background about your topic; it can also help you show how your study is connected to previous studies and how your methods will differ from the previous ones.
5. Limitations and Scope
The last important section is where you'll mention the limitations and scope of your research. As mentioned earlier, your dissertation must focus on one specific topic since a general topic has numerous, larger and complex issues so you need to explain the constraints of your study and why you need to focus on one specific topic.
FAQs
How long is a PhD dissertation proposal?
A Ph.D. dissertation proposal can take up to 1,500 to 3,000 words in length.
What are some good dissertation topics?
Some great topics to do a dissertation are business, management (in every field), education, architecture, marketing, and human resources.
How important is a dissertation proposal?
A dissertation proposal is important because it helps you prepare to do the actual writing process of the dissertation. The professors, the dean of your department, and mentors you will propose your dissertation to can give you the proper guidance on how to write a great dissertation paper.
Make sure that the topic you chose for your dissertation is relevant and appropriate in your field of study and specific and achievable enough for you to complete it by the end of your course. Don't forget to review your proposal and revise any grammatical and spelling errors, misinformation or lacking information, and wrong format. Ask your mentor or your colleague to help you review your proposal. To help you get started on writing your dissertation proposal, download our free sample templates above to use as your guide!