It is critical to follow these critical guidelines for success, whether you are a professional software salesperson or just selling software on the side. Continue reading to discover the six most important sales tips. Also, see this article on selling software online and this one on selling software to businesses for more information. The sales cycle for software is changing. In many cases, the availability of Software-as-a-Service, cloud computing, and open-source options can help customers speed up their decision-making process. If you're still selling traditional software licenses the "old-fashioned" way, you might find that your customer has already made a purchase decision with someone else before you've even put together a quote or completed the pilot!
10+ Software Sales Plan Samples
Consider a sales strategy as a road map for the coming year. It's where you define your company's specific sales goals and the steps you'll need to take to achieve them. It can help you take a more strategic, big-picture approach to growing your business if done correctly.
1. Software Sales Plan Template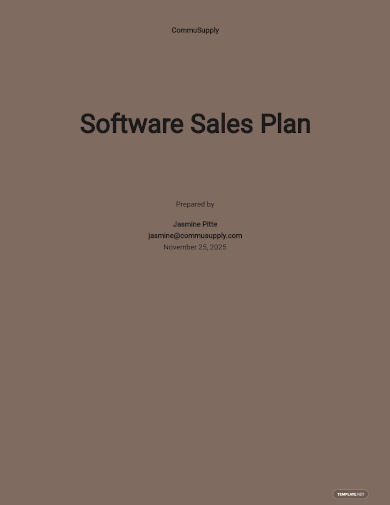 2. Software Product Sales Plan Template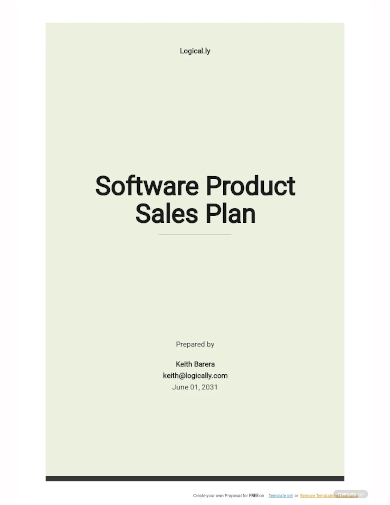 3. Software Sales Plan
4. Organization Software Sales Plan
5. Software Services Sales Plan
6. Startup Software Sales Plan
7. Software Sales Management Plan
8. Software Sales Marketing Plan
9. Software Sales Implementation Plan
10. Software Unit Sales Plan
11. Software Operation Sales Plan
Elements of Software Sales Plan
Target the product and its pricing – Is your business model and pricing structure sound? With the changes in the software industry (SaaS, open-source, outsourcing, mobile software, and so on), it may be time to reconsider how your software product is positioned, priced, and/or packaging. Moving to or adding services revenue or subscription licensing, for example, can result in increased software sales.
Always have a strong value proposition – Make sure your value proposition distinguishes your product or service from the competition in the eyes of the customer. Keep in mind that your "competition" may not be selling the same product as you. If you sell licensed software, your main competitor could become a SaaS provider or open-source software developer. Each one necessitates a distinct value proposition. Ensure that your value proposition is stated clearly at the start and end of your software proposal. To come across as professional and persuade your customer that your product or service will meet their specific needs, you must have a compelling software sales proposal.
Identify those profitable customers – You must be able to write down your customer base in detail: are they from a specific industry? Are they employed by small, medium, or large businesses? What other characteristics do the ideal clients share? And who are your customer's specific purchasers and stakeholders? For each of your software products or services, take the time to create detailed target customer profiles.
Build a strong relationship with your customers – Reaching out to stakeholders at both existing clients and new leads on a regular basis is an important part of your relationship-building efforts. Face-to-face communication can be time-consuming and costly. However, there are excellent web conferencing tools available that allow for effective online sales meetings and presentations. Make sure you understand the impact of the internet on B2B sales and the customer purchase cycle as well. B2B buyers are increasingly turning to the internet for product research and evaluation, which means that by the time you get that first sales call, they've already gathered a significant amount of product information and created a preliminary vendor short-list. Starting with a "generic" sales pitch is the worst thing you can do in that situation.
Reinforce value proposition – You must persuade that customer that you can truly deliver on your value proposition. This entails presenting a strong and convincing ROI that considers both hard and soft benefits. Many software vendors don't take the time to consider and quantify all of the possible ROI areas, but a solid ROI methodology is critical to your software sales success. Unless, of course, your value proposition is so compelling that customers will gladly pay for it regardless. Also, make sure you have customer case studies or examples to back up your value proposition and ROI message.
Always align your sales goals with your sales compensation – It's critical to make sure your sales channel or organization, as well as your sales compensation, encourages the right behavior in order to meet your sales targets. Although this may appear to be self-evident, it is amazing how many businesses get it wrong. Individual ownership/reward, as well as your sales organizational structure or channel program, must be structured in a way that supports engagement with the right target customers in the most effective way to sell. The sales process is essential, but make sure it does not obstruct your salespeople from doing their jobs, and that your compensation plans reward the right behavior.
FAQs
How do you identify your goals for your sales plan?
Begin by deciding what you want to accomplish. These can be revenue and margin targets, as well as broader growth objectives. Do you want to break into a new market? Do you want to expand your workforce? Are you planning to launch a new product or service? Make a list of whatever comes to mind. At this point, don't be afraid to dream big. When you're finished, tell your team about the goals you've set and ask for their feedback or suggestions. Then, as needed, flesh out your objectives. Finally, everyone should believe in the objectives you've set.
What do you have to consider when allocating resources?
With your goals and targets in place, it's time to consider what's feasible and within your budget. Is there a sufficient number of full-time and part-time employees to carry out the plan? Is there anyone on vacation or on maternity leave? Is it possible to enlist the assistance of employees who aren't in sales or marketing? How much money will you need to invest in order to meet each goal?
Planning is frequently done in addition to regular business. Spread the planning process out over a week or so, focusing on one section of your plan at a time, to keep moving forward without biting off too much at once.