A logistics company is essential to the supply chain as they are responsible for planning, organizing, and carrying out goods, services, and information from the point of origin to the point of consumption. They have a complex web of services from transportation, shipping and receiving, import and export operations, warehousing, inventory management, purchasing, production planning, and customer service. As logistics companies have been serving the market for many years now, more and more new companies have been opening their doors most especially that now online sales have skyrocketed. That being said, logistics companies must take time to review their sales strategies and develop a more efficient logistics sales plan. Read more about this in our article below and if you need any help with your sales plan go check out our free downloadable logistics sales plan samples on this page.
5+ Logistics Sales Plan Samples
1. Logistics Sales Plan Template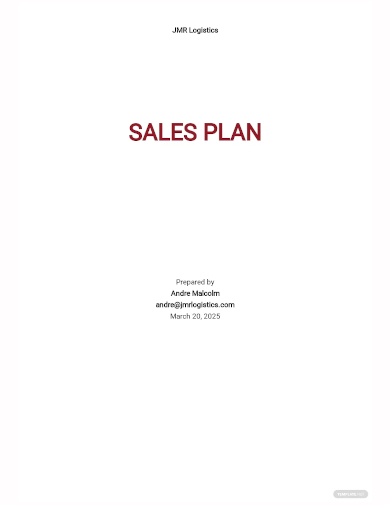 2. Logistics Sales Plan
3. Logistics Marketing Sales Plan
4. Logistics Strategy Sales Plan
5. Logistics Information System Sales Plan
6. Logistics Operation Sales Plan
What Is a Logistics Sales Plan?
A steady flow of revenue is what a company needs to succeed in the market. But with a lot of new obstacles and challenges emerging every day, which is why business enterprises like those in the logistics industry need to come up with clever solutions to buck the various trends and increase their profit. This would mean developing a logistics sales plan which would incorporate different sales strategies and tactics that would please their target consumers and work their way around those obstacles. Without a well-defined sales plan, a logistics company will not be able to take on its competitors and will have trouble looking for new clients.
How To Develop a Logistics Sales Plan?
A logistics sales plan is just like any other sales plan which sets out sales targets and tactics for your business and identifies the steps you will take to meet your targets. To boost sales in logistics you need the team to sit down and brainstorm to come up with the best tactics that can help increase your revenue in the long term and prepare the company for challenges that may come your way. To help kick start your logistics sales plan, here are several guidelines that you may want to look into.
I. Create a Sales Process
Creating a sales process should be measurable, attainable, and repeatable. This should be able to help sales representatives increase their accountability, decreases loss of sales opportunities, and increase revenue generation. The usual sales process are as follows:
Lead Generation is the method of gaining interest from prospective customers in order to convert this interest into a sale. A lead is anyone who has shown interest in a company's products or services but may not yet be qualified to buy. This process will involve gathering potential customers' data such as name, email address, mobile number and etc.
Lead Qualification is to determine if the potential customers are in the likelihood to make a purchase or avail of the services. This step also evaluates the leads' readiness, willingness, and ability to make a buying decision.
Need Assessments – the sales team must be able to determine if the customer's needs would match the services offered by the company.
Proposal or RFP – for clients who are requesting a logistics proposal then make sure that you are able to address all their logistics concerns and come up with an attractive solution in a form of the services your company will be providing.
Closing and Delivery – once an agreement has been finalized, the contract has been signed then it is time to deliver the services you have agreed upon with your client.
II. Work With Marketing
To help you generate a steady flow of leads, the sales department must collaborate with the marketing team to come up with effective marketing strategies that can help increase customers' interest in your services. With the help of marketing think of engaging campaigns and promotions, create online content, and work on social media marketing strategies.
III. Other Sales Activities
Even until now, a sales call which is a pre-arranged face-to-face meeting between a salesperson and prospect with the goal of making a sale, is still an effective method for closing a deal. Some clients prefer talking to their sales rep in person so questions and clarifications can be quickly answered. Also, another good way to acquire clients is by joining tradeshows or B2B events. For the most part, companies use events to present, display and educate prospects about the company's services.
IV. Converting a Lead To A Potential Client
Come up with different strategies to convert a lead into a potential client, this would mean increasing the company's credibility by creating an official website, constantly updating social media content, or providing testimonials from previously satisfied clients. Also, you need to establish how different your logistics company is from your competitors. Could this be in terms of the quality of service you provide, the company's reliability, or perhaps your competitive rates? Think out of the box, try to think of other services that you can offer your client so they would decide to invest in your services.
V. Monitor Your Sales Progress
Make sure you are able to monitor and measure the sales activity of your sales rep and the entire department. By doing so you can assess and evaluate if the sales strategies that were proposed are generating the target leads as planned. If not, then you need to re-evaluate your plan, check what challenges are hindering its progress, and come up with a better solution.
FAQs
What Is a Supply Chain?
A supply chain is a network of suppliers, vendors, organizations, individuals, and resources that manages the flow of goods and services from its raw materials into final products.
What Is an Operations Plan?
This is a detailed plan that defines how each particular team or department within an organization contributes to reaching the company's overall goals.
What Is a Freight Forwarder?
This is a particular type of company or individual that acts on behalf of shippers to arrange the transportation of goods.
Presently the marketplace has become a competitive arena with new and more modern companies opening up their doors. This is why it is important that every logistics company should come up with an effective logistics sales plan that can help them stay on top of current trends and technologies that can improve your sales strategy, or make more sense of sales analytics.