Children who participate in early childhood education programs enhance their social skills and academic performance. They also acquire important life skills that they will carry with them for the rest of their lives. Preschool is, above all, a place where children may have fun in a safe and caring atmosphere. Daycare is more than just a way to be ready for elementary school. It seeks to meet a child's social, emotional, cognitive, and physical requirements holistically in order to lay a strong and comprehensive foundation for lifetime learning and happiness. As such, it's your responsibility as a teacher to equip yourselves with a great lesson plan to provide these kids the quality education that they deserve. You've come to the right place! In this article, we provide you with free and ready-to-use samples of Daycare Preschool Lesson Plan in PDF and DOC formats that you could use for your daycare class. Keep on reading to find out more!
3+ Daycare Preschool Lesson Plan Samples
1. Daycare Preschool Lesson Plan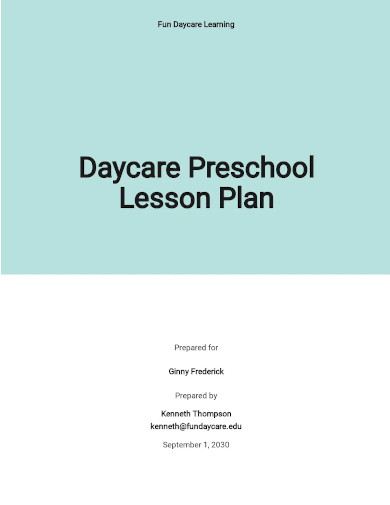 2. Sample Daycare Preschool Lesson Plan
3. Simple Daycare Preschool Lesson Plan
4. Basic Daycare Preschool Lesson Plan
What Is a Daycare Preschool Lesson Plan?
A lesson plan serves as a roadmap for delivering a class session. Whether you create one from yourself or use a template, your lesson plan determines the content and structure of what you will teach and how you will teach it. Teachers need to plan their classes ahead of time. A well-planned class ensures that you cover all of the essential territory, maximize your time, and cater to the requirements of all learners. Your child care lesson planning will enable you to establish an organized learning environment for your pupils, ensuring that they have ample opportunity in all learning areas.
How to Make a Daycare Lesson Plan
Any high-quality early childhood program requires careful planning. A Daycare Lesson Plan template can help provide you with the template you need in order to ensure that you have a well-written and robust plan on hand for your class. To do so, you can choose one of our excellent templates listed above. If you want to write it yourself, follow these elements below to guide you:
1. Learning Outcomes
When constructing a lesson plan, a teacher must start with the end in mind. You may more successfully organize and prioritize your activities, as well as assess your progress, if you clearly define your targeted learning outcomes. You'll need to know not just what your pupils will learn, but also why it's necessary for them to learn it and how they'll demonstrate that they've mastered it. Your activities will be linked to the relevant learning domains, and you will be able to track your progress more simply.
2. Prepare the necessary requirements.
Connect your learning objectives to your state's early learning standards, your curriculum, or any other applicable criteria after you've identified your learning objectives. This manner, you can keep track of your compliance over time.
3. Procedure for the Lesson
This section of your lesson plan should be the longest and most thorough. The lesson process explains what you'll be doing during the class. Each learning target will be addressed in your lesson approach, allowing you to arrange activities that will successfully assist your students achieve those goals. Time management will be guided by carefully selected lesson goals. Make a list of what portions of the lesson are critical and cannot be missed, what sections may be left if time is limited, and what parts can be added if time is available.
4. Every lesson should include a reflection.
A lesson reflection occurs after the lesson, despite the fact that it is part of the lesson plan. Your lesson plans might also become records of your teaching if you reflect on it and its success. After each class, take a few minutes to assess how well you accomplished your learning objectives and time constraints. What went well? What could be done differently next time?
FAQs
When it comes to babysitting vs. childcare, what's the difference?
A babysitter definitely cares about your child, yet they are only there to entertain your child for a brief period. Professional daycare providers work hard with their children every day, with the majority working 10+ hours each day, and the youngsters become like family members.
What is the reason behind the high cost of child care?
Child care, like health and education, need a large number of domestic salaries, implying that its prices would continue to climb faster than general inflation. Given the sensitivity of the clientele—which is the second major source of child-care costs—the business is heavily controlled.
What constitutes an effective lesson plan?
They should be quantifiable so that teachers can keep track of students' progress and verify that new ideas are grasped before going on, as well as realistic in terms of time constraints.
All in all, a lesson plan is a tool that teachers use every day to establish what students will learn, how the lesson will be delivered, and how learning will be assessed.