The construction site is a dynamic workplace where construction workers and other employees are constantly exposed to a variety of hazards. Hazards like falling objects, operating heavy equipment, falling from heights such as scaffolding, and electrical circuits. But one, if not, the most dangerous safety hazard especially in a construction site or during the construction phase of a project is fire. Fires can be caused by almost anything if one is not too careful. Heavy equipment could suddenly erupt into flames due to malfunction, chemicals could cause spontaneous combustion if not properly stored, and other easily flammable materials could also lead to a fire in the construction site.
There is a great possibility that fires can erupt at any given moment and could cause significant damage to the materials, equipment, and manpower in the construction site. It is best to set up preventive measures in the work area to provide safety and security not just to the people operating within, but also to the community around it.
Developers and construction managers often set-up fire safety plans alongside construction safety management plans early on, some even before the project begins. These aim to ensure the safety of the people within the construction site and the industry overall, and to the general public. Developing fire safety plans often include a lot of factors that are relevant to the work area.
It is also considered as a live document which is susceptible to adapt and change whenever necessary. It can be a quite daunting task and developing an effective fire safety plan is surely a challenge, considering that this document is what stands between safety and disaster. Check out these free fire safety plan samples listed below to help you draft and develop an effective safety plan.
10+ Construction Fire Safety Plan Samples
1. Fire Safety Plan for Construction Site Template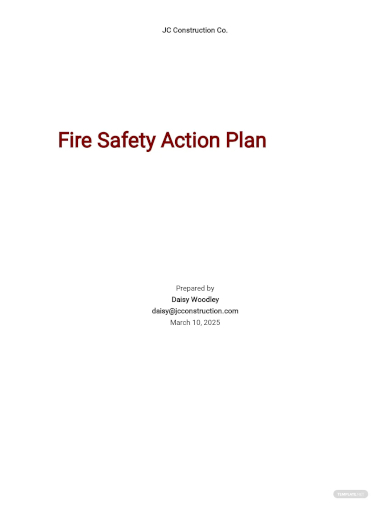 2. Construction Fire Safety Plan
3. Construction Demolition Fire Safety Plan
4. Construction and Demolition Site Fire Safety Plan
5. Basic Construction Fire Safety Plan
6. Comprehensive Construction Fire Safety Plan
7. Construction Project Fire Safety Plan
8. Sample Construction Fire Safety Plan
9. Construction Renovation Fire Safety Plan
10. Fire Safety Plan for Construction Renovation
11. Construction Site Fire Safety Emergency Plan
What Is a Construction Fire Safety Plan?
Fire safety plans are documents that are to be prepared by the owner, coordinator, or the representative of the project prior to the construction and development of the said project. Fire safety plans have to follow fire and building codes provided by the state and has to be approved by the local fire department where the project is to be constructed.
Construction fire safety plans take into account the several leading causes of fire in the construction site such as incendiaries, embers or open flames, heating equipment, and smoking on site. Fire safety plans develop a prevention system to mitigate the presence of these factors to reduce the chances of fires on site, and also develop fire avoidance, fire detection, fire containment, and evacuation plans if ever such incident may occur.
How to Write a Construction Fire Safety Plan
Fire safety plans have to follow building and fire code requirements set by the local and the state fire department. This means that since fire safety plans differ from each construction site and is mostly unique. To develop one means to pay attention the the guideline set by the fire department and to take into account every possible sources of fire that is present in the work site.
As the project progresses, the plan must be periodically reviewed and updated by the contractor on site and in consultation with the fire department. These guideline and requirements set by local fire departments around the country include but are not limited to:
1. Checklist
The construction fire safety plan shall include a checklist of the chain of command, emergency personnel and their contact numbers. The emergency procedures in the event of a fire including the sounding of the alarm, making sure that it is clear and audible throughout the worksite, the immediate notification of the fire department, instructions of site personnel and evacuation procedures and basic firefighting procedures to be carried out on-site. It should also include clear access routes for the evacuation and ventilation ensuring the rapid egress of the site occupants and appropriate and visible signage for the access routes and vehicles.
2. Fire protection initiatives
These include but are not limited to, the installation and inspection of firefighting equipment such as fire extinguishers, fire sprinklers, and emergency lighting. The control of fire hazards in and around the building like cutting and welding operations, grinding, soldering, smoking, safe storage of combustible materials and other fuel heating systems.
3. Training
The general contractor of the site shall conduct fire drills and safety trainings approved by the fire department. All employees shall be given adequate instruction in the fire and emergency evacuation procedures that is applicable to the workplace. Adequate training should also be provided to ensure readiness and availability whenever an emergency will arise.
4. Floor plans and additional required information
It is vital to include the floor plan of the construction site highlighting the emergency access points and emergency exits. The location of every firefighting instrument like fire extinguishers, alarms, sprinklers, and fire hoses should be indicated. Layout of the area like stairs, elevators, shafts, roof access points, service shutoff control valves and etc.
FAQs
What are some fire safety tips?
Install smoke detectors in every room in your house, and if a fire should occur in your home, get out immediately, stay outside, and contact 911 immediately.
What is a safety policy?
Safety policies are a recognized, written statement regarding the company's commitment to ensure the safety and security of its employees and the community around it.
What is the most dangerous type of fire?
Class C fires caused by flammable gasses like butane and propane are considered to be the most dangerous types of fire given their high possibility to explode.
Developing a safety plan, especially for fire related emergencies require a bit of effort. Don't hesitate to reach out to the local fire department to ask for their insight and assistance. Safety management plans such as this ensures that the workplace is safe and if an emergency should arise, there are proper measures and guidelines set to ensure the safety and mitigation of damage to people and property.