10+ Test Plan Checklist Samples
Before taking the leap, you have to assess your surroundings. Likewise, you probably weigh each option first before choosing the ultimate decision. In a business, it's highly recommended to set a dry run– or more appropriately, a test plan– of sorts in order to evaluate the likely success of a software. The fundamental purpose for a test plan is to generate documentation that specifies how the tester will verify that the system functions as intended. How do you ensure the success with of your test plan, you have to make a checklist. Need some help with this? You've come to the right place! In this article, we provide you with free and ready-made samples of Test Plan Checklists in PDF and DOC formats that you could use for your benefit. Keep on reading to find out more!
1. Test Plan Checklist Template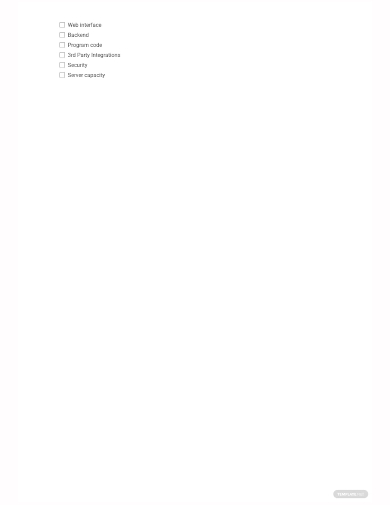 2. Test Plan Checklist
3. Compliance Test Plan Checklist
4. High-Level Test Plan Checklist
5. Test Plan Checklist Summary
6. Site-Specific Test Plan Checklist
7. Inspection Test Plan Checklist
8. Effective Test Plan Checklist
9. Non-Healthcare Test Plan Checklist
10. Emergency Test Plan Checklist
11. Performance Test Plan Review Checklist
What Is a Test Plan Checklist?
The basic tasks required in building a test plan are listed on the checklist. You can guarantee that critical elements of your test plan are completed by utilizing the checklist. A test plan's primary goal is to create documentation that explains how the tester will ensure that the system works as intended.
How to Make a Test Plan Checklist
A checklist isn't a quick fix. Its purpose is to assist you in thinking about the project you're working on, identifying potential flaws, and maybe generating new testing ideas. A Test Plan Checklist template can help provide you with the framework you need to ensure that you have a well-prepared and robust checklist on hand. To do so, you can choose one of our excellent templates listed above. If you want to write it yourself, check out these elements of a checklist below to guide you:
1. Check the prerequisites for pre-testing.
Review preliminary activities, considerations, and practices before you construct the initial test plans of an iteration. To verify that your testing effort covers the requirements, link the test plan to the project requirement collections.
2. Create a risk assessment and test schedule for the first time.
To promote risk-based testing techniques, include a risk assessment in the test plan. A risk assessment can help you prioritize what needs to be tested depending on the danger that your test artifacts may pose in the future. Furthermore, associate the test plan with iterations from a project area or team area timeline to create a test schedule.
3. Include quality objectives for the test plan.
Defining this information can be accomplished by using established or user-defined quality objectives, such as overall quality goals for the release or iteration that the test plan covers, or the needed entrance and exit criteria for test execution.
4. Manage the team's individual responsibilities.
Assign elements of the test plan to additional team members as necessary. This is to ensure that each phase of the test plan is handled in a systematic manner.
5. Assign performance indicators to be tracked and reviewed.
To properly monitor and analyze the test plan's progress, define key performance indicators that would approve the test plan's quality. Finally, submit the finished test plan for evaluation, and take any comments that comes in.
FAQ
What is a checklist-based strategy?
An experienced tester employs a high-level list of items to be recorded, checked, or recalled, or a set of rules or criteria against which a product must be confirmed, to create an experience-based test design approach.
Why do test cases and checklists differ from one another?
When it comes to checking out a feature, checklists are simplified versions of test cases that seek to cover all conceivable user behaviors inside a particular capability. In order to keep the essential activity at the top, checklists give a shortcut approach to write the functionality. So, writing a checklist item is a lot easier than writing a test case!
In testing, what is a walkthrough?
In software testing, a walkthrough is used to evaluate papers with peers, supervisors, and other team members, who are directed by the document's author to obtain input and achieve an agreement.
All in all, a test plan checklist is useful since it categorizes the many activities that must be completed and the regions where the test plan must be implemented. To help  you get started, download our easily customizable and comprehensive samples of Test Plan Checklists today!