Trade secrets, intellectual properties, and sensitive information—these are things that you would never want to disclose when establishing networks and transacting with other organizations carelessly. However, there are discussions, circumstances, and processes where you need to share a part of your company's details to accomplish tasks and fulfill certain business goals. It is why the purpose of a non-disclosure and confidentiality agreement becomes a valuable part of your discussion. It provides all the protective clauses you need to ensure that the shared crucial information will not be used against you.
FREE 10+ Non Disclosure and Confidentiality Agreement Samples
1. Non-disclosure and Confidentiality Agreement Template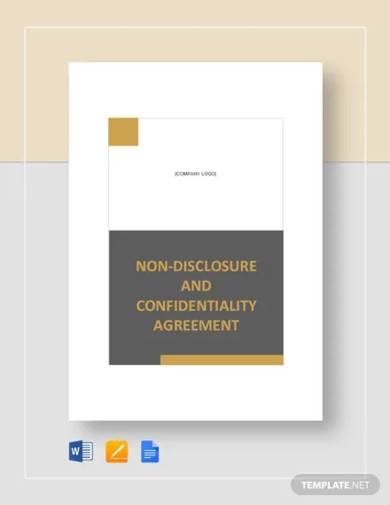 2. Restaurant Non-Disclosure Agreement Template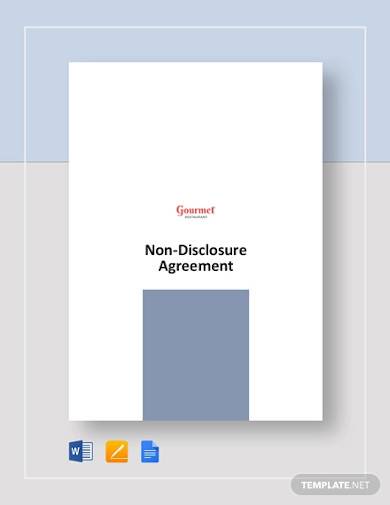 3. Non Disclosure Agreement Template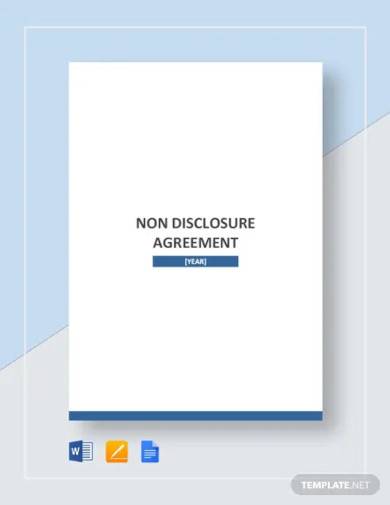 4. HR Confidentiality Agreement Template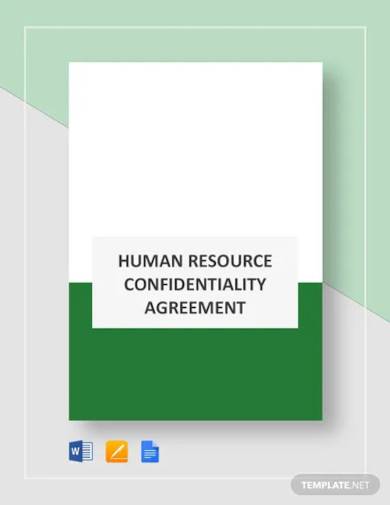 5. Legal Confidentiality Agreement Template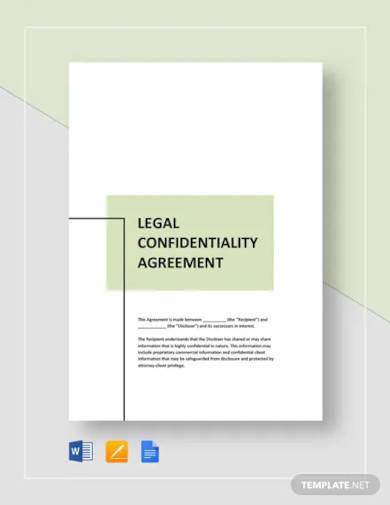 6. Sample Confidentiality and Nondisclosure Agreement
7. Sample Mutual Confidentiality Agreement
8. Independent Contractor's Nondisclosure Agreement
9. Unilateral Confidentiality Agreement Sample
10. Research Non-Disclosure Agreement
11. Nondisclosure and Noncompete Agreement
What Is a Non-Disclosure and Confidentiality Agreement?
A non-disclosure and confidentiality agreement is a legally binding document that aims to protect an entity's interest by withholding the spread of sensitive information outside the participating party. This agreement is common when different parties engage in discussions for purposes that include partnerships, collaborations, memberships, and employment, among others. It should contain what information should remain undisclosed, who's allowed to know about it, what constitutes an agreement breach, and the repercussions in case a party breaks confidentiality.
Why Have a Non-Disclosure Agreement 
Information is powerful. It's an entity's asset that can be used against them when placed in the wrong hands. Businesses have their share of sensitive details and a collection of data that are essential to their operations. There are those that they use as an advantage over their competitors in the field. There's a need for them to have the means to protect there files and documents. Thus, the necessity for a confidentiality agreement.
According to Entrepreneur, there are five circumstances where one should use a non-disclosure agreement. These situations include accepting new members, making a presentation for a client or prospective investor, providing services to partners, and other interactions where the organization has no choice but to share a slice of their important data to other parties. 
There's no helping it. Dealing with different people, groups, and other companies require you to interact with them, share trade secrets, and plan details that are crucial to your organization. The people you meet in the business are also temporary. When they go, they'll bring with them knowledge of your company's details. A non-disclosure agreement's role is to ensure that your parties and networks used the information shared according to what's intended and will remain within your circle. It also specifies what detail should remain confidential, so it's clear for all parties what they shouldn't disclose. This agreement makes it easy for the party to discuss their matters without hesitation and fear of information leakage. It's also a form of respect and a symbol of trust among partners.
Tips on How to Write a Non-disclosure Agreement
A non-disclosure agreement or NDA is an organization's safeguard during important deals, procedures, and partnerships. If you need help making your NDA, here are some basic steps for you:
1. Specify the Involved Parties
It's important to identify which parties are involved in implementing the action and the document's responsibilities in any agreement. It is to clarify accountability and to help the parties understand their role in the transaction. In the case of a non-disclosure agreement, it's important to note who'll be at the receiving end of the sensitive information and whom they're allowed to share them. Specify the name of the company or the individual. For example, if you're using an NDA as a supplement to a freelance agreement, state the freelancer's name for accurate identification.
2. State the Agreement's Goal
State why you need to enforce an NDA and how its protective clauses contribute to the development of your transaction or discussion. Explain what kind of information you'll share with them and how the purpose of the NDA plays a role in accomplishing the task. For example, if you're sharing a business plan idea with an investor, you won't want the investor to share your project's details with others until its establishment later on. You will want to provide them with everything relevant to your plan to assure that the information remains confidential until you're ready to reveal them to the public. The NDA will seal your plan's details to the concerned parties effectively and will keep you at ease.
3. Detail the Confidential Information
Be specific when mentioning the different data, documents, information, and other confidential details on your contract. Avoid generic and vague statements, such as merely mentioning the project plan or intellectual property heading. Make a list of the specifications. Include the scope of confidentiality. For example, identify if the NDA only protects the product plan's information or includes the points discussed during the session.
4. Set the Terms
Your NDA's terms include the length of the agreement and the details on what the organization deems as permissible actions when using the shared information. It provides the timeline of the agreement's effectiveness and when it will end. It also includes rules if the plan can be photocopied or reproduced. Basically, the NDA terms will encompass all related information about the party's deal regarding the exclusive data and what the parties should do when using the information. It provides the outline of dos and don'ts to make all parties aware of what to do and avoid.
FAQs
What are the elements of a non-disclosure agreement?
According to Forbes, the elements of a non-disclosure agreement are:
The parties
Definition of what's confidential
Scope of confidentiality
Exclusions
Terms
What are the different types of non-disclosure agreements?
There two types of non-disclosure agreements: unilateral non-disclosure agreement and mutual non-disclosure agreement.
What's the maximum timeline of a non-disclosure agreement's effectiveness?
Ten years is the maximum number of years for a non-disclosure agreement's timeline.
In business, it's hard to recognize who to trust and why you should trust them. It is why legally binding papers such as contracts and agreements are important in connecting with others. Their use eliminates doubt and mistrust because compliance becomes a legal obligation. Safeguard what you have and make use of our non-disclosure agreement templates. Download now!