Sometimes when we are about to travel or go on a trip, something out of our control occurs. It may be due to an illness or accident, or because of calamities. Unfortunate it may sound, there is no other option but to cancel your plans. Now if you have already reserved your hotel accommodation or paid for your cruise tickets, then you need to call your agent and advise of cancellation. The question is, will you get your money back? Now that depends on the cancellation policy. Most companies usually have their own rules and procedures when it comes to canceling a business transaction. To know more about this, let us discuss this further below. And if you need to start preparing this policy, check out our free cancellation policy samples that are available for download on this page.
10+ Cancellation Policy Samples
1. Freelance Cancellation Policy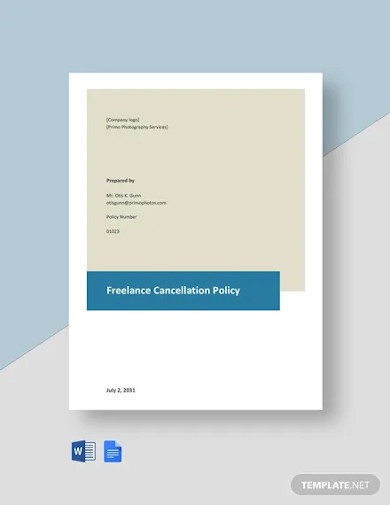 2. Restaurant Booking and Cancellation Policy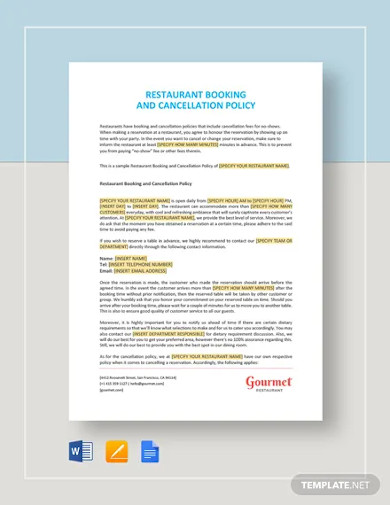 3. 24 Hour Cancellation Policy
4. Cancellation and No Show Policy
5. Cancellation Fee Policy
6. Appointment Cancellation Policy
7. Payment & Cancellation Policy
8. Contract Cancellation Policy
9. Cancellation & Refund Policy
10. Exhibitor Cancellation Policy
11. Printable Cancellation Policy
What Is a Cancellation Policy?
Companies usually anticipate that their clients may need to cancel purchasing a product, or availing of a service. Businesses dread cancellations, most especially if a lot of effort and money has been partially spent in the process. So to ensure that they are not losing any profit in the process or that hard work isn't wasted, a cancellation policy will set the terms and conditions whenever a client decides to request a cancellation. To reduce last-minute cancellations and the risk of "chargebacks" from customers, it is always a good idea to have your customers agree to your cancellation and refund policy. Cancellation does not instantly mean a refund, this is why you need to specify your cancellation policies first to see if it is subject to a refund.
How To Create a Cancellation Policy
Different industries have different kinds of cancellation policies. Service-oriented companies to retailers need to develop their own set of cancellation terms in order for clients to be aware of what they are expected to do when they return a product or cancel a service. These policies are usually attached to a customer's receipt, agreement, or contract. And policies can be quite strict to lenient depending on the situation that must be reviewed before any decisions are made. Now preparing cancellation policies for your business can be a broad subject matter, since as mentioned this would depend on what type of business you are running. But overall it should contain the following elements discussed further below.
I. Purpose of Cancellation
If you need to figure out what are the usual reasons a client would want to push for a cancellation. If this is due to unexpected incidents such as for example calamities, or accidents that are beyond anyone's control then you need to prepare certain terms in case of such occurrence. And some companies would require proof like if the client had been ill, perhaps a doctor's certification. But if the client has other reasons that do not weigh heavily, then that too has its own conditions.
II. Establish a Time Frame
Usually, timeframes are established so it may give the company time to recover its expenses or give time to accommodate other customers. Others would require fees or deductions from an initial deposit when a client decides to cancel. Remember a client has the right to cancel, but you need to make sure that your business is also safe and limit excessive last-minute cancellations. Examples of cancellation with timeframes are no charge is given if you are to cancel your appointment 15 days prior or perhaps cancellations made within 3 – 6 days will incur a 20% fee.
III. Determining Your Charges
Cancellation or refund charges are determined usually on the reason given by the client and when the cancellation was made. So prepare a cap on the charges and their consequences. The more detailed it is would help customers understand the policies.
IV. Communication
Make sure to also include in your policy how the client should inform the company if they need to cancel. This could be done through email, or phone calls, or in some cases businesses would require a physical appearance. If the client is unable to present themselves, make sure to include other options.
V. Make Sure your Client is Aware of the Policy
Cancellation policy and its procedures are often included in contracts or agreements, which should be thoroughly read. Or in other documents that should be able to raise awareness amongst your clients.
FAQs
Is it Mandatory to Charge for Cancellation Fees?
It is not mandatory, since it's the company's discretion whether or not to charge their clients. But in most cases, companies often impose charges often do so in order to cover up losses or to try to refrain clients from last-minute cancellations.
Can you get out of a Cancellation Fee?
Sometimes companies are lenient to clients and would agree to waive the charges, but this is because of the reason for the cancellation. For example, if there is a need to cancel due to a pandemic or other natural calamities which is beyond anyone's control.
What happens when a Contract is Cancelled?
Once a contract is canceled or terminated, both parties are no longer obligated to each other. The terms of the contract might also determine what happens after the contract is terminated
A cancellation policy is quite important in business operations, particularly when dealing with direct clients. You need to be able to set the terms and the procedures to avoid future misunderstandings and ensure your company is compensated for the losses due to cancellations.