Policy manual enables the employees and employers to understand the mission and objective of the organization better. The Policy Manual Templates is a way in which the management is able to communicate the policies, rules, intents, and business processes to all the staff. It also ensures that many hours of management time is saved by communicating and implementing the policies in the manual.
Correct implementation of policies will avoid legal hassles in the future. A new employee is mandatorily given the Policy Manual Templates and employee manual to enable him to understand the mission, objective and various rules followed in the organization.
Sample Policy Manual Template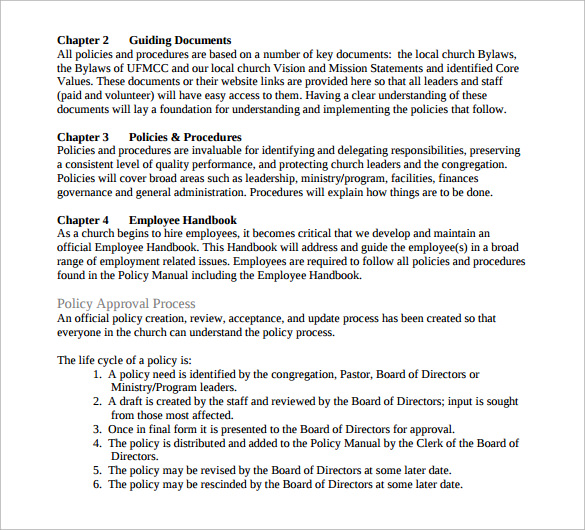 mccchurch.org
This is a simple option that you can use as a policy manual for your company and it tells what the manual was based upon when written. It also talks about the approval process of any policies and what needs to be done to get them approved.
Sample Office Policy Manual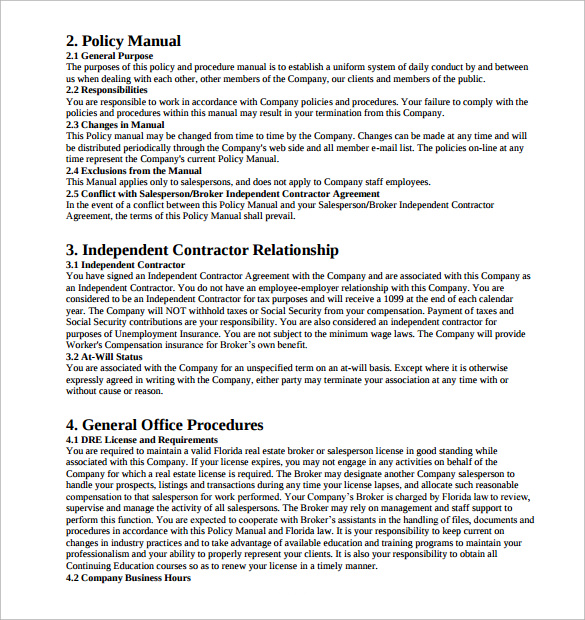 rinkerrealty.com
This template is a good way to set out the policies for the company as well as for any independent contractors that you hire. It talks about the general purpose of the manual, the responsibilities, changes and exclusions and more.
Sample Policy Manual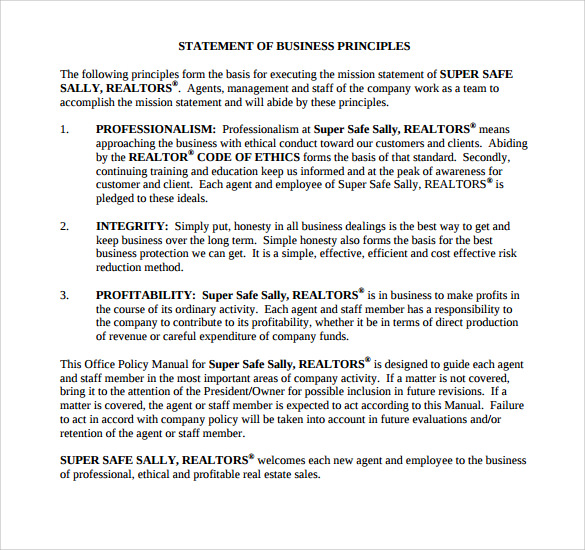 nihomes.com
This is a great option that can be used by any business, including realtors. It tells what is required in terms of professionalism, integrity and profitability for every realtor and what is expected of them.
Administrative Policy Manual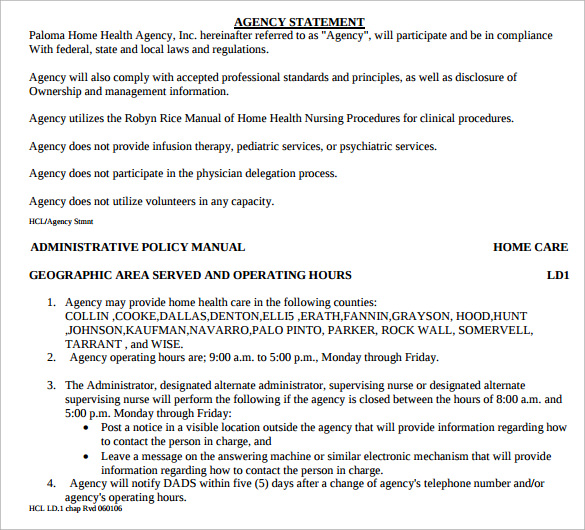 palomahomehealth.com
This is another good template that you can use that outlines the administrative policies. It talks about what the required agency is responsible for, including the hours of operation and what to do if they are closed during the day.
Travel Policy Manual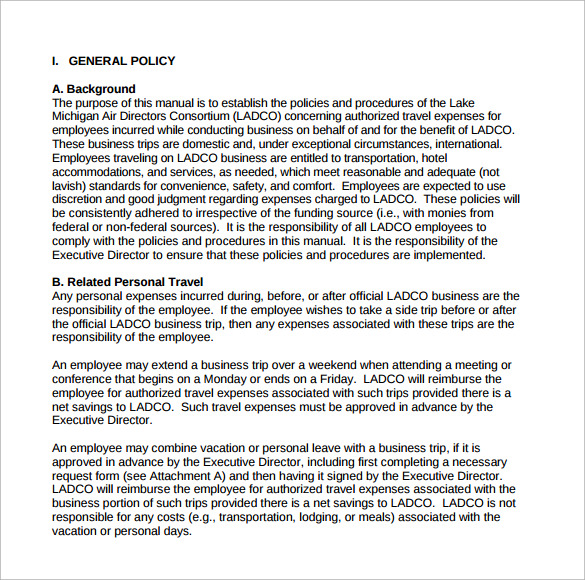 ladco.org
Company Policy Manual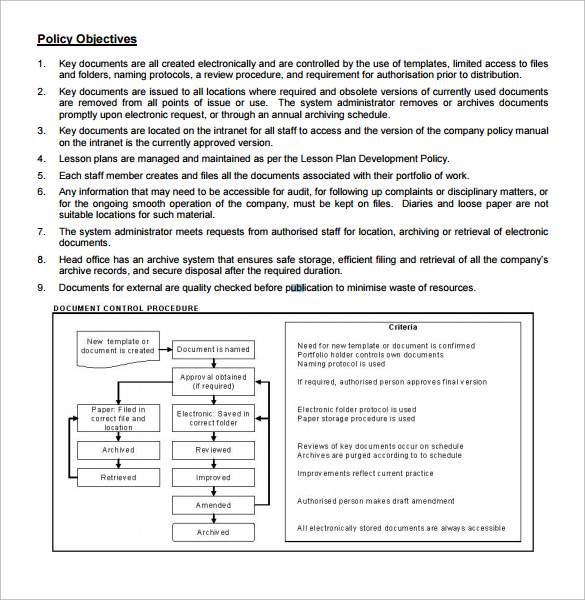 ghtraining.co.nz
School Board Policy Manual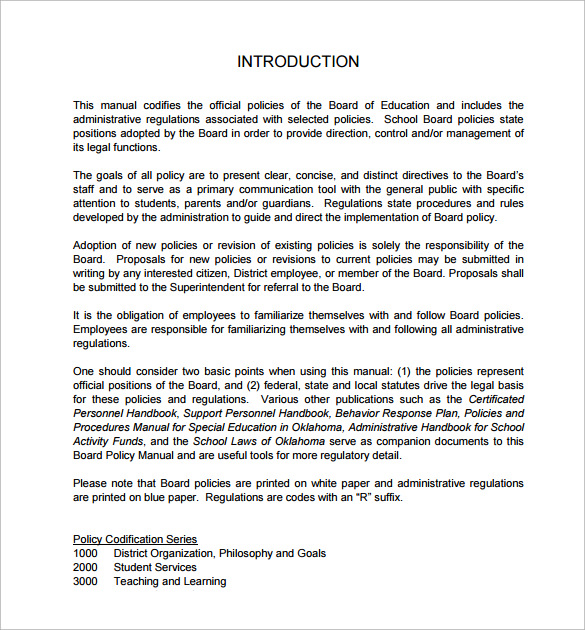 tulsaschools.org
Credit Policy Manual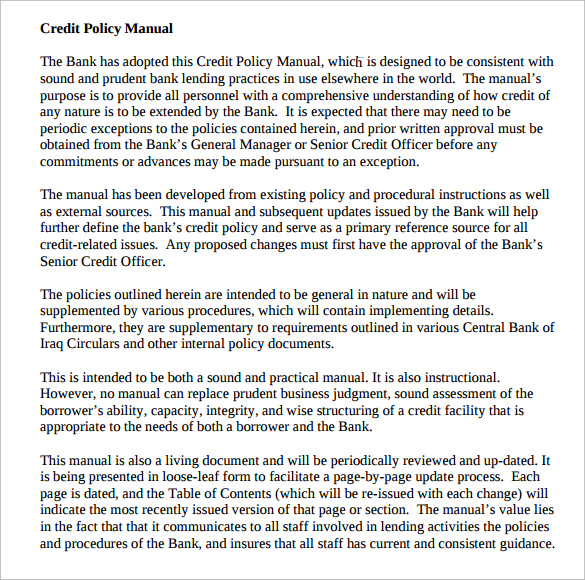 pdf.usaid.gov
Volunteer Policy Manual
californiavolunteers.org
Rehabilitation Services Policy Manual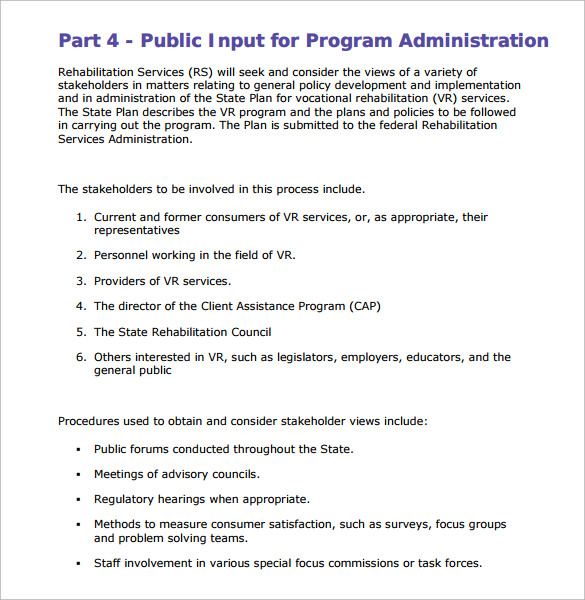 content.dcf.ks.gov
What Are The Reasons To Use a Sample Policy Manual Template?
There are plenty of times when you are just starting out your business, or even if it is growing, that you would need to use a policy manual. This manual will set out all of the terms and conditions that you have for your employees and what they are required to do. It also tells them about various policies that they are required to follow, including for asking for time off, calling in sick and much more. These can also be used for contractors and will allow everything to be in one area. You can also see Compliance Manual Templates
When to Use a Sample Policy Manual Template?
Whenever you are hiring a new employee or are changing up some policies, then you should use one of these templates. These manuals will allow you to write down all of the policies, regulations and rules for the business in one document so that the employees know what is required of them.
These should be updated whenever a policy changes and the changes should be intimated to the employees. These can also be used whenever you are creating the manual from scratch to ensure that you don't miss out on any crucial or required information during the writing process.
How to Create/Write a Sample Policy Manual Template
These can be written and created easily, especially if you find a template online. You can search the internet for one and find the one that best suits your needs based upon what your company does and if they are hiring contractors. You can also see Technical Manual Templates
Once you have downloaded the template, then you will be able to write in the rules, regulations and other policies that you have already formed. It should be printed out and had on hand to give out to the new employees that you hire so that they know the policies.
These sample policy manual templates make it easier for you to create one for your business without having to do all of the hard work. There are many options, so you should look around and find the best one for your needs.
If you have any DMCA issues on this post, please contact us!