A company's warehouse or warehouse inventory plays a vital role in every company. It ensures that the company meets its productivity goals. It helps the company to control and improve the process to fulfill its goals. However, managing such warehouse inventory is not an easy task. It is a job that you can relax because it is difficult and challenging. Luckily, you can use our downloadable warehouse inventory templates. They can guide you throughout your inventory journey. If you want to learn more, consider reading this entire article.
FREE 10+ Warehouse Inventory Samples
1. Warehouse Inventory Management Process Flowchart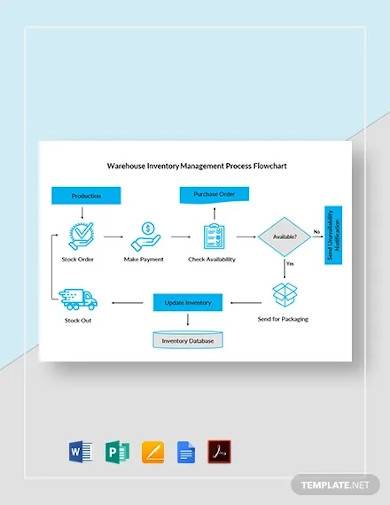 2. Warehouse Inventory Management
3. Sample Company Warehouse Inventory
4. Multi Warehouse Inventory
5. Cloud-Based Warehouse Inventory
6. Basic Warehouse Inventory Management
7. Warehouse Inventory Management SOP
8. Warehouse Inventory Template
9. Warehouse Inventory Overview
10. International Warehouse Inventory
11. Sample Warehousing and Inventory Management
What Is a Warehouse Management?
Warehouse management is the process that maintains and controls a business' warehouse. Warehouse managers usually are responsible for overseeing every step of the process, from beginning to end. Warehouse management includes all operations in a warehouse, starting from incoming freight and moving on to asset monitoring and logistics. Businesses may manage the entirety of their warehousing activities, whether they own one warehouse or even many. A Warehouse System (WMS) can carry out all these tasks.
How to Manage Warehouse Inventory?
Managing a warehouse inventory is not an easy task. In fact, it is a challenging and intricate task. That is why as a warehouse manager, you have to learn and fully understand the depths of warehouse management. It needs careful preparation that relies on some strong fundamental points. By keeping these fundamentals in mind when managing your warehouse, you are sure to get some great results. Here are some of the fundamentals that can help you manage your warehouse:
1. Customer-friendly Warehouse Management
It is evident that your marketing strategies and warehouse strategies should know how and what your consumers want. Although customers will not tell you how to handle your products, their product preferences and buying habits will tell you what kind of inventory you should retain in your warehouse. That is why you have the right balance between productivity and product management based on the consumer's preferences. You can provide a smoother order fulfillment process for your customers if you spend your time shaping your warehousing process in a way that helps them.
2. Have a Solid Workflow and Control
Knowing what to do is not as challenging as applying it. Having a solid workflow and control can make sure you execute all of the necessary factors properly. You have to create a proper workflow, processes, rules, regulations, and protocols for the workforce so everybody can work in sync and accomplish the same and common goal. Without such, your management or workforce may create a mess or chaos within your warehouse, causing you to face numerous troubles.
3. Create a Flexible System
Well, workflows, procedures, and guidelines are vital, but it is still necessary to adjust the strategies quickly to improve them. It might happen if your data unexpectedly reveals that patterns are shifting, and you need to modify or adjust a portion of your workflow.  Then, in that situation, with as little friction as possible, the whole team, including the warehouse management system, should be able to turn to a new action plan.
4. See and Review Your Data
Before making any decisions, it is necessary to see and review your data first. It is essential to let your data show you the direction, whether it is customer behavior data or your inventory output information. You must still keep an eye on your data even though you have decided based on it. Never presume that everything will be perfect because there will be one or the other section that needs to be changed. That is how tricky warehouse management is.
5. Embrace Technology 
It is crucial to keep an eye on the evolving technology to keep you on track. Technologies may evolve every now and then, and there might be software that you can use. You never know when it will help to streamline your warehouse operations or allow you to become an omnichannel e-commerce company. So you better pay attention to innovation.
FAQs
What is a warehouse inventory?
A warehouse inventory is the products, raw materials, work-in-process goods, and finished goods that make up the inventory that is for sale. A company offers software and experience in inventory management. Breaking down warehouse inventory sheds more light on what makes up warehouse inventory.
What is the difference between warehouse and inventory management?
Inventory management is about managing the stocks inside the warehouse, ensuring the proper flow of stocks. On the other hand, warehouse management is about controlling and handling the whole facility where the products are stored.
What does a warehouse manager do?
Warehouse managers work in warehouses and monitor the receipt, dispatching, and handling of items. Warehouse managers oversee workers, machinery, and other resources in the warehouse and supervise healthcare, sanitation, and administrative functions.
What are the types of inventory?
The types of inventory are the following:
Raw materials

Work-in-process products

In-transit inventory

Cycle inventory
Warehouse inventory and management are inevitably helpful for every company. Not only does it stabilize the company's source of revenue, but it can also help the business expand. Thus, it is not a secret that it is not an easy job. It requires patience, knowledge, skills, and hard work to fulfill the task. Fortunately, we have shared our downloadable templates to help you get started. Download it now!