An electrician is a person who installs, maintains, and fixes electrical equipment in buildings, houses, offices, etc. In today's world, electricity is one of the basic requirements, and hence, there is always a demand for good electricians by power supplying companies. An electrician resume includes his education, qualification, skills, past experiences, etc. that are essential for the job. Word Resume Samples gives great examples of how such a resume should be designed for best effect.
Electrician CV Word Format Download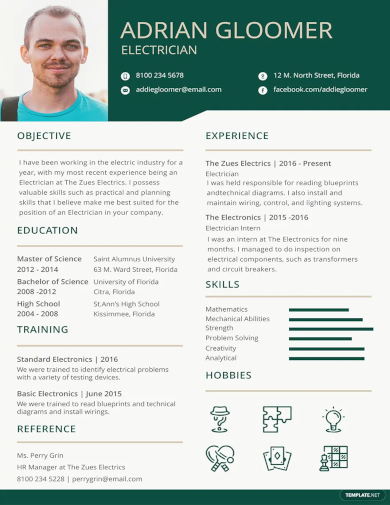 Electrician Resume Cover Letter Template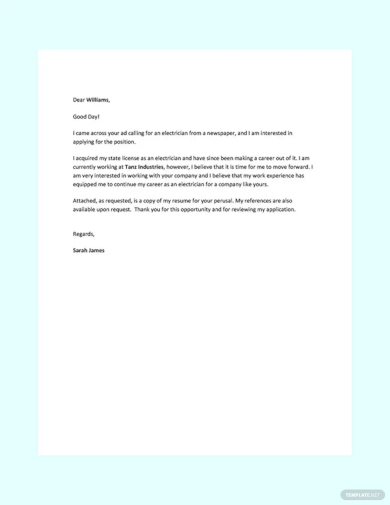 Electrical Technician Resume Word Format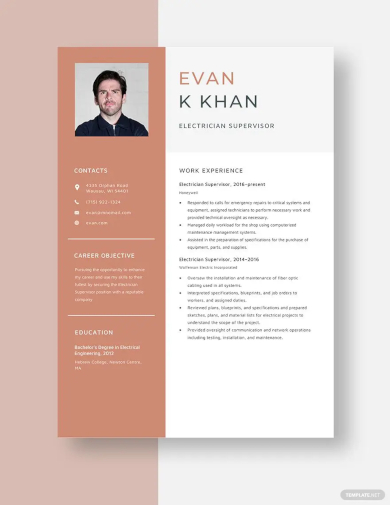 Electrician Resume Sample In Word Format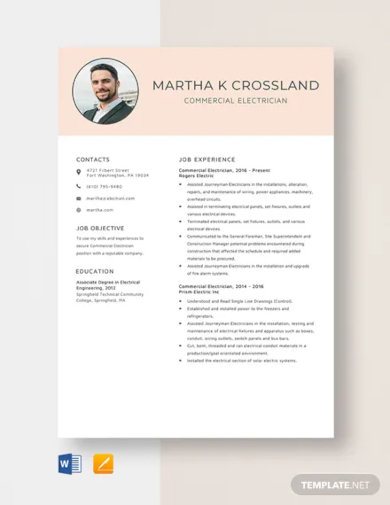 Electrician CV Format Word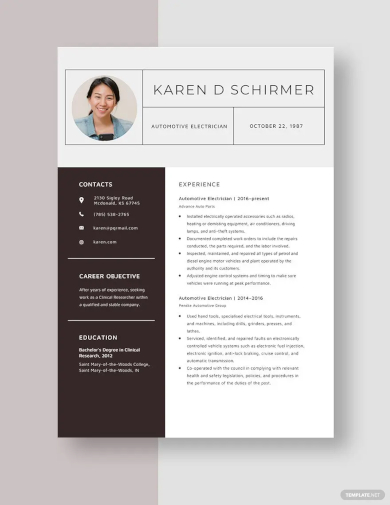 Electrical Foreman CV Word Format Download
It contains personal details, followed by a summary, areas of expertise, professional experience, in chronological order of importance, education, etc., providing all details that qualify one as fit for the job.
Electrician Apprentice Resume Example
The pamphlet contains details about how a resume is written, followed by a summary of qualifications, employment history, additional experience, volunteer experience, education and training manual , specific skills and awards, memberships etc.
Electrical Technician CV PDF
The Sample Resume contains personal information about the person, including contact information, followed by a summary, highlights, work experience in chronological order of importance, and other educational qualifications necessary for the job.
What are the benefits of being an Electrician?
Being an electrician is very beneficial for your professional and personal life. With the ever increasing use and demand of electrical equipment, it is hardly shocking that electricians are so much in demand. They are always needed to install, maintain and repair all electrical equipment.
To be an electrician, one requires special training and skills. With a good Resume Examples, you can always land up with a job as an electrician. Personally speaking, being an electrician saves you a lot of time and money. You can install your electrical appliances, and fix them without having to call an electrician from outside.
Electrician Resume Template Free
It contains personal details, followed by the area of expertise, licensing and credentials, and professional experience, all in chronological order of importance, also stating personal qualities and skills which are useful.
Electrician CV Sample PDF
It contains a personal summary for resume, information on areas of expertise, work experience, professional summary, personal skills, key skills, and competencies, personal and contacts details, and academic qualifications, followed by references.
Electrician CV Format Free Download
Who should use an Electrician Resume and why?
Any person applying for the position of an electrician in a company history needs an electrician resume. An electrician resume is essential while applying for the job as an electrician in a company. It provides the interviewer or the recruiter all the details about your skills and qualification.
The job of an electrician is to install and maintain electrical equipment. The Resume Format should state the exact educational qualification and skills that one has to do the job. This saves much time and effort, and gives the recruiter a better perspective about you, thus giving you better chance to get the job.
Sample Electrician Resume
Electrician Job Description for Resume Template
General Electrical Resume
The job of an electrician requires a lot of skill and training. An electrician resume should include all such details. Word resume samples, with HVAC Resume Samples, provide a great example as to what an electrician resume should contain, and how it should be designed to impress the recruiters.
How To Write an Electrician Resume
Writing an effective electrician resume involves showcasing your skills, experience, and qualifications in a clear and organized manner. Here are key steps to create a compelling electrician resume:
Contact Information: Start with your name, phone number, email address, and location.
Resume Summary/Objective: Write a concise, attention-grabbing statement that highlights your key skills and what you bring to the position.
Skills: List your technical and soft skills relevant to the job, such as electrical systems, wiring, safety compliance, problem-solving, and teamwork.
Work Experience: Detail your work history, including job titles, employers, dates, and specific accomplishments. Highlight electrical projects, maintenance, and relevant tasks.
Education: Include your educational background, mentioning any relevant certifications or licenses.
Certifications and Licenses: Mention any electrical licenses, safety certifications, or additional training.
Achievements: Add any notable achievements, awards, or commendations.
Tailor: Customize your resume for each job application by aligning it with the specific job requirements.
Remember to emphasize your safety record, problem-solving abilities, and commitment to quality work, as these are critical for electricians.
What should an Electrician put on a resume?
An electrician's resume should include contact information, a summary or resume objective statement, skills (technical and soft), resume work experience, education, certifications/licenses, and any relevant achievements or awards.
What is a good objective for an Electrician resume?
A good objective for an Electrician resume might be: "Dedicated electrician with expertise in electrical systems and safety, seeking to apply my skills and experience to ensure reliable electrical solutions."
How do I write an Electrician CV?
To write an Electrician CV, include contact details, a concise summary, skills, detailed work experience, education, certifications/licenses, achievements, and references. Tailor it for each job application.
What are some skills for an Electrician?
Skills for an Electrician include electrical systems installation and repair, wiring, safety compliance, troubleshooting, blueprint reading, teamwork, and communication. Adaptability and knowledge of electrical codes are also important.
What are the duties and responsibilities of an electrician?
The duties of an electrician include installing, maintaining, and repairing electrical systems, wiring, and equipment. They ensure compliance with safety regulations, troubleshoot issues, and read and interpret blueprints.
In conclusion, my electrician resume reflects a proven track record of ensuring electrical systems' efficiency and safety. With a commitment to precision and problem-solving, I bring expertise in installation, maintenance, and troubleshooting. Eager to contribute my skills to dynamic projects, I look forward to discussing how I can enhance your team's success.
If you have any DMCA issues on this post, please contact us.