Time management refers to the process of organizing and planning how you can divide your time between different tasks or activities within the day, week, or month. With this process, you will be able to determine how to smartly manage your time to get your work done on schedule. One of the project management and time management tools you can use to do this includes daily planner templates for your work which you can also use as a to-do list to write down tasks necessary for achieving your personal goals or business goals.
3+ Daily Work Planner Samples
1. Daily Work Planner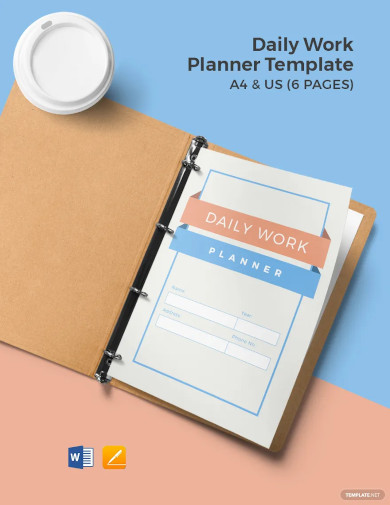 2. Sample Daily Work Planner
3. Simple Daily Work Planner
4. Basic Daily Work Planner
What is a Daily Work Planner?
Daily work planners are tools that individuals and companies use to organize and prioritize their work according to its importance and goal setting, track their work process, and perform their management plans accordingly. Keeping a daily work planner involves writing down your daily schedules, to-do lists, budget plans, meal plans, notes of concern, work or action trackers, affirmations, and more. With this planner, you can make sure to keep your focus on the things that matter most, and helps you avoid distractions.
How to Use a Daily Work Planner
Planning ahead of your deadlines or submission dates is an element in time management that will enable you to handle your tasks within a given timeframe or schedule. Planning for your daily work schedule includes giving time to reply to emails, attend team meetings, and create presentations according to your meeting agendas. However, while you do all of these things, you also have your personal commitments such as grocery shopping and meeting family and friends. With a daily work planner, you can list down all of your tasks and appointments, ensuring that you get to do and finish all of them within the day.
Step 1: Determine Your Priorities
Once you have chosen a tool or template to use for your planner, you can now think of all the tasks and activities you have to accomplish within the day. List all of these tasks to make sure that you do not forget them. Then, determine which of these tasks are most important and relist them according to their importance so you can prioritize accordingly.
Step 2: Identify Your Critical Tasks
You also have to identify which of your tasks are critical to be completed each day and determine how you will accomplish them. If your list of critical tasks is long, learn to prioritize them as well to decide which of them are truly important and which can wait until the following day or week.
Step 3: Make a Schedule and Pin Your To-Do List
Making a plan for the day also involves determining the time to take a break. This will help you refocus your energy and let your mind rest for a while. As you identify the time when you will be working, you can also pin your to-do list on your schedule to have a visual reminder of your priorities.
Step 4: Use the Plan As Your Reference
After creating your daily planner, use it as your reference of what to do next as you spend your day at work. This will help you keep yourself from distractions which leads to increased productivity and work performance.
FAQs
What are the benefits of using daily work planners?
With daily work planners, you can implement effective time management, keep a record of your activities and appointments, improve your productivity, and helps in relieving stress by providing you control over your daily schedule.
What are the common sections that a daily planner has?
The common sections that a daily planner has included daily goals, a to-do list, a section for your schedule or appointments, urgent or priority categories for your tasks, a meal tracker, and a space for your daily notes.
What are the tips for effective time management?
To implement effective time management practices, you can start by creating a to-do list which is a method that can help you achieve your goals. You can also streamline your operations or workflows through automation, simplify communication, and delegate tasks to other members of your team to create free time for more important tasks.
The rate of success and productivity of a business or individual depends on their time management. This management allows an individual to balance their personal and professional lives without compromising their productivity and performance at work or school. A daily work planner, which is a time management tool, enables you to list down all of the tasks that you have to complete in a day, organize them according to their importance, and execute them according to their priority level.